The innovative Woolworths kitchen has been at it once again!  With a smorgasbord of new offerings now available, it's no wonder that Woolies is known for their variety of quality food above all else. Whether it's an extension of an existing range or something completely fresh and exciting, we can't wait to introduce you to a flavour experience like no other with this latest batch of newness!
ANCHOVIES
Anchovies are having a moment, and it's about time! Your search for an effortlessly delicious snack or antipasti is finally over, all thanks to Woolies' new anchovies' range. Woolies' newest range includes White Anchovy Fillets, Brown Anchovies in Sunflower Oil, and a Fresh Anchovy Paste that is undoubtedly different to anything you've ever tasted before! Use these delightful new offerings to top a crunchy bruschetta or scatter them throughout a simple green salad to reimagine this al fresco classic. Forget whatever you think you know about anchovies and celebrate their delicate, briny saltiness in a whole new way.
PLANT-BASED PROTEIN
Protein sources can be one of the biggest challenges facing those who follow a plant-based diet, but we're making it simple for you to get your 50g a day with our new Plant Based BBQ Sausages. As a part of our existing plant-based range, these sweet and smokey sausages gain their protein source from haricot and black-eyed beans and quinoa, making them a delectably versatile addition to any braai, lunch, or dinner.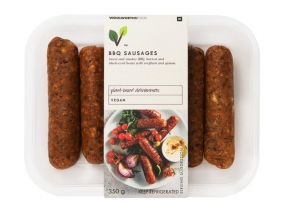 PREPPED VEG
A side dish (or vegetarian main) of creamy barley risotto with brown mushroom, fresh spinach, roasted butternut and South African feta cheese, our Mushroom Barley Risotto is the perfect way upgrade to any meal. This simple 'heat & eat' dish comes in both small and large sizes, and is a guaranteed family favourite – savoury, creamy, and delightfully moreish, warm yourself up on a cool winter's night with a healthy helping of this new culinary excellence.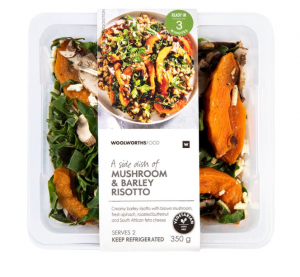 CRUMBED CHICKEN
Made with 100% South African chicken, our katsu-style Panko Crumbed Chicken Breast with a teriyaki dipping sauce or Tempura Chicken Chunks coated in a crisp, light batter are bound to be your new dinner staple! These succulent chicken dishes are ready in as little as 6 minutes, so get the table set and get ready for a taste explosion that'll leave your tastebuds tingling and stomach (more than) satisfied.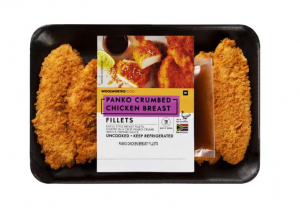 MASH POTS
This selection of mini meals are as moreish as they are good for you! Containing chicken, beef, or lamb meatballs and a creamy vegetable mash that doubles up as one of your 5 a day, satisfy your hunger in one healthy, microwaveable, and delicious meal. Choose between Chicken Meat Balls with a Carrot Mash and Red Pepper Pesto, Beef Meatballs with a Cauliflower Mash and Basil Pesto, Beef and Vegetable Meatballs with a Napoletana Sauce, and Lamb Meatballs with Butterbean Mash and Harissa Sauce.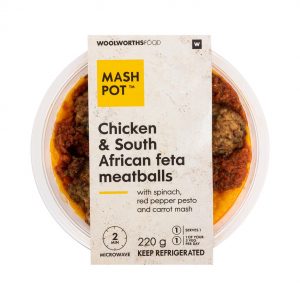 RAW RANGE
Enjoy mindful treating with their raw range of vegan Cocoa Dusted Almonds, Cranberries, and Seed Mix. Each tasty morsel is made in small batches, dusted gently in responsibly sourced cocoa, and sweetened with coconut sugar to allow you a guilt-free treat that'll never compromise on taste!
TARTLETS RANGE
The proof of Woolies' exceptional commitment to knockout food really is in the pudding! And which one will you be going for? New to their tartlets range is the choice between 6 Caramel Mint Tartlets featuring shortcrust pastry filled with mint infused chocolate ganache and all butter caramel icing, or 6 Indulgent Chocolate & Nut Tartlets with a selection of dark chocolate and hazelnut, and white chocolate and macadamia tartlets, each with a truffle filling.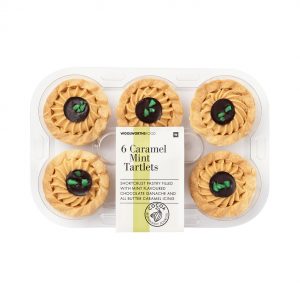 MINI CONES
Everything's better when it's mini, especially when it comes to ice cream! Cue our mini cone selection; made locally using real dairy ice cream and responsibly sourced cocoa, these adorable light bites come in the flavours of Malt, and Strawberry and Vanilla, so you can satisfy your sweet tooth, no matter the size of your craving!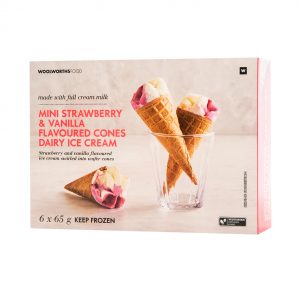 COOKIES RANGE
What's better than one cookie? Two, of course, and bonus points if they're sandwiched! Well, bonus points it is then for our lemon and hazelnut sandwich cookies. Take your pick between a luscious Lemon Flavoured Cookie with a zesty lemon flavoured filling, and our heavenly Hazelnut Cookies with a creamy vanilla flavoured filling.
SOMETHING SWEET
Plant-based doesn't just mean savoury, oh no – we're making veg versatile with our new Sweet Potato Churros with a Caramel Dipping Sauce! Made with white sweet potatoes to help you get your 5 a day in an exciting new way, these crisp and crunchy morsels of goodness only need 5 minutes in the air fryer to be enjoyed. Eat with the caramel sauce as you would a pumpkin fritter for a heavenly side dish or dessert. And, if your sweet tooth still needs a little something more, why not try our new Chuckles Biscuits? The latest addition to our sensational Chuckles range, these tasty, malted biscuits are made with free-range eggs and enrobed in your favourite milk chocolate and mini malt balls for a mouthful of moreish deliciousness you can never quite get enough of!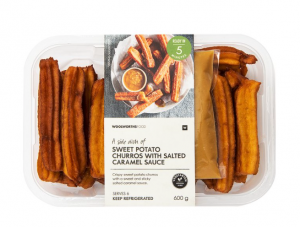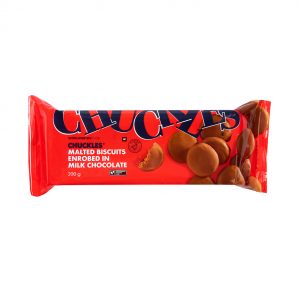 ICONIC YOGHURT
Move over Flavourburst plums and Adam's figs; it's time for Clemengold's to take centre stage. Not only is our Clemengold yoghurt range limited edition, Ayrshire based, and preservative free, it's also utterly delicious! Coming in 4 variations – Limited Edition Double Cream Clemengold Yoghurt 1kg, Full Cream Ayrshire Clemengold Yoghurt 4 x 150g, Low Fat Pink Lady, Pear, and Clemengold Layered 6 x 100g, and Low Fat Clemengold Smoothie 300ml – this wonderfully sweet and lusciously juicy citrus fruit has been transformed into what will hopefully become your favourite dairy snack yet by the talented Woolies kitchen.
NEW COFFEE RANGE
Nothing finishes up a Woolies culinary feast like a hot cup of java, and they've got the beans to make it barista-worthy. The WCafe Classic Coffee Beans, Gold Blend Coffee Beans, and Organic All African Decaf Espresso Cafe Blend Beans use only 100% Arabica coffee beans and are blended to our special recipe. Roasted to perfection, ready to grind for everyday use, these coffee blends have been carefully selected from Central, South America, and Africa to bring about exceptional and vibrant characteristics to your coffee, perfect for any time of the day.
All products will be available in store from 20 June 2022. Try them out at selected Woolworths stores, or visit www.woolworths.co.za.
ALSO SEE: https://www.foodandhome.co.za/on-shelf/whats-new-at-woolworths
ALSO SEE: https://www.foodandhome.co.za/entertaining/diary/johannesburg/high-tea-bubbly-at-courtyard-hotel-waterfall-city