Why you need the CBI Astute Range 
The cost of living in South Africa is skyrocketing, with headline Consumer Price Inflation projected at 5.5% in 2022, according to a recently released forecast by the Bureau for Economic Research (BER). Rising electricity prices, high domestic food inflation and elevated fuel prices are expected to be the key sources of inflationary pressure this year. With this in mind, it is vital for South Africans to save money where they can and become more energy efficient to minimise cost implications.
Engineering Executive at CBI-electric: low voltage, Dr Andrew Dickson says that smart home devices are a great solution to assist cash strapped consumers in 2022. "Smart home devices were developed to make people's lives easier by allowing them to automate various processes in the home via an app." He adds that these devices can also be used to reduce energy bills and help homeowners become more energy efficient. "For example, geysers, pool pumps and heating use a large amount of energy if they are on for long periods of time. With smart devices such as smart plugs, controllers and isolators, users can monitor and control these appliances as well as schedule them to turn on and off at specific times and on particular days.
"Smart devices also allow people to schedule activities such as irrigation systems and when they operate. The irrigation system can be automated to switch on and off at select times. If the App detects a rainy day, the system will not switch on, thanks to its integration with weather services. This not only saves electricity, but water too, which can lower the total municipal bill."
Our thoughts on the CBI Astute Range Smart Home Devices
We gave these products a go in our own homes and were impressed at how easy they are to install, only requiring that you switch out your wall switches for the CBI brand. We also appreciate that you don't need any special light bulbs and that as long as you have your Astute Range IoT products and CBI Home App you can schedule and automate your devices and electrical appliances according to time, weather and more. Controlled directly from a smartphone or tablet, the Astute Range includes the Astute Smart Controller (ASC), Astute Smart Isolator (ASI) and Astute Smart Plug (ASP) which is managed with the CBI Home App, available on the App Store and on Google Play. This allows for monitoring, control, and scheduling of energy at the touch of a button. The app is easy to use and navigate, enabling you to stay connected to your home and devices no matter where you are, as long as you have a working internet connection.
Win with CBI-electric: Low voltage
Win a hamper of the CBI Astute Range to the value of R1113.
The prize contains a range of energy monitoring, scheduling and control devices with load management and automation capability. The CBI Home App enables the user to configure these devices to react to current, voltage, time, power and many other variables or a combination thereof.  The CBI Astute Range of products can be used to remotely control pool pumps, lights, geysers and so much more.
Competition ends 7 June 2022
For more information on the Astute Range visit www.cbi-lowvoltage.com/astute or connect and follow them on Facebook, Instagram or Twitter.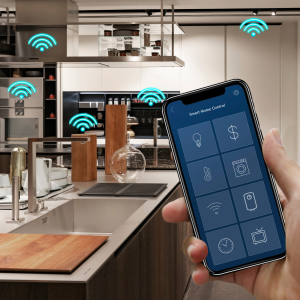 ALSO SEE: WIN with Wildeberg wines