A skaftien is many things to many South Africans: food for a journey, a humble homely meal enjoyed at work or even a cold jaffle in your school lunchbox. Regardless, it always conjures up feelings of home and comfort.
Before we take you on this exploration, check out the best restaurants in Durban.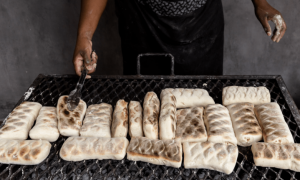 Like many South African families, mine is a padkos-loving bunch. Once, en route to Durban for a family holiday, we stopped a total of nine times to rip open the tin foil and Tupperwares and indulge in Ouma's padkos of blue boiled eggs, cold boerewors and leg of lamb sandwiches – our favourite. We were a family of 25 travelling in two hired Ses'fikile taxis living the real South African dream by the side of the road, to the envy of every passer-by.
Some of my best memories of holidays aren't necessarily the beach visit or the resort stay; it's that first roadside stop after we'd left home. My dad would search for a well-shaded spot with intact cement benches along the N10 and my mom would serve sweet Cremora coffee from a leaky floral flask. I'm the youngest, so I got the lid as a cup. We'd sit in the warm December shade in jovial anticipation of the festive season that lay ahead. That moment signalled the beginning of the big unwind.
A skaftien is many things to many people of South Africa. The lunchbox can be food for a journey, like padkos. It can be a humble homely meal enjoyed at work as a quick recharge during a hard day's labour. It can be a cold jaffle filled with curried mince from the weekend on a particularly blue Monday at school. Often, in the Eastern Cape especially, it's a hearty bowl of umphokoqo with spoonsful of amasi to get you through the day. Whatever it is to you, a skaftien signals a little winding down, a breath of air and a taste of something familiar.
---
Also read: The 20 Best Restaurants in Bloemfontein
---
It has humble, heart-warming roots in our South African culture too. The word skaftien is a Fanakalo term with elements of Nguni, English and Afrikaans languages generally used by South African miners. While the physical origin of the term is sure, there are many interpretations of what it actually means. Some believe that the miners carried their lunch in metal tins also called "shaft tins", which was later colloquialised as the word "skaftins". In fact, some spelling variations still include the "h" for "skhaf-tin". Another account says the word originated with "Skof 10" (the 10th shift), who always brought food along as it was a lunchtime shift change. Others say that the Fanakalo word for food used to be "skaf", and that the miners' called their lunchboxes "skaf" tins, or food tins.
Whatever story you prefer, a skaftien means sustenance for any hard-working South African. It doesn't get any harsher than working in the treacherous underbelly of South Africa's mines – especially in the 1980s – but it's heartening to know that a nourishing meal was such a big topic that it merited its own word.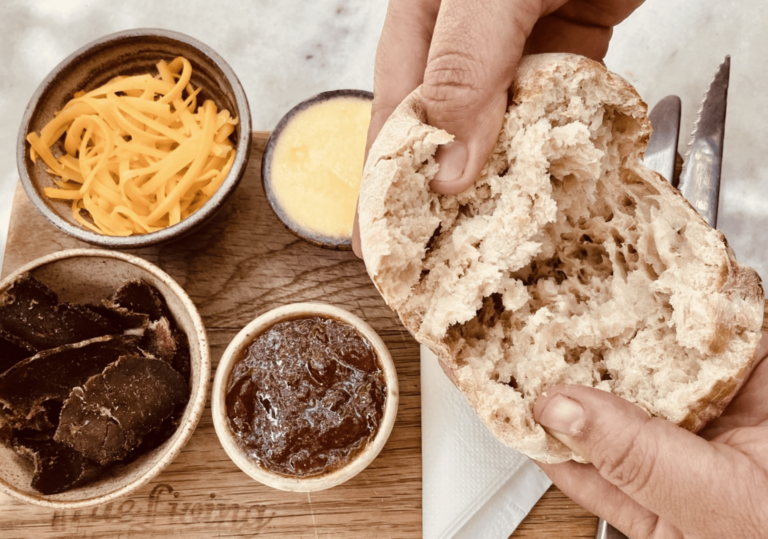 Most recently, a new initiative in Joburg joined this honourable definition on the most relevant level. The Skhaftin Bus, as it's called, is a community-driven (literally… driven) initiative started in the 2020 Lockdown that offers plastic-free grocery shopping from an up-cycled and retrofitted bus. The Skhaftin Bus drives three different routes to communities in and around Joburg. Shoppers get on board – empty skaftiens in hand – and proceed down the aisle of the bus shopping from the containers of samp, lentils, split peas, black beans, spices and oats, to name a few. It works on a weigh-and-pay system. The best part is that you can call them up and arrange a drive-through in your area, for lekker local Skhaftin shopping right on your doorstep.
Your choice of skaftien vessel also says a lot. These days, the hipsters swear by glass jars for everything from salad to soup. My grandmother is a firm believer – and retriever – of Tupperware. And then there's the number one: the classic cleaned two-litre ice cream container.
Although a strong argument can be made for the nifty authenticity of the ice-cream "bak" as a worthy skaftien – a favourite with South Africans – the stackable rantang is a worthy rival. With love from the East, a rantang is a collection of small metal bowls used to carry a variety of small dishes that make up your skaftien – or tiffin as it is called in India. The tiny containers can be clasped together and fastened, allowing for easy transportation on a tricky commute via bicycle and convenient consumption once released. Handy, spill-free and hipster…
Further east, the bento – Japan's equivalent of the skaftien – dates back more than 1 000 years to the Kamakura period between 1185 and 1333, when they were used to carry sticky rice. The beautiful boxes, often made in fine lacquered wood and decorated with intricate details, were also used for entertaining, theatre excursions, picnics, travel and tea services, a worthy skaftien in every sense of the word. And they're still relevant – recently, bento boxes have made a hipster comeback and for kids' lunches often sport adorable little sticky rice animal faces, alongside mini veggies and snacks.
Indeed, South Africans aren't the only people in the world who are serious about their skaftien.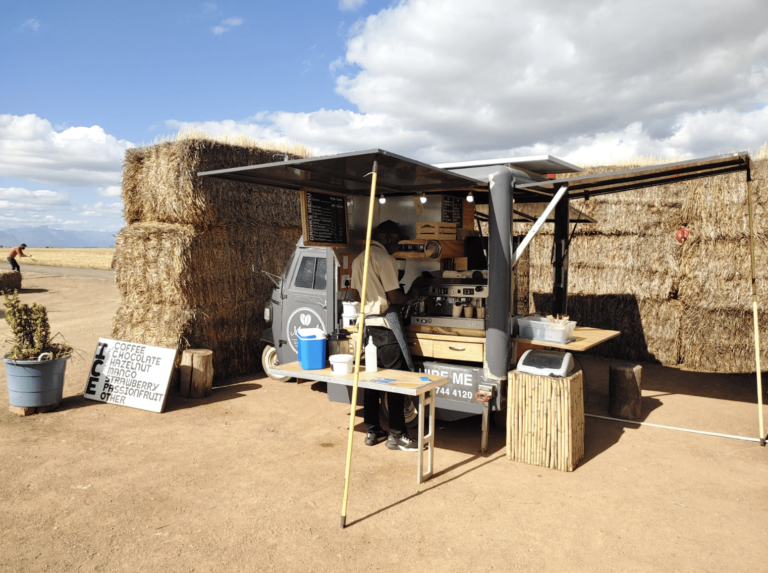 Hungry for some authentic South African skaftien?
Get on the Skhaftin Bus
This modern take on the skaftien brings grocery shopping right to your doorstep. Started in 2020, this up-cycled bus is a pioneer for plastic-free grocery shopping in Johannesburg. At this stage, it drives three routes. On Thursdays, you can flag down the Skhaftin Bus around Ellis Park, Bertrams, Bez Valley, Kensington and Troyeville and on Fridays, it's in Houghton, Norwood, Killarney, Birdhaven and Melrose North. On Saturday, it's in the inner city and it's at Victoria Yards every Sunday.
Ilka Stein, one of the consultants and masterminds behind the Skhaftin Bus, encourages people to book a stop or simply flag down the bus when you spot it. 081 822 3639
Where: inner city Johannesburg and surrounds, Gauteng
Tastes like home 
Jaffles are nostalgic things for their tasty yet humble stature. Just plain winkelbrood (shop bread) with butter and a filling of your liking, toasted in those clasp contraptions over a gas flame or fire. We used to get them in our lunchboxes on a Monday, and the taste of mom's homemade curried mince made every blue Monday a little bit better. These days, our jaffles of old have had an indulgent upgrade thanks to Chef Bertus Basson. 'If you haven't tried a Geuwels jaffle, you haven't lived,' he says of his now-legendary toasted morsels at Geuwels restaurant on Vergenoegd Löw The Wine Estate. 'The curry jaffle is just simple food made very well. We use beef fat instead of butter on the outside when toasting to ensure extra flavour and an extra crispy crust.' I'm sold. 021 202 4373
Where: Geuwels at Vergenoegd Löw The Wine Estate, 1 Faure Village Road, Stellenbosch Farms, Cape Town, Western Cape
Fresh from the fire
There are few skaftiens as fantastic as the humble roosterkoek, and nowhere is this better appreciated than on a morning drive through the Kruger National Park. The fresh roosterkoek at Afsaal Picnic Spot has rescued many a weary wildlife explorer from the brink of starvation. The shop is run by the Tindlovu group and word on the ground is that this particular branch makes the best roosterkoek in the Kruger. The spot is great for stretching legs and getting a cup of coffee, but on the lookout – the picnic site is unfenced, and a leopard was once spotted stealing bacon from a skottelbraai. 013 735 8913
Where: Afsaal Picnic Site is on the H3 road between Skukuza and Malelane in the Kruger National Park, Mpumalanga
Amagwinya for mna 
A true South African skaftien will always contain some type of traditional bread – either dombolo, roosterkoek or vetkoek. If yours doesn't, there are ways to remedy this, thankfully. Fresh amagwinya are sold across South Africa at many a taxi rank, train station or just about anywhere three people or more are gathered (and often awaiting transport). Small plastic bags stuffed with three or four vetkoek often go for as little as R10 a packet and can be enjoyed as padkos on route to work, at work for a tasty lunchtime meal or on your commute back home on the bus or train. Vendors often sell kerbside, making them hard to pin to an exact location. However, there's a trusted seller under the trees in Heerengracht Street, Cape Town, just outside the Cape Town train station, for example. And a particular favourite spot next to the N2 Stop in Mount Ayliff en route to Kokstad in KwaZulu-Natal. Find your dealer and support them well.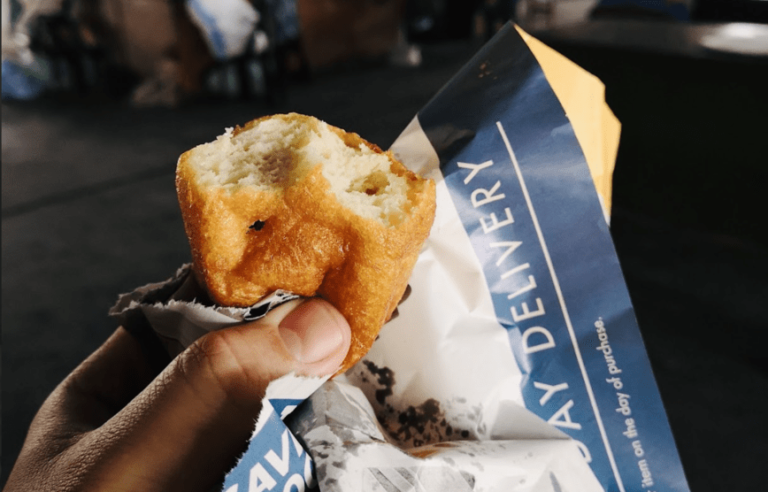 Fields of Gold
This sweet spot came about when two baristas were stranded on the R44 between Wellington and Hermon in the Cape Winelands one fateful afternoon. A kind farmer helped the baristas in need, and an alliance was formed to open a small coffee stand in his working wheat field. Morale Coffee has since become a go-to for farmers in the region and travellers in search of a cup o' Joe on the go. The backdrop of fields of gold wheat – or sunshine-yellow canola, depending on the season – makes this an Insta-worthy spot to enjoy your skaftien break. They also offer fresh boerewors rolls and picnics if you forgot to pack one. It's the perfect pitstop for bikers, cyclists and Winelands explorers and the perfect spot for a quick picnic if you're on a day-drive from Cape Town. 074 744 4120
Where: Morale Coffee To Go on the R44 between Hermon and Wellington, Cape Winelands, Western Cape
Karoo-style "Skaftien"
It may be biased for me to mention my mother's café, True Living, here, but if you've ever tasted the Karoo Skaftien from the True Living menu, you'd understand. Since opening its doors in 2012, the legendary Skaftien has been a favourite for locals and travellers alike. It consists of a fresh-from-the-fire roosterkoek, served with real farm-made butter, biltong, cheese and jam. No fancy toppings or new combinations, just a plain skaftien the way we used to eat on the farm. According to mum, Lani, the Karoo Skaftien is hands-down the favourite on the menu. 'People drive through Cradock especially to swing by here and enjoy it on route to their holiday homes or for work trips. They order it with our Railway Coffee, made with condensed milk… it's a hit every time.' 072 039 6331
Where: Main Road, Cradock, Eastern Cape
ALSO SEE: Peanut butter and raspberry banana bread
Written by Louzel Lombard Steyn
Images: Maggie Wasserfall, Le Riche Lombard, Louzel Lombard Steyn, Lani Lombard
A version of this article appeared in the February 2022 print issue of Getaway.