Crispy fried chicken without all the oil? That's why you have an air fryer! This recipe is still finger-licking good.
INGREDIENTS
4 chicken drumsticks
1 cup buttermilk
1⁄2 cup flour
cup panko breadcrumbs
1 tsp. salt
1⁄2 tsp. freshly ground black pepper
1 tsp. garlic powder
1 tsp. paprika
1⁄2 tsp. onion powder
1 pinch ground cumin

WEDGES
6 potatoes, cut into wedges
2 Tbsp. vegetable oil
GARLIC-MAYO DIP
1⁄2 cup plain yoghurt
2 Tbsp. mayonnaise
1⁄2 garlic clove, grated
1⁄2 cup parsley, chopped and divided
METHOD
PLACE drumsticks in a shallow bowl and pour over the buttermilk. Toss to coat. Cover and refrigerate for 2 hours.
MIX the flour, breadcrumbs, salt, pepper and spices in a large bowl. Remove the chicken from the buttermilk and wipe off any excess with paper towel. Coat chicken in the flour-breadcrumb mixture
and shake off the excess.
SET the air fryer to 180°C and arrange the chicken in the basket, taking care not to overcrowd. Air fry until golden-brown and crisp, about 20–30 minutes, turning once halfway through.
REMOVE the chicken from the air fryer. Transfer to a plate and cover with foil to keep warm.
WEDGES Place the potato wedges in a pot and cover with cold water. Bring to the boil over medium-high heat, then reduce to a simmer. Cook until just soft to the tip of a knife, about 10 minutes.
DRAIN well and set aside to cool for 5 minutes. Once cool, transfer to a bowl and add the oil. Season with salt and pepper to taste and toss to make sure the wedges are evenly coated.
TRANSFER the wedges to the air fryer basket. Air fry until golden-brown and crisp at the edges, about 20 minutes.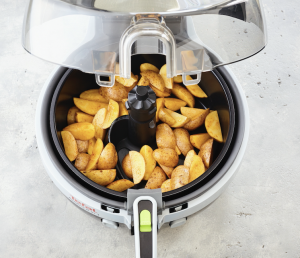 GARLIC-MAYO DIP
Place the yoghurt, mayonnaise, garlic, half the parsley and 1⁄4 tsp. salt in a small bowl. Whisk to combine.
TO SERVE Divide the crispy chicken drumsticks, potato wedges and garlic- mayo dip between four plates. Garnish with a sprinkle of the remaining chopped parsley.
TIP: Most air fryer baskets and racks are dishwasher safe. They're also generally covered with a non-stick coating, so even if you are cleaning it by hand, it's a painless process.
HANDS-ON TIME 40 min|  TOTAL TIME 3 hrs 50 min | SERVES 4
ALSO SEE TUNA & OLIVE BAGUETTES