Cupcakes of Hope's National Cupcake Day event (held on 30 September) was nothing short of a heartwarming success. The event, which aimed to raise funds for children battling cancer and their families, saw the entire South African community come together to make a significant impact.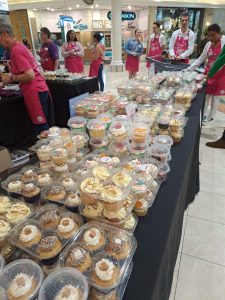 In 64 malls across South Africa, the event managed to raise an impressive total of R2 278 525. This remarkable sum will go a long way in making a difference in the lives of children fighting cancer, with Cupcakes of Hope already providing financial assistance to over 230 patients every month, the youngest being three months old.
What made the event even more special is that the Food&Home team could dust off their aprons and contribute to the cause. We joined hands with NOMU to bake cupcakes for the event, and their Minimakes range made sure the process runs smooth.
View this post on Instagram
The collection is known for its versatility, making the baking process incredibly easy and convenient. The Minimakes range is designed for small-batch baking, making it the perfect choice to save time, ingredients, and reduce waste.
View this post on Instagram
While National Cupcake Day was a resounding success, the fight against childhood cancer is ongoing, and there are still countless ways to get involved and make a difference in the lives of children with cancer.
Cupcakes of Hope continues to assist cancer patients every month by providing financial support for their medical expenses, as well as other day-to-day necessities like nappies, food, and transport money for their hospital visits. Your generous donation can directly impact a child in need and contribute to their well-being.
To make a donation, you can use the following bank details:
Account name: Cupcakes of HOPE
Bank: Nedbank Ltd
Branch: Three Rivers
Branch code: 198765 or 193305
Account number: 1028740565
Swift Code for international payments: NEDSZAJJ
ALSO SEE: Foodie Friday: Andriette de la Harpe and her carrot cupcakes recipe
Foodie Friday: Andriette de la Harpe and her carrot cupcakes recipe