When we think of Andriette de la Harpe, we think colour and cupcakes! After being crowned runner-up in Masterchef SA Season 4, and sharing her beautiful bakes with us through 'n Mondvol, Andriette has continued to rise in her baking adventures.
Retrenchment at the beginning of 2021 inspired her to enter Masterchef SA. "Baking became my saving grace. I started to sell my cakes and baked goods out of desperation to be able to pay my rent!" And so, 'n Mondvol was born.
That's also when a friend sent her the Masterchef entry form. "Few weeks went by and I woke up one day with a reminder from the friend, and I thought, why not? I never ever believed I would even make the top 300! Never-mind runner-up."
The latest item on her bakery's menu – massive mouthwatering Mondvol Cookies in six different flavours (think peppermint crisp filled with caramel, milk tart, Nutella, and red velvet with white chocolate) – has the country up in storms. Everyone who is anyone wants to get their hands on a box of these cookies. "The support has been so overwhelming! I am so so grateful for the incredible support from so many people. The biggest thing for me is that it brings joy and seeing people opening their boxes and sharing it on social media makes me all emotional," Andriette shares.
"I've always been frustrated with the fact that I can only provide to Capetonians and not the entire country. I want to spread joy as far as possible! I realised that I had to create a product that will be able to ship via courier. I did my research and could not really find someone else making these cookies and shipping it across the country. And that's when I knew I had an opportunity!"
Andriette knew that she needed her cookies to stand out – and what better way than to change the flavour profile to some beloved South African flavours. "Peppermint crisp tart gives me all the feels as it is such a proudly South African favourite. My granny brought us milk tart every single Sunday, so it seemed fitting to have that one shine! Cape Spice warms me from the inside, as I love these beautiful spices found in the Cape Malay cuisine. And I still had to honour the fan favourites, like Nutella, choc chip and red velvet."
If there's one thing that we truly love and appreciate about Andriette, it's that she's just as sweet as the treats that leave her bakery. For her, it's all about creating spaces for others to shine and be uplifted, and being part of each client's special day. "I want to spread joy and light and by proving a birthday cake, cupcakes or these cookies, I get to do just that!"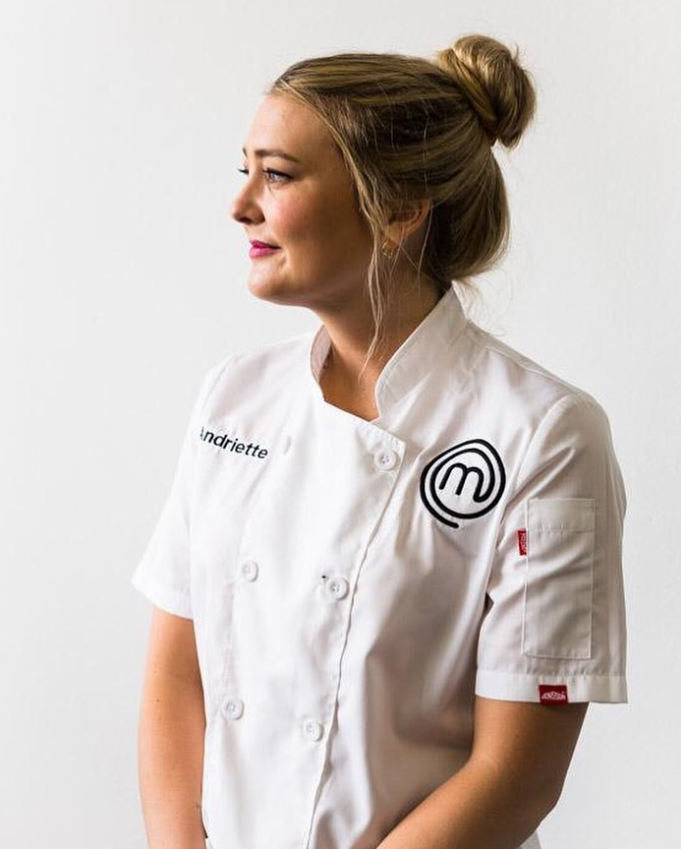 Print Recipe
Ingredients
100 g white sugar

67 g dark brown sugar

160g oil

2 eggs

1 tsp vanilla essence

150g cake flour

1 tsp bicarb

1 tsp baking powder

1⁄4 tsp salt

1⁄4 tsp cinnamon

1⁄4 tsp nutmeg

1⁄4 tsp ginger

60g roasted pecan nuts

226g grated carrots

Piping tip used:

Ateco 888
Instructions
1
Mix sugars, oil, vanilla essence and eggs well together.
2
Mix the dry ingredients (cake flour, baking powder, bicarb, salt, cinnamon, nutmeg, ginger and nuts) together in a separate container.
3
Add the dry ingredients to the wet ingredients and mix (do not overmix).
4
Add the carrots and mix it in.
5
Pour the mixture into cupcake holders. Spraying the cupcake holder beforehand isn't necessary and might make it too oily. Fill the cupcake holders about 3⁄4 of the way.
6
Bake for 10 minutes on 180°C and another 10 minutes on 160°C.
7
Decorate your cupcakes to your liking.
Notes
Head to our social media pages for Andriette's video tutorial on making these cupcakes.
Made this delicious recipe by Andriette de la Harpe? Tag us @foodandhomesa #CookingWithFH on Instagram!
ALSO SEE: Tiramisu cheesecake recipe
Images: Mondvol/Instagram