Nestled within the hustle and bustle of Gardens, the Capital 15 on Orange is the Cape Town hotel you shouldn't miss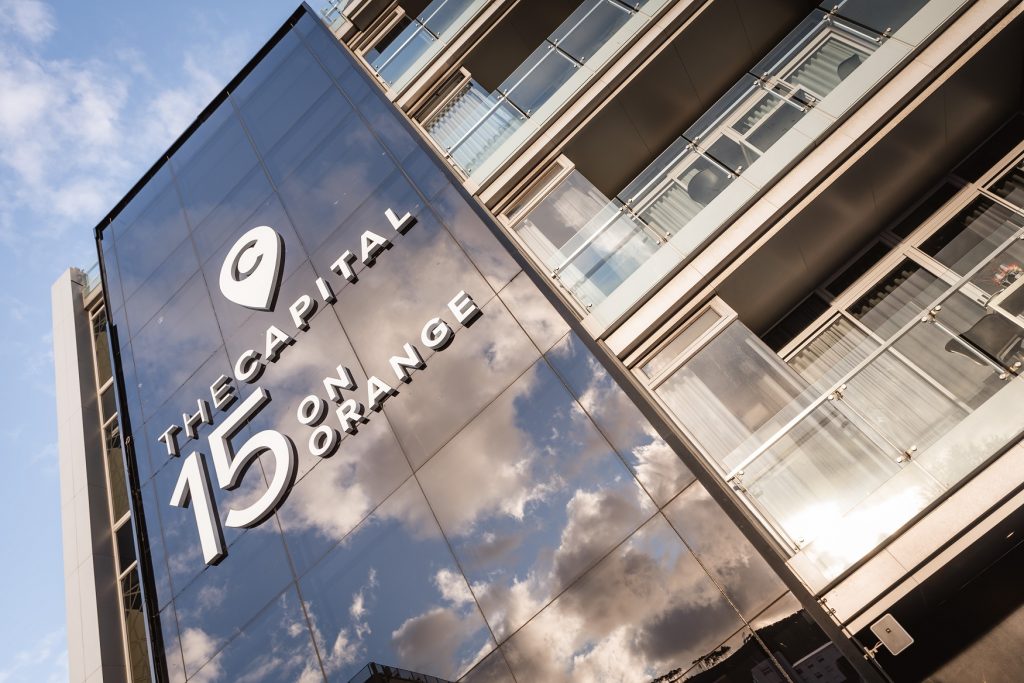 People stay at hotels for a number of reasons, work and leisure being two major factors. Whether you need a room to accommodate your corporate schedule, or to offer you a break from the endless city activities,  the Capital 15 On Orange pulls out the stops for everyone's needs.
The sleek interiors of the lobby, restaurant and entrance halls showcase an 'urban-jungle' look glittered with different textural elements, lush plant life and golden hues, offering an immediate feeling of oasis. Front desk and lobby staff are ready to welcome you with your check-ins and questions, offering a refreshing pink welcome lemonade (winning!). We were given our room number and card in less than 10 minutes and explained the way to our room. ( As someone who hasn't experienced the inside of very many hotels, getting a key card to unlock my door is very exciting).
Room ready
The rooms unravel into perfectly positioned layouts with the most exciting recessed lighting you will ever experience (If you love the ambience of warm light, you will feel immediately cosy and relaxed). A combination of flooring and carpet divides the room without the existence of an actual wall. This is an odd detail to point out, but this separation creates the feeling of more space, it allows you to immerse yourself in the room and not feel cramped. In immediate flush of light perfume filled my senses as we entered the room, making a lasting impression.  A delicate mixture of fragrance sprinkled through the air like it has been enchanted by a fairy godmother (or rather, just prepped and readied by a team of  incredible staff working behind the scenes to make you feel at home).
With a large variety of different room options, there is a perfect place for the businessperson, the romantic couple, for the young travellers, and even for the family. Single rooms, executive suites, signature pods, two bedroom apartments. Stoves and ovens, baths and showers,  ironing boards, hairdryers, coffee stations and room service until 4am! A plethora of services and facilities allow you to seamlessly customise your stay as you need to, with front desk staff ready to help you with any queries. You also have options for rooms with the idyllic Cape Town mountain view, encouraging you to stop what you're doing for a minute and take in the view of our glorious city. Booking a room is super easy on their website, take a look at the rooms available here.
Even more to enjoy
Another feature found at 15 on Orange are their six incredible conference rooms, each perfectly suited for specific meetings, events and even weddings. These are easily booked through their website, take a look at the rooms here. There is also a gym, steam room and sauna available for guests to use when they please, as well as a pool and deck to help you unwind. Yemaya Urban Spa is also situated right next to the hotel to further the decadence and relaxation, view their extensive treatments available here.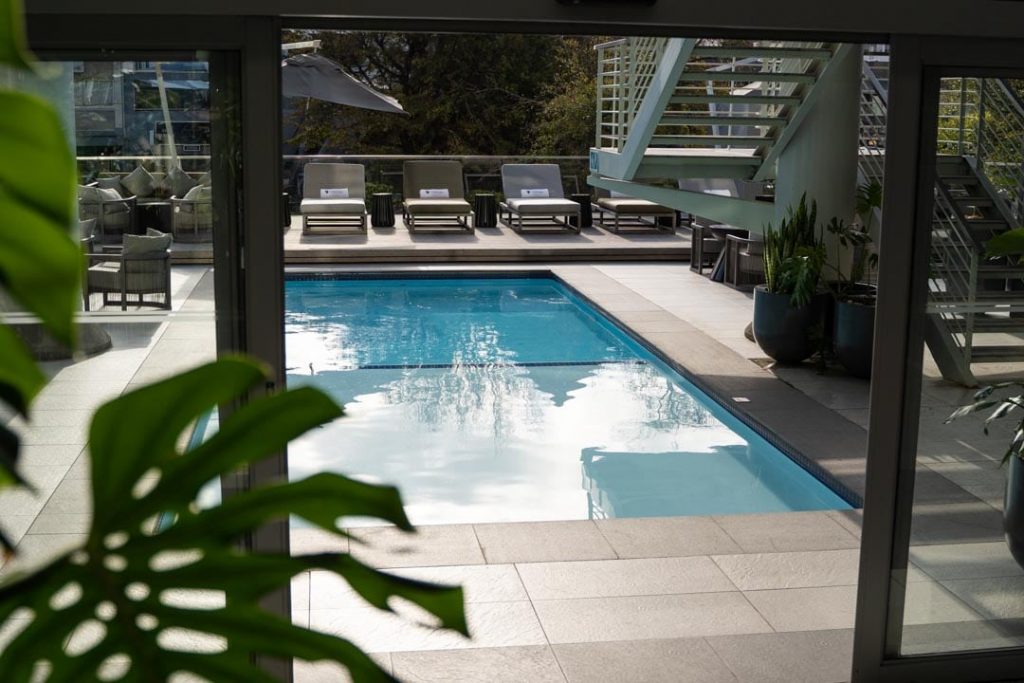 A food experience from around the world
We were lucky enough to stay at 15 on Orange at the same time that the fabulous culinary experience Dinner Time Stories: Le Petit Chef made its debut in Cape Town. Le Petit Chef is an interactive food experience that hosts a group of diners, taking them on a  journey to 6 different locations around the world. Your guide is Le Petit Chef himself, and through the wonders of 3D mapping, digital projection and optical illusion,  you are led on a once-in-a-lifetime experience. For Cape Town diners, the night begins at sea, then sails into Arabia and follows on to India, over the Himalayas and into China, finishing in France. Each location introducing a selection of small dishes from that area, all perfectly presented, decorated and delicious.
Each course arrived and left like clockwork, still giving us enough time to really savour and interact with each dish. Narrated by Le Petit Chef,  we are taken on a humorous and suspenseful journey, along with incredible host Lloyd Thipe and his fantastic team. The whole evening is a mouth-watering, eye-catching food extravaganza with a number of fun surprises sure to delight. Your food preferences are also taken into account before the meal starts to ensure your experience is just as memorable as the rest. The option to enjoy the dinner with a wine pairing is also offered at a separate price. Another detail included on the back of each course menu was the chef responsible for the dishes. This personalised the experience even more.
Le Petit Chef is still showing in Cape Town for the month of June, book your tickets here!
View this post on Instagram
All year round dinner
If you miss out on the show but are still interested in dining at the hotel, the Emerald Lounge restaurant and bar is ready to whisk you into food bliss with it's small but trendy menu. With efficient and attentive service, your meal experience will not disappoint. Dishes include "Beef fillet medallion served with a Dijon mustard jus", "Cajun crusted calamari rings deep fried with tartar sauce" and "Durban style cubed lamb curry served with rice, roti and mango atchar" to name a few. Cool off with a selection of drinks; from their vast array of deep wines and bubbly champagnes to creamy liqueurs and icy cocktails. We also cannot look past the dessert menu – Crème Brûlée anyone? Lemon cheesecake? A cheeseboard maybe? There is something for everyone, including a section dedicated to kiddies (hello chicken nuggets).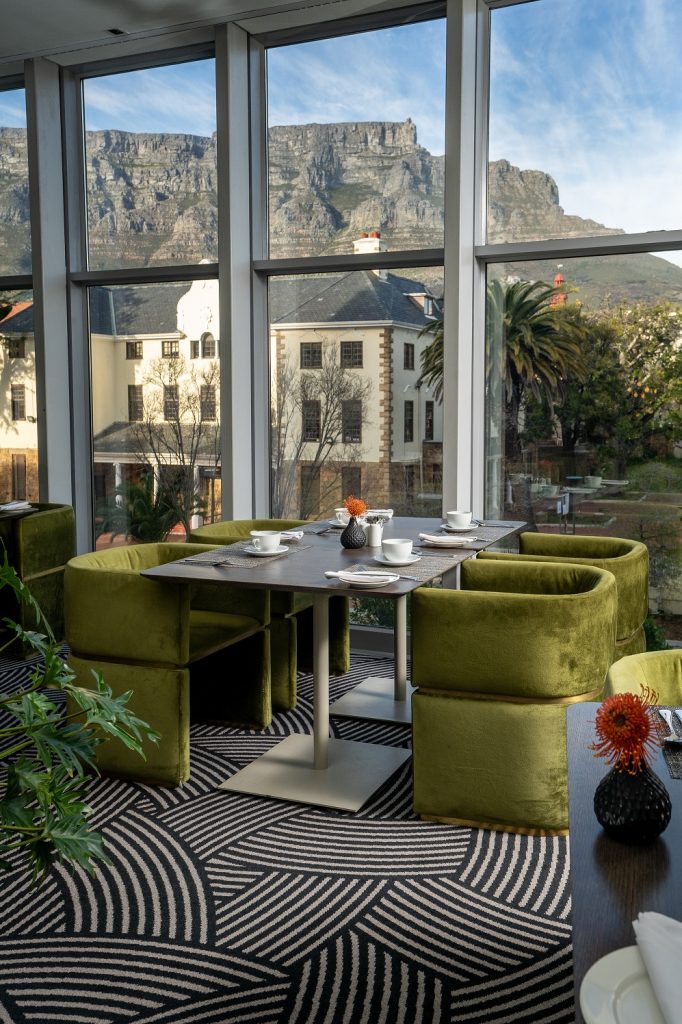 Final thoughts on the Capital 15 on Orange
Central, sophisticated and seamless, your stay at 15 on Orange will without a doubt make you feel like you're walking on air. This hotel will make a stressful business trip relaxing, a family holiday luxurious and a staycation worth every penny.
Take a look at the Capital 15 on Orange website and book your next stay here.
The Capital has multiple hotels and apartments situated throughout South Africa, and even a second Cape Town hotel located closer towards the V&A Waterfront called the Mirage.
ALSO SEE: