We're about to turn the chapter on 2022, a year filled with dopamine decor, grand millennialism-inspired antiques and more indoor plants than we could keep up with. As 2023 creeps in, the decor palette for next year promises a new era of soft-meets-bold decor.
The colour combination of 2023 bring us sentiments of soft summer days, warm hugs from loved ones and a gentle touch of sunshine. Plascon has revealed that the 'ochre-hued' combination will see a trio of colours to capture simple joie de vivre.
Plascon 'Fun in the Sun' (60% ratio make-up), 'Sunkissed' (30% ratio make-up) and 'Safari Sun' (10% ratio make-up) create the triple colour lock. So, if you're looking to add some colour to your home, turn your face toward the sun (metaphorically).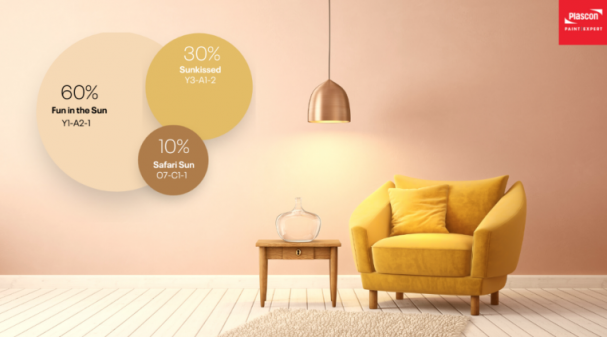 How can we integrate these colours into our homes next year?
If you're looking to dress up old pearl or off-white walls, a new coat of paint might be all you need for a home makeover (depending on your furniture layouts). However, if you're looking to integrate the shades in different ways, here's what you can add to your decor wishlist.
Art, but make it furniture
Statement pieces won't be going anywhere in 2023. If you haven't got an eye-catching carpet or lamp that purely serves the purpose of standing out, it's time for you to make aggressive aesthetic decisions.
Rugs or carpets have become something of a love letter to art in recent years. Never mind hanging your art dreams on the walls; instead, work from the ground up.
As for lamps that work with quirks, the idea of lamps that aren't there for the purpose of light has never been more relevant—especially in South Africa (here's winking at you, Eskom).
Warm accents
Whether it's dressing up your curtain finishes with extra details, or adding accents to furniture staples that need an injection of bespoke thrills; warm accents will keep you on-trend and tie your home together simply, but effectively.
Think embellishments on mirrors, accented finishings on countertops or even handcrafted curtain finishings.
Stone slabs
If you're not willing to dish out on paint but love the warm colour combo for 2023, start with one room that has uniform pieces like your bathroom or kitchen. Stone slabs are predicted to be back in full force next year, and nothing says curated like a stone slab design. Add the warm undertones into the mix, whether for colour marble or sleeker slate finishings.
Alternatively, fine a stone slab-inspired piece of furniture like a shy side table to host a glass of wine and your favourite candle.
Create a sun-kissed sunroom
If you've always longed for a sunroom where the light can catch your book perfectly on lazy days, this is your sign to make it a room dedicated to all things sun-kissed.
Opt for a monochrome feel dedicated to the softly toasted colours, or add various finishings to tie warmth into the mix.
You can also take cues from the grand millennialism trend that will see your happy yellow corner of the world come to life, vintage style.
ALSO SEE: How to add colour to your home without the overwhelm
Feature image: Vanit Janthra via Getty Images
Written by Ashleigh Nefdt for Woman&Home.