GARDENA's SILENO range of robotic lawnmowers has the most advanced solutions to achieve a continuous well-cut full and flourishing green lawn. From small to large and easy to complex gardens, the GARDENA intelligent robotic lawnmower range provides the right solution for you and your garden needs.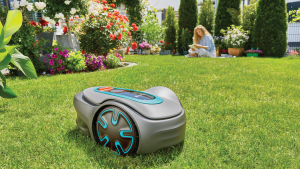 EasyApp Control – The latest range of SILENO mowers are packed with latest technology that allows you to programme your mower using the Bluetooth App. Simply pick up your smartphone, open the GARDENA Bluetooth® App and you are ready to go with zero fuss. Easily control your SILENO from the comfort of your home (up to approx. 10m from device).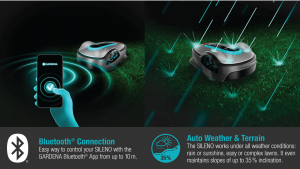 Pro-Silent – Quiet, Agile. Relax in your garden while the SILENO mower quietly gets to work and won't disturb you or your neighbours at all. The SILENO mower works efficiently in all weather conditions – rain or sunshine.
Precise and flexible – navigates and tackles the narrowest of spaces and tightest corners with reliable precision. With spot cutting function, the mower operates in a spiral method reaching all areas of the lawn including under trampolines and garden furniture. The large oscillating wheels manoeuvres the mowers easily with lawn areas that has a gradient of up to 35%.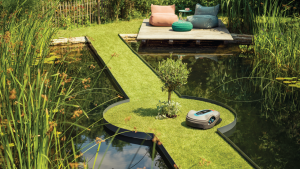 SensorCut Function – the intelligent cutting system that adjusts the SILENO mower's cutting time based on grass growth. The areas with faster growth will be mowed more frequently resulting in even and lush lawn.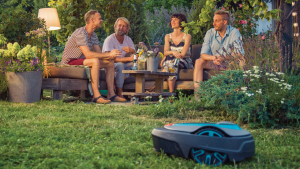 Sustainable – with the SILENO mower, you do not need to rake up grass clippings. The mulch function allows the fine grass tips to fall back into the lawn and act as a natural fertiliser.
Easy to Install – Installation is as easy as ABC and can be done quickly and easily. Full installation guide is included as well as video on the website to assist you in getting your SILENO running successfully.
Benefits of owing a robotic Lawnmower
Totally autonomous
Works day or night
Works in all weather conditions – rain or sunshine
Works in easy or complex lawns
Range available for small, medium and large gardens
Can be controlled from the comfort of your couch
Hose washable – easy to keep clean
GARDENA products available at all major hardware and nursery outlets. For more information visit www.gardena.co.za
ALSO SEE: How to grow mushrooms at home