There's nothing like splitting open a pomegranate to reveal the glossy red rubies within. For such a stunning fruit, it's a shame that it often only gets used sprinkled over salads. Here are some ideas to get the most out of pomegranates this season and to make them the star of the show.
Deseeding
Although convenient, store-bought tubs of arils often become fermented, discoloured and mushy within days. Peeling your own pomegranates is definitely worth the effort and beats paying a premium on the pre-packaged stuff.
Flip the pomegranate so the stalk-end is facing down. Score through the pith around the crown of the fruit; don't cut too deep or you'll damage the seeds. Pull off the crown to reveal the seeds.

Following the white membranes, score slits down the sides of the fruit, then pull open the sections like you're opening the petals of a flower (see picture below).

Pull off a section at a time and carefully push the red gems (aka arils) off the pith into a bowl. Pomegranate juice stains easily, so don't wear your favourite white shirt when you're doing this! To reduce mess, you can deseed the sections submerged in a bowl of water. The arils will sink and the pith will rise to the top; skim this off and discard before draining the arils.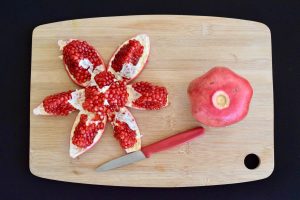 Juicing
Some of you may be thinking that juicing pomegranates is way beyond worth it. Nowadays you can buy a litre of juice in stores. But fresh, as with anything, is always better – no added sugar or preservatives, and it's packed full of natural nutrients. It'll probably save you a few bucks too. One pomegranate will get you about ½ cup juice, although it depends on the variety you get.
Place the arils in a blender and pulse until broken down; don't over-blend or the seeds will turn your juice cloudy. Strain juice into a jug. 

To get the most bang for your buck, place the pulp back in the blender with a splash of water; blend and strain into the jug again, discarding the pulp. 
10 fun ways to use pomegranates
Garnish:

Let's start with the obvious one. Almost any dish will benefit from the fresh burst of pomegranate arils. Sprinkle them over roasted veg, dips, rice dishes or casseroles, or fold into guac and salsa for a gourmet twist. They also look stunning on treats like cupcakes, cheesecake, pavlova and mousse.

Nutrient booster:

Pomegranates are jam-packed with health-boosting nutrients like vitamin C. Enjoy the juice as is, or include some in your morning juice blends and smoothies. Stir some pomegranate juice through cold Rooibos to make iced tea, or boil some arils with hot water, mint and sugar to make a warm pomegranate brew.

Pimp my drink:

Make ice cubes with pomegranate arils to chill champagne and cocktails. Or add a shot of pomegranate juice to sparkling water or your fav cocktails to give them a stunning red sheen. Give it a go with this delightful

Rosé & Pomegranate Cocktail

. 

Salad dressing:

Mix 2 tsp pomegranate juice with 2 tsp balsamic vinegar and 2 tbsp olive oil for a tangy dressing; season and adjust to your taste preference. Drizzle the dressing over salads or use as a marinade for meat & veg.

DIY pomegranate molasses

: A popular condiment in Middle Eastern cooking, pomegranate molasses can be likened to balsamic reduction. To make your own, simmer pomegranate juice with a touch of sugar (about 1-2 tbsp per cup of juice used) for 45 min, or until thick and glossy.

Use to glaze pork chops, chicken thighs and lamb, or drizzle over dishes as a finishing touch. This

Slow-Roasted Easter Leg of Lamb

is sure to be a hit with your guests.

Syrup: Prepared in a similar way to pomegranate molasses but with more sugar to cut through the tartness.

Simmer juice and sugar (to taste) until the mixture has reduced to your liking. Because of the increased sugar, this should only take 5-15 min. Pomegranate syrup works beautifully drizzled over panna cotta, ice cream and cupcakes.

DIY grenadine: Grenadine is a sweet pomegranate syrup used in popular cocktails like Tequila Sunrise and Shirley Temple. Combine equal parts pomegranate juice and sugar with some orange peel in a pot; simmer until sugar is dissolved and mixture has reduced ever so slightly about 5-10 minutes. Cool before using.
Brain freeze: Pomegranate f

rozen yoghurt popsicles are a healthy and tasty treat for kids. To make them, thin out some Greek yoghurt with milk and pomegranate juice and sweeten to taste with honey, then freeze in popsicle moulds. You can also layer the yoghurt and juice (freezing in between) instead of mixing them together to create an awesome striped lolly. For more sophisticated desserts, check out this refreshing 

Pomegranate and Watermelon Sorbet

and

Pomegranate, Rose Water and Turkish Delight Ice Cream

. 

Jams & jellies: Pomegranates have a relatively high pectin content, making them ideal for jam making. To offset the tartness, add some raspberries to your concoction. Jellies make a great accompaniment to roasts and snacks, such as these  Roast Chicken, Cranberry and Goat's Cheese Truffles with Pomegranate Wine Jelly.
Sweet stop

: 
Icing: Mix a few teaspoons of pomegranate juice with sifted icing sugar. Drizzle thinner icing over cooled cakes and use thicker icing to ice cookies. 

Curd: Replace the lemon juice with pomegranate juice in your favourite lemon curd recipe – it creates a brilliant magenta hue.

Poached pears: To add extra fruity notes, sub out half the usual red wine with pomegranate juice.

Jelly: We layered pomegranate jelly in these

Pomegranate and coconut mini trifles

. You can also just make the jelly and enjoy it with custard. 
Featured images by Karyna Panchenko & Claudia Stucki on Unsplash
ALSO SEE: How to make perfect potatoes