Buns Bakery, a popular Cape Town-based business selling baked sweet treats, has hit a massive milestone in their growth. Earlier in November, they officially launched a new coffee shop at the Old Biscuit Mill in Woodstock and, let me tell you, I couldn't be more excited!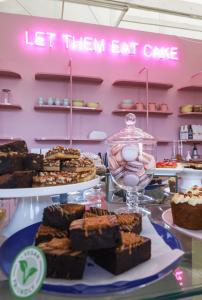 Opened in 2019 by talented pastry chef and businesswomen Lauren Case, Buns Bakery specialises in creating delicious yet affordable baked treats using high-quality ingredients. All the treats are prepared by hand with precision and care by Lauren's talented team of bakers. Leading the team's success is Nabeel Chand, the head pastry chef, who has been at the core of Buns since day one and has helped the business blossom into what it is today.
The treats at Buns vary from classic French patisserie to bold new inventions and twists on South African favourites, and include everything from doughnuts and brioche buns to cakes, eclairs, brownies, cheesecakes and tarts. Although it's so hard to choose my favourites, the caramel macadamia cheesecake slice, beesting brioche and pecan pie brownie bar are definitely on the top of my list. What is so special about Buns Bakery is that there is always a little something for everyone – the hardcore chocoholic, the plain jane, the not-so-sweet-tooth and the tutti-fruities. Buns also offer a delicious range of vegan treats which includes their famous vegan Biscoff brownie and vegan raspberry drizzle cake. Their menu, which you can find on their website and Instagram page, changes weekly which means you get to try something new with each visit. Now if you're not excited enough already, make sure to keep an eye out over the weekends for some of their savoury bakes – their focaccia goes down an absolute treat. 
The new Buns space at the Mill is an absolute sweet haven. Upon your first step inside, all your senses will be satisfied. Ice cream shades of pink, teal and yellow stretch from floor to ceiling. Illuminated front and centre in neon pink is the bakery's mantra 'Let them eat cake', an ode to the childlike happiness and nostalgia that eating cake can bring. Trays laden with delicious treats glimmer from behind a glass counter and the smell of freshly brewed coffee wafts around welcomingly. With help from the friendly staff, you'll soon be strutting out with a curated box of treats in hand (and perhaps an item of the Buns super cute new merchandise). Don't forget to grab a loyalty card on your way out! If you have more time to spare, take a seat and enjoy a freshly made toastie or sandwich.
We were thrilled to hear from Lauren that opening a store at the Biscuit Mill is just the beginning of the Buns empire! Not only does she plan to open another branch in the southern suburbs, but to also bring the brand to Joburg in the upcoming years. If a whimsical land filled with choux buns, glossy ganache and whipped white chocolate cream shoulds like a dream come true, then a visit to this new Buns coffee shop should be at the top of your to-do list this holiday season! 
By: Kirsty Buchanan