Decadence and mystery are at the forefront of SecretEATS, a local business that provides one-of-a-kind fine dining experiences to its guests.
SecretEATS prides itself on keeping as much of the detail hidden for as long as possible. From Cape Town to Durban to Pretoria, a team of professionals works behind the scenes to orchestrate dining experiences beyond anyone's wildest dreams.
From the attendees to the menu, to the location, all details are tactically withheld until the last minute or even until the event itself. This creates a truly unique experience and allows the diners to fully immerse themselves in the food, breathtaking scenery and people around them. SecretEATS caters to every occasion, serving guests with a bespoke menu tailored to the season and location, and with a new chef and venue for each event.
View this post on Instagram
SecretEATS has been serving up these incredible fine dining experiences for almost a decade, and has expanded to hosting dreamy dinners all the way over in Vietnam. We chatted to Events Director Darren Meltz to get some behind the scenes secrets.
SecretEATS was started in 2013, what was your vision for it back then and how do you feel it has changed over the years?
SecretEATS was founded by Gregory Zeleny to bring people from different walks of life and different social circles together to mix, mingle and make meaningful connections. Our team has since grown and we all share a combined love of delicious food, premium wine and discovering all things magical.
Our vision has always been simple but what it creates is beautiful. It's the idea that there is something truly unique and special about meeting and connecting over a beautiful meal. This is what motivates us to keep bringing the enchantment of SecretEATS to our guests.
As a business relying on mystery and limited details to create exciting, incredible experiences, how do you ensure that the public get a proper idea of what you do?
Our signature experiences appeal to what we call "curious diners",  it's that element of curiosity and mystery that gives us our wow! If something secretly special is what you're looking for, you'll find us online or on social media. We are living in a time where people want to experience something new and what better way to do that than to engage all their senses and add in the element of surprise.
We are blessed to have a following of guests who attend regularly and they are our true secret agents. They share the secret with those close to them and this is what builds our SecretEATS family.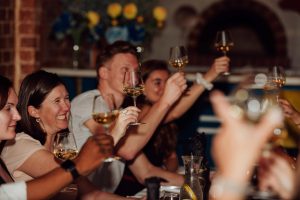 Covid hit the restaurant and events industry the hardest. How have you adapted to working through a really tough two years of regulations to alcohol, movement and curfew?
The biggest setback we faced was our inability to host any in-person events. However, our teams in both South Africa and Vietnam rose to the challenge. We developed interactive, online versions of our Secret dining and cocktail experiences. We took on the challenge of hosting virtual dinners to bring people together from the comforts of their own homes.
Our team in Vietnam launched our Online Cocktail Experience which was the first of its kind. Guests from around the world joined us from the comfort and safety of their homes to learn how to create some of our favourite, signature cocktails, inspired by beautiful Southeast Asia. We're thrilled to say that this is an experience that, even as travel returns, we will continue to offer as something unique for cocktail lovers around the world.
What great ideas or opportunities have come out of the past two years that SecretEATS can be proud of?
Our Dining From A Distance concept was focused on supporting our charity partner – StreetSmart South Africa. This new way of dining over Zoom raised much-needed funds for those in need and provided an income for some of our chefs, restaurateurs and wine partners.
Guests reconnected virtually with their SecretEATS family. A four-course dinner and wines were delivered to each household and guests also got to show off their foodie skills by plating each dish under the guidance of one of our favourite Secret chefs. Even in such trying times, we were honoured to be named Best Luxury Dining Experience in South Africa by the Luxury Lifestyle Awards.
We also brought chefs and our followers together across continents for our #CookingForACause initiative to raise awareness and funds for the hospitality sector. This was done by hosting virtual cooking demos with chefs in South Africa and Vietnam. SecretEATS also actively supported and promoted both the #JobsSaveLives and #LightSAred campaigns.
Why should the everyday South African sign up to be a part of the next event? Are these dining experiences for anyone and everyone to enjoy?
Food is something which is special to all of us. We are so blessed with a richness of culture in South Africa, it's an expression of who we are. We all love to come together and share, and SecretEATS is the most unique space to do this. You never know who you'll sit next to or what will delight your palate. All you need to do is put your trust in us and let us surprise and delight you.
What are the pros to both being a chef and catering for one of these events, as well as for opting to host your venue for the dining experience (whether it be your home, farm or warehouse?)
SecretEATS is a space to play. We want our chefs to dream. It is their space to step out of their kitchen and show our guests who they are on a plate. This gives our chefs and venue owners the opportunity to try something they have been pondering for some time and most of the time surprising not only our guests but themselves as well.
View this post on Instagram
What are some of your favourite SecretEATS dining experiences that surpassed expectations? And where is the wackiest place guests have had the pleasure of enjoying some delicious meals?
Our more intimate dining encounters are the most memorable. One which I absolutely loved hosting was a Secret Chef's Experience for just ten diners with Chef Trevor Boyd. Guests stepped into one of the most prestigious kitchens in the country for an intimate, indulgent evening with the full kitchen brigade at your service, and each element of your six-course dinner is prepared before your eyes!
We have hosted dinners in many interesting spaces. One which was certainly unforgettable was at KARE Johannesburg – a fascinatingly inspirational décor space where Chef Johan Boshoff built guests' desserts on the table right in front of them.
What can we expect to see from SecretEATS in the coming months and for the rest of 2022?
If I told you then it wouldn't be a secret…What I can say is that we have some very exciting and one-of-a-kind dinners already in the works.
We continue to grow and build our community of social, outgoing food and wine lovers, and as the guest demand increases, our plan is to launch both our dining and cocktail experiences in different cities. We've recently made a return to Cape Town and Durban and Pretoria are soon to follow.
Keep up with the secrets by following SecretEATS on their socials, and request an invite to the next event on www.thesecreteats.com.