Ever since its doors opened in October last year, ditto has been the talk of the town. Not only because they create ultra-creamy and delicious ice cream, but because they're also Cape Town's first 100% vegan ice cream parlour.
ditto is an extension of Oh Oat, a plant-based m*lk brand founded by eco-warriors Trent Pike and Renato Marchesini. The core values of Oh Oat revolve around sustainability, animal welfare and our impact on the environment – read more about what they stand for on their website here. With an 18-month development timeline from concept to product, Oh Oat focused on creating a m*lk that was of top quality, while also being good for you. You won't find a single preservative, gum or unnecessary additive in Oh Oat m*lk…just 5 wholesome ingredients specifically selected for their impact on the final taste, the environment and you. "We have wanted to do ice cream since day one!", says Trent. "Ice cream is something people get passionate about and we knew it would be a fun product line to go into. Further, being vegan myself, there just wasn't good quality vegan ice cream on the market and I wanted to change that." 
Meaning 'the same again', the name of Oh Oat's ice cream was carefully considered. Their ambition was to create an ice cream so good that it was indistinguishable from dairy. "We like to think we're the evolution of ice cream to a product that is healthier for you, won't give you terrible lactose-induced tummy aches, is less environmentally damaging and doesn't have the associated animal cruelty attached to it which dairy ice cream does. ditto is the same again, but better."
The ditto ice cream parlour is located on vibrant Kloof Steet in Cape Town City, with an idyllic view of Table Mountain just a step out the door. It's a minimalistic and charming space adorned with bursts of colour from fun signs and photos. There's a spot to sit down to enjoy your treats, although if you're like me, you will have already tucked into your scoop before you even get there! ditto keeps its doors closed on Mondays, but are otherwise blessing us with their ice cream from Tuesday to Sunday afternoons.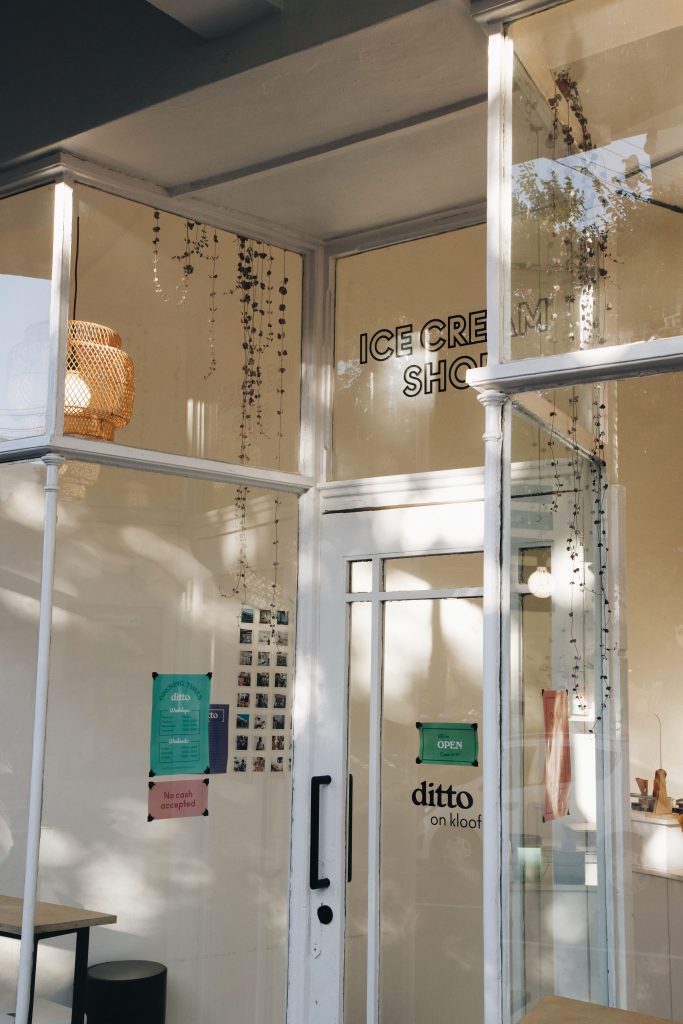 Had I not known beforehand that their ice cream was vegan, I wouldn't have been able to tell. Beautifully velvety, no icy crystals and a skilful balance of flavours, ditto definitely succeeded to make a vegan ice cream worthy of praise. Bonus: there's no overpowering coconut flavour typical of most other vegan ice creams on the market. I was blown away! Without any milk, cream or eggs that are traditionally used to make ice cream, the creaminess of ditto's base is clearly owed to the supreme quality of Oh Oat m*lk. I was not at all surprised to find out that it took well over 200 experiments and an extensive trial-and-error development cycle to perfect their ice cream. What ditto has been able to create is pure magic and joy, in edible form.
I'm such a softie for ice cream, not just because it's flipping delicious, but because it's so nostalgic. Memories of family beach days with a soft serve dripping down my hand, outdoor Nestle ice cream signs twirling in the wind, and blissfully enjoying Gatti's popsicles with friends after school. "We want people to feel like they do when they taste regular dairy ice cream – happy!", says Trent. "Ice cream should bring joy, be a treat and be a little indulgent."  
ditto currently has 40 unique flavours in rotation and development, each with its own fun name. Their fan favourite so far is 'Brittle Gone Nuts', a heavenly peanut butter ice cream studded with chunks of crunchy homemade peanut brittle. My personal favourite is Pasionella; made with peak-of-the-season passion fruits, it reminds me of passionfruit ice lollies I used to have when I was a kid. Without any additions or toppings, plain ol' vanilla ice cream can be a tricky thing to master; but their Very Vanilla was wonderfully flavoursome and I was pleased to see that it was speckled with flecks of genuine vanilla.
Whatever your taste preference, you're guaranteed to find a flavour that tickles your fancy: O-so-Oreo, The Minty Way (inspired by Nestle's Peppermint Crisp), Gingery Snap, Coffeelicious, Granny Smith's Pie plus so many more! New flavours are released weekly on Flavour Drop Fridays and are inspired by seasonal produce, locally-sourced ingredients and the team's cravings, I'm sure. Keep an eye on their socials to make sure you don't miss out on your favs! 
View this post on Instagram
To jazz up your scoop, you can add on various toppings, such as homemade nut brittle, wafers or crumbled cookies. Oh, did I mention that it's all for FREE? Yup, you read that right! Absolutely zilch. Now if ditto wasn't already standing out from the crowd, the fact that they make their own waffle cones fresh right before your eyes ought to do the trick. The batter, like everything else they offer, is completely homemade and has an inspired touch of cinnamon to give the cones have a soul-warming aroma and warmth. Make sure to get in on their 'Netflix & Chill' special on Friday nights – 4 free waffle cones with every 500ml tub of ice cream you buy! 
In addition to serving ice cream, ditto also sells fluffy vegan doughnuts dusted in cinnamon sugar. "We really love doughnuts, and think they're a natural addition to ice cream", explains Trent. For you hardcore fans, you can buy half a dozen doughnuts for only R60 all throughout the week! ditto strongly believes in the power of supporting local businesses as a way to induce positive change in our economy. The doughnuts are made by a local baker based in Grassy Park, and their staff uniforms are sourced from Pretty Casual, a local clothing brand.
While putting smiles on people's faces is why ditto do what they do, the business also creates an opportunity to get the public excited about the wonderful possibilities of plant-based food alternatives. "Eating this ice cream instead of dairy ice cream has real-world positive effects on the environment," explains Trent. They hope to enlighten and inspire those that are curious about veganism while also combatting the negative connotations often associated with plant-based food.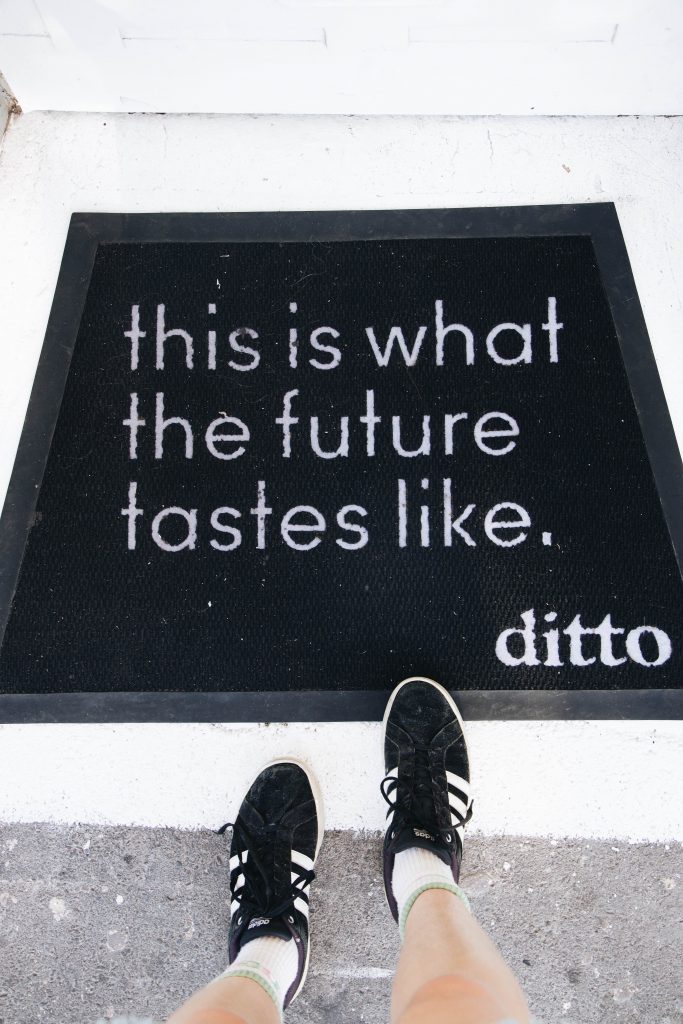 Photo credits: Jo Roodt (@joroodtphotography)
Giveaway with ditto
Stand a chance to WIN 1 of 10 ditto gift cards. Each card entitles the cardholder to 5 FREE single scoops at their parlour on Kloof Street. Ts & Cs apply. Enter by filling out the form below!