SAB continues to smash boundaries and delight beer-lovers across the country with the launch of Africa's first-ever double malt lager, Castle Double Malt, a golden taste sensation that is set to be another milestone in the brewer's storied history. 
Castle celebrated the launch of this "first of its kind" drink at the stylish Munro Boutique Hotel with a few selected media guests and personalities. Guests were in for a treat as they enjoyed a sumptuous 5-course meal delicious meal prepared by Chef Dede.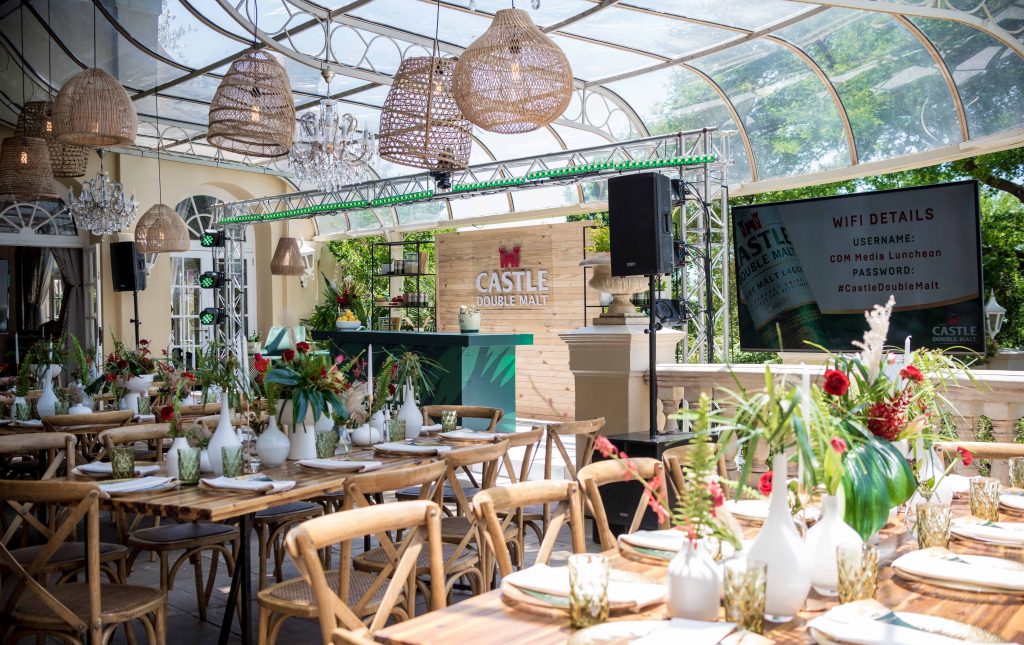 Enrobed in a sleek and attractive 410ml pearl, green, and gold can and a premium 340ml green bottle, the 100% homegrown beer is made from two high-quality malts from Caledon and Alrode, two of Africa's finest growing regions, to bring the perfect union of flavour and refreshment.
The combination of these two special malts, overseen by Brewmaster Kyle Moskovitz, results in a superior, perfectly balanced lager with the full-body, creamy foam, and rich golden colour that beer drinkers across South Africa have come to associate with Castle. As a 100% pure malt beer, Castle Double Malt features a richer mouthfeel, while specialised hopping technique and fermentation control provide the fruity aroma of the beer. A premium beverage it may be, but this perfect union of flavour and refreshment isn't one for special occasions alone. Rather, Castle Double Malt is designed for everyday celebrations, both large and intimate, and is a natural choice for those moments around the dinner table with family and friends or simply taking the edge off long sweltering days as we head into summer.
  "Consumers are optimistic about the future and look to celebrate life's small wins to keep them going. We've learnt to appreciate every day and reflect on where we are and what we have achieved. As we head into an era of fewer restrictions, Castle Double Malt will continue to remind people to appreciate the moment and to celebrate their small wins – because they are as important as the big ones," says Castle Lager Marketing Manager Georgina Willows.
  Of course, your summer sustenance won't just be in the form of the golden liquid. The bold new beer is the perfect accompaniment to the umami, caramel, and herbal notes of gourmet burgers and sushi, a variety of tapas and charcuterie, and the rich, robust flavours of seared beef, fish, chicken, and lamb. 
For the past 126 years, it has all been coming together with a Castle. And with the new Castle Double Malt adding to the beer's rich legacy, prepare yourself for double the flavour, excitement, and camaraderie. 
For more information on this exciting new offering, check out www.castlelager.co.za