Level Seven offers fine dining on Johannesburg's East Rand
Living in Bedfordview on Johannesburg's East Rand, I am well versed in having to drive to meet friends for dinner in the north – Sandton, Bryanston or Fourways – so it was with pleasure that I invited a friend to join me for some fine cuisine less than 20km from my door.
Level Seven Restaurant, one of the restaurants in Johannesburg, at the Radisson Blu OR Tambo, with panoramic views over Kempton Park farmland, opened its doors along with the hotel in 2020 – but don't be fooled, it isn't at the airport. Talented executive chef Loyiso Mnduzulwana has been with the afro-chic-meets-art-deco styled restaurant in Johannesburg since day one, and conceptualised their extensive menu.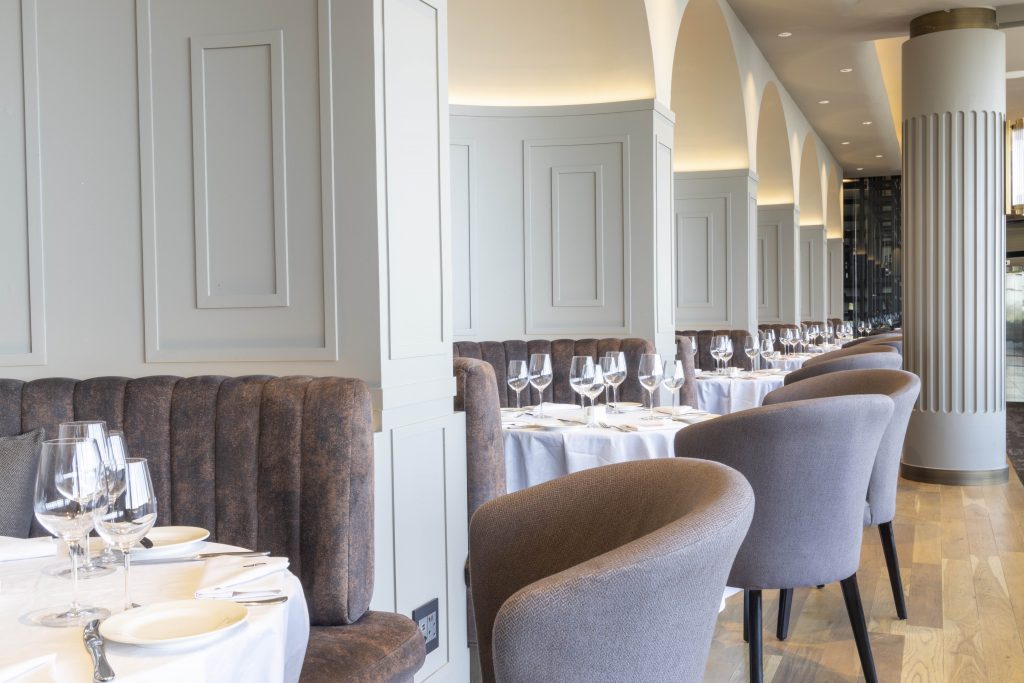 The restaurant has a definite hotel atmosphere, but in all the right ways
Offering several luxurious and spacious areas for guests to move between, from the main dining room, to private dining areas, cigar lounge with a fully stocked bar and the Sky Bar and swimming pool area. This creates an atmosphere of relaxation with a vibe of being on a mini-break for the evening, where one is able to completely unwind.
While perusing the wine menu, the quality and length of which is on par with any of the country's top restaurants and happily includes older vintages, we were greeted by enthusiastic manager Ramon de Comarmond, who joined a few short weeks ago from a popular Mall of Africa restaurant.
Waitress Safi Mkandawire brought our bread course, accompanied by three butters – curried, beetroot and salted. While sipping on a Steenberg Nebbiolo 2016, my friend and I appreciated its soft, well integrated tannins and pondered what dishes would suit its fresh acidity and notes of cherry.
The contemporary menu offered at Level Seven has Asian and Italian nuances, and guests would be advised not to overthink their choices, as you could be in for some painful deliberating.
We settled on starters of a duck trio of sausage, liver mousse and breast, accompanied by exotic mushrooms, and the chef's recommendation of the prawn and scallop risotto.
Our food arrived within good time, exquisitely plated with the requisite fine dining smears of sauce. The risotto was well-cooked but could have been slightly more gooey; the two prawns nicely seared and the single scallop delicious if rather lonely. Would it be too much to ask for a portion of two, for this bite-sized delicacy of the ocean?
It was however the duck which stole the show, its umami flavours hitting all the right notes with our Nebbiolo, which tempered the richness of the dish with ease. Savoury and utterly more-ish, with a generous portion size.
Mnduzulwana advised that Level Seven gets fresh seafood thrice weekly, so I was swayed from the meat section of the menu towards the seafood, with a choice of sole, baby kingklip, prawns, langoustine and a choice of not one but three styles of salmon.
I opted for the Asian salmon, topped with wasabi beurre blanc sauce. I requested it medium, on Mkandawire's recommendation, and it arrived a little less pink than I would have liked. The sauce was more buttery than hot and could have a little more kick to it. In keeping with the Asian theme, it was served on a bed of noodles with perfectly cooked crisp baby corn and broccoli and ample exotic mushrooms. The only part missing was a crisp, salmon skin.
My friend was torn between the glazed quail but settled on the beef fillet mushroom royale, which was perfectly cooked and butter-soft. Other main course dishes included a curried lamb shank, pork belly and pasta dishes from a chicken carbonara to a selection of vegetarian dishes. It is refreshing to see a wide selection of interesting vegetables and herbs in all of the dishes, from king oyster mushrooms to fennel, bok choy, asparagus and baby corn. Mnduzulwana is also able to whip up vegan and gluten-free dishes to suit all dietary requirements.
We retired to the cigar lounge to enjoy truly delicious cappuccinos – reason enough to return just for that – and opted to share a cheese platter and a Lindt chocolate fondant, complete with oozing centre. The platter was generous but I would have enjoyed the addition of some blue cheese and figs. The Ferrero Roche tiramisu sounded incredible too, but like an extra hour on the treadmill – probably so worth it, in hindsight.
With four wine cellars, those who enjoy their cognac, gin, whisky, Methode Cap Classique or Champagne will be thrilled with the superb selection on offer, although this is planned to be reduced after the restaurant recently changed hands.
While the lights could be dimmed slightly, the soft lounge music was pleasant enough, but for guests who go on Wednesday to Saturday evenings from 7.30pm, a pianist can be heard tickling the keys of a baby grand piano. We might have to return just for this, and if not, just for the sake of making those in the north of Johannesburg finally come east for a resplendent meal.
Words written by Lauren Cohen
 Lauren is a former journalist who became a corporate communications specialist more than a decade ago. She is a dedicated wine nerd who loves a good wine festival, and when not baking sourdough or riding her mountain bike, can be found spending time with her son
Visit the Level Seven website here and book a flavourful fine dining experience like no other!
Take a look at their Instagram here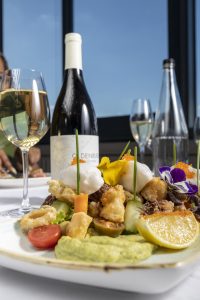 Review written for Food&Home by Lauren Cohen