On a lazy Sunday afternoon I found myself at Jordan Restaurant with some family friends. Little did I know that it would be an experience worth writing about.
Fine dining at its…finest. For lack of a better word.
From a beautiful soft aesthetic, stunning views, and innovative meals, it was a visit to remember.
Modern yet traditional aesthetic
Upon arrival I was intrigued by the décor. Beautiful branded stoneware that softened the atmosphere and instilled a sense of calm once seated. A hint of what was yet to come.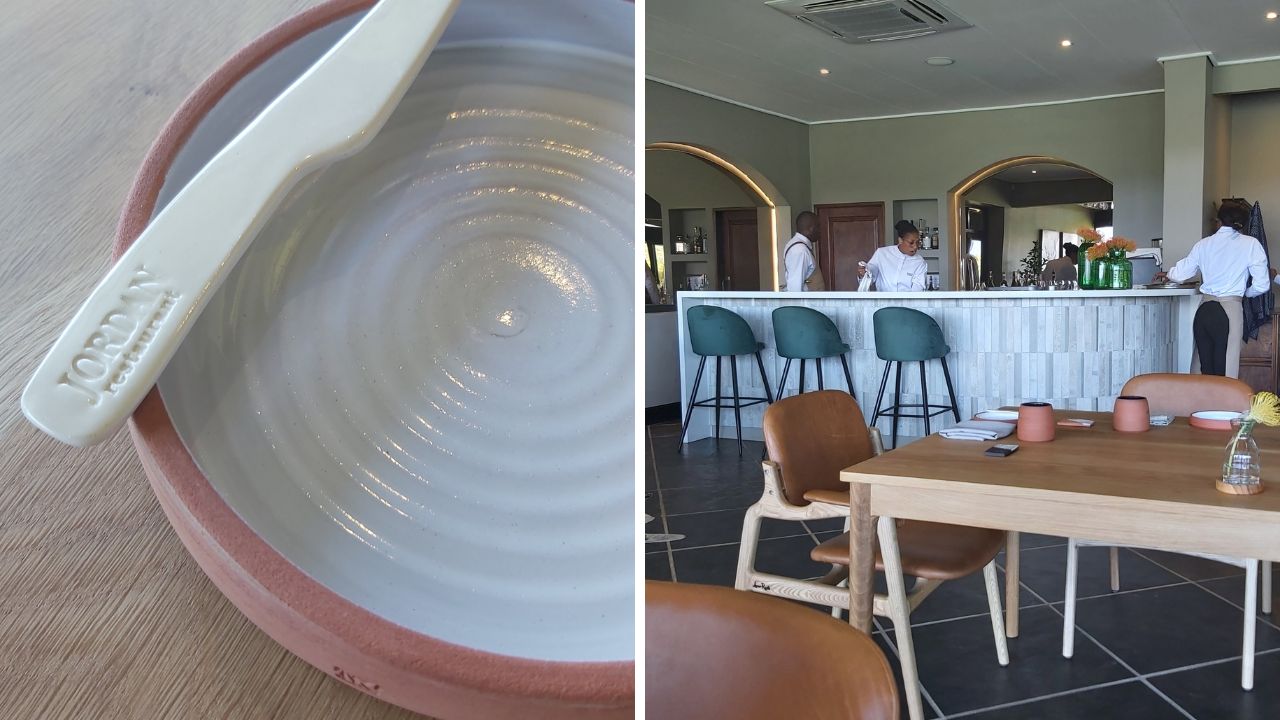 The staff were welcoming and knowledgeable, which made the whole meal a wonderful learning experience.
Once seated, we were offered sparkling water and we got to select what flavourant we wanted to add. It was a fun and different experience as often the first part of a luncheon is the wine list. With tongs in hand, I selected mint and lemon, which served me well for the rest of the lunch.
Spoilt for choice with starters
Before the starters we ordered, we were treated to some delicious complementary starters from the chef. Each dish was a first for us. From pickled veggies to a soft and fluffy Japanese bread, it was absolutely delicious.
I may not be the biggest fan of pickled veggies, but that cauliflower was something special.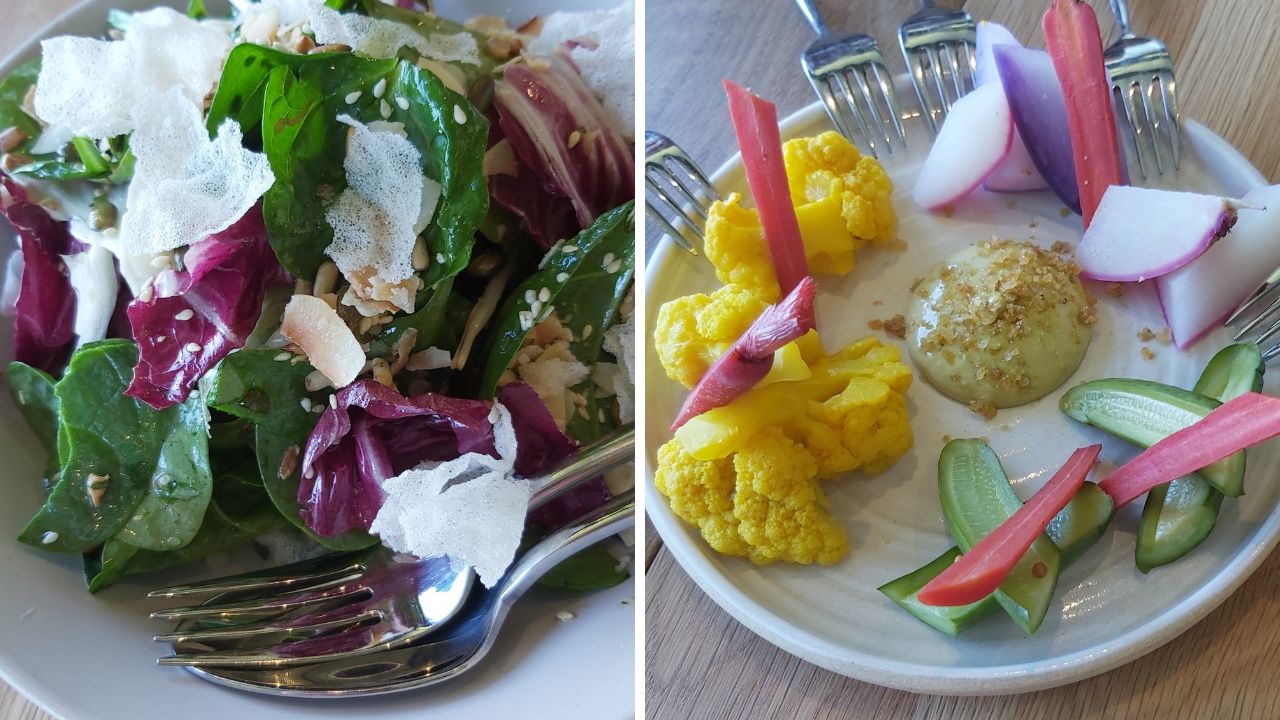 After our pre-starter, we received our starters from the menu – each ingredient carefully explained by the waitron.
I ordered the Prawn Ragu, which was quite a generous portion beautifully presented with a mix of colour and texture.
PRAWN RAGU

Tomato gastrique, basil, rocket, lemon beurre blanc.
A friend ordered the chef's recommended Crispy Polenta, which took what seems like a simple dish to an elevated state of elegance.
CRISPY POLENTA

Cauliflower espuma, raisins, pine nuts, capers, kale, and beurre noisette
Main course food poetry
For every main course served, one of the waitrons explained each element of the dish. It transformed the usual dining experience into something almost cinematic. Different colours, textures, and flavours encapsulated each dish to tell a delicious story.
Not one mouthful was the same as the next.
We all ordered a different main course and it was enlightening to see (and hear) how each dish was presented.
ANGUS RUMP

Smoked bone marrow, broccoli purée, fermented turnip cake, glazed onion, red wine gel, and beef jus.
AGED LAMB LOIN

Confit lamb shoulder, BBQ red cabbage, pomme purée, port & thyme lamb jus.
I ordered the Aged Lamb Loin, which was an exploration in texture. From a foamy finish to tender lamb, it was nothing like I'd ever had before.
Seasonal ingredients shine in each dish – particularly the vibrant colours of fresh veg and soft flowers that were beautifully presented in the veggie and salmon dishes.
SEASONAL SPRING VEGETABLES

Sous vide egg, confit lemon, parmesan, seaweed, and beurre blanc.
OVEN-ROASTED CAPE SALMON

Pommes dauphine, courgette purée, and smoked tomato sauce vierge.
Decadent and unique desserts
Dessert is always the course I most look forward to. Jordan's fine dining experience was no exception.
I ordered the Bruleed Chocolate Pudding for dessert…amazingly delicious. Chocolate custard, chocolate soil, butterscotch, and dulce ice-cream – as a big Crème brûlée fan, it was a definite winner.
After dessert (which is never enough in my opinion), we were treated to a few extra treats.
Mini ice creams that captured summer in a small cone were served in a bed of unpopped corn. A childlike nostalgia followed when the homemade marshmallows were served next to them.
These mini treats were a delicious end to what was a fabulous meal.
"Chef Marthinus offers a contemporary farm-style dining experience with produce-focused dishes sourced from surrounding farms and local suppliers. Making seasonal produce the star of the show."
ALSO SEE: Dubai-style Breakers Brunch is one for your summer bucket list
Dubai-style Breakers Brunch is one for your summer bucket list