We had the great honour of virtually meeting up with the Karoo culinary queen herself Beate Joubert, where she shares the inside scoop of her inspirations and aspirations when it comes to cooking in the Klein Karoo. Just for our readers, we were able to get our hands on a copy of this fast-selling, limited edition book "Taste the Little Karoo " written by non-other than Beate Joubert herself, where she takes us on her culinary journey through the Klein Karoo and all it has to offer. This recipe book captures the essence of the region featuring an array of tapas, comfort foods, salads, braai dishes, preserves and sweet treats! Everything that will inspire home cooks, entertainers, wine lovers and lifestyle enthusiasts!
Here's getting to know Beate Joubert…
Your recipes are mouth-watering and really inspirational. What inspires you about the Karoo and how does that play into your recipe developments? 
I came to the Little Karoo, or more specifically the Tradouw Valley in 1995 when I got married; so technically speaking, it is the longest time I've been living in one area, on our farm. This is where I have had my four children, saw how they grew up, built up our business Joubert-Tradauw and Alfresco Deli with my husband, and tried to create inspiring dishes. The Little Karoo has thus had an immense influence on me, my family, my children, my style of cooking, and my life. It has given me so much to be thankful for, it has been the safety net or interesting multi-dimensional basket out of which I could pick and choose and stay motivated. It is the most beautiful place with the best climate in the world, so it's not difficult to create something special here because nature and agriculture is so rich, fruitful, and giving. I am grateful that we could build on a legacy that my husband's grandfather already started and show our gratitude in terms of creating or nurturing a unique story, by taking it further with our own wine brand called Joubert-Tradauw. I had to be innovative to pair our classic wines with good and authentic foods and try to educate ourselves and visitors about this ''gem'' given to us.  
How do you stay inspired to create new and exciting recipes?
Cooking and creating new dishes or recipes are part of my life on the farm – always trying to find new ways to sell our wines at Joubert-Tradauw. I enjoy life by thinking about interesting stories or food. It is part of who I am, not just as a hobby but as a way of living. Cooking or creating flavours makes me happy, it inspires me. If I pick up a magazine or plan a trip, it always involves or evolves around food. I look at dishes or foods around the world and am reminded of my food trips or what I ate or enjoyed where or with whom – it keeps me interested in life and cultures. Food is the silver lining or golden thread that connects people. Life would be bleak without good food, wine and experiences, with little to reflect back on. I am a giving person and love to entertain, to see people happy and I do that through food. I also enjoy nature and am quite artistic by nature. I see a plate as my canvas to escape into a world of creating different taste combinations and healthy foods, to inspire and colour in peoples' lives… 
We all have those beautiful food memories of the moment we first stepped into the kitchen. How did your culinary journey start and what was the first thing you ever remember making?
I grew up in a family where baking was the epitome of life growing up. Not a Sunday would go by without an interesting tart, cake or bake. My mother was an intellectual and not very fond of the kitchen but her mother and my other grandmother were very good cooks and always had warm cozy kitchens (one in the Karoo on a farm and the other in Gordon's Bay) and this is where I found my place. The kitchen was the gathering place where we would sit around the table and talk, listen to stories and watch my grandmothers preparing or cooking something special. So it started with baking and then cooking, which I learned from them. 
The first dish I can remember which was the ''awakening'' dish, was a honey cake, I think it was still out of Die Kook & Geniet. The house smelt so pleasant and felt so warm. My dad came home and walked in with a huge smile on his face as I served it with warm syrup. As a family, we enjoyed simple foods, but my mother had her favourites like sago, rice pudding, melkkos, mosbolletjies, and hearty soups which all made a lasting impression on me. Cooking together later became the glue that connected my children and made our home special.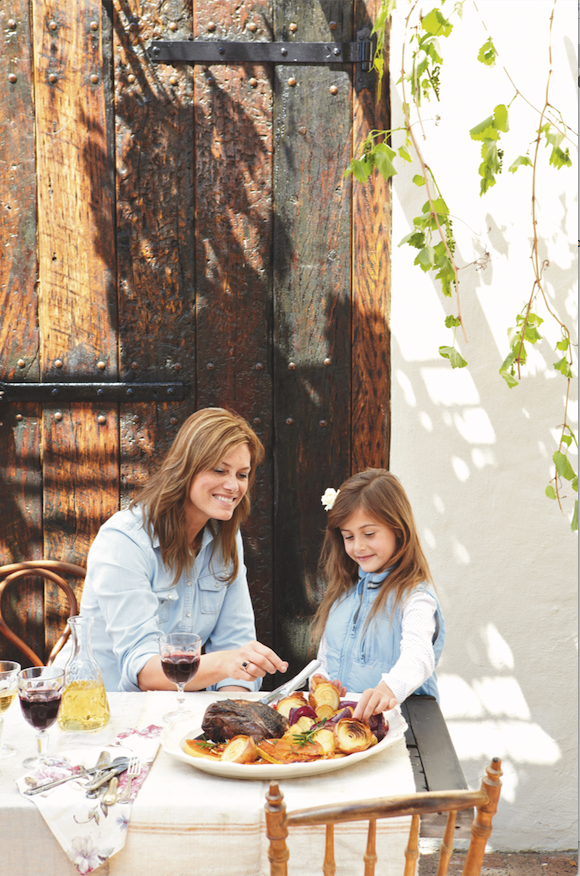 What is your earliest food memory? 
My father would take us out for dinner when he came back from his business- or hunting trips, so we looked forward to that ''spoil'' tremendously. My favourite experience (in the 80's) was a restaurant outside Pretoria that made the best fish in the world! My Mother and I always had sole and my Father the kingklip. This was our thing, I was still little but I remember that as my best meal ever! 
Another second best memory would be after my student days, traveling and having octopus, calamari and a greek salad in Greece on the island of Lesvos. I was amazed at how simple and flavourful their food was, without pretense. My ultimate experience was my boyfriend (now husband) diving crayfish in Hangklip, steamed in seawater and sliced abalone served cooked in butter, lemon juice, salt and pepper. Simple but delicious, with a crisp white wine.
What inspired the name of the book?
I wanted to show that you can ''taste'' an area's food or the Little Karoo in this case, on many levels. Nature, product, flavour, agriculture, wine, atmosphere, hospitality and so much more. 
You have had quite a successful journey so far. Are there any new and big projects we can expect from you?
Yes, another cookbook was written during Covid but I'm not allowed to disclose any information as yet, unfortunately. 
My other love is music, and we have hosted more than 25 concerts here at Joubert-Tradauw. I'm currently working on a Music and lifestyle festival for Barrydale, 17-21 March 2023 (with artists like Matthew Mole, Nomadic Orchestra, Majozi, etc, a cycling- or jogging route through the Tradouw Valley) and amazing foods to inspire…   
We know that you were on Season 2 of Kyknets Cookery show "Kokkedoor", what was that experience like and what would you take away from it ? 
It was professionally run and orchestrated. I've made a few good friends and was amazed at what young chefs could create and how talented they are on so many different levels. I have the utmost respect for Errieda Du Toit and her knowledge of food and history. Bertus Basson was my favourite judge on one of the episodes and he praised me for the best pancake/crêpe he has ever tasted. Small things can motivate people and South African chefs are an inspiration.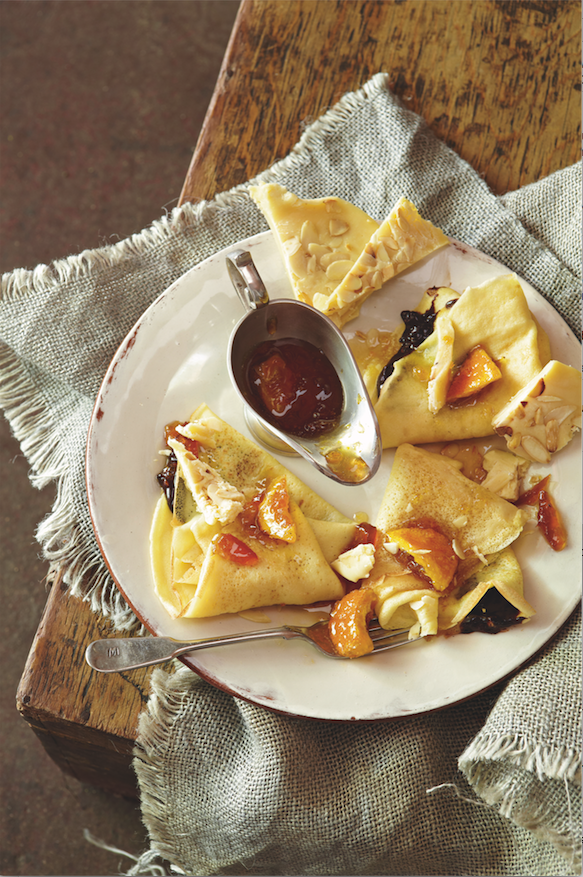 While you made so many incredible dishes on the show, what was your favourite dish that you made…even if you do say so yourself/ favourite challenge?
When we arrived in Prins Albert, I had to cook out against 19 other home cooks, it was a surprise as there were 10 qualified chefs and 20 home cooks (teams always consist of a chef and a home cook or self-taught cook like myself). We had to impress the chefs with a dish that reminded us of something out of our children's era, so I decided to make a big platter with traditional elements like a small bobotie, ribs, goujons, etc. that reminded me of our lovely barbeques or Sunday lunches. Luckily I was one of the 10 home cooks that could stay and I wasn't sent home. Three chefs chose me to cook with them in a team, it was a difficult decision and highly stressful as I am not a competition-type person.
If you had your own cooking show, what would you call it?
''Simplicity is the ultimate sophistication'' (Leonardo Da Vinci). I think I would ask people to go back to the basics and enjoy food and cooking again. If you understand the basics of food and flavours, you don't need a recipe and can become creative and inspiring with the ability to improvise. I would also ask them to teach people or show the difference between frying, steaming, searing, boiling or the basics or different methods of preparing food. Also, different or practical ways to treat different cuts or meats like chicken, veal, beef, pork, etc.
You mentioned that you worked in the Wine cellars of Napa Valley in the USA, France and Switzerland, what was that experience like and what is your favourite wine to cook with? 
I enjoyed my time in America the most. I joined my then-boyfriend, now husband, where we learned how to make wine. My favourite wine was a Cabernet from the Rutherford region (Silver Oak) and a Chardonnay from Cakebread Cellars in Napa. I worked for a catering company, catering on weekends at different cellars and worked in an Italian restaurant in St Helena called Tre Vigne, where I learned about infusing olive oils and how to make delicious kinds of pasta. I was the hostess at one point and people would arrive from San Francisco in limousines, this taught me how to aspire to run a restaurant that's in high demand. I also enjoyed Switzerland, working between Lausanne and Geneva on a wine farm, and in the south of France, cutting grapes. I worked extremely hard for little money, but the experience with the Catalan people in France and the Mexican community in America gave me insight into their world of food. You can always learn from others and I find different cultures inspirational. I never knew how much that time in my life would teach and enrich me. I missed my family and country but believe that we need to work or travel abroad, to give us a bigger frame of reference. I did whatever jobs I could find, even looking after children in Scotland and the Embassy kitchen in High Street Kensington, for the late South African Ambassador to the UK. I always cooked and although I studied Economics and Industrial Psychology, it always felt safe to be in the kitchen in different countries, I also loved how a restaurant operates, and how systems work. It could be the industrial psychologist in me!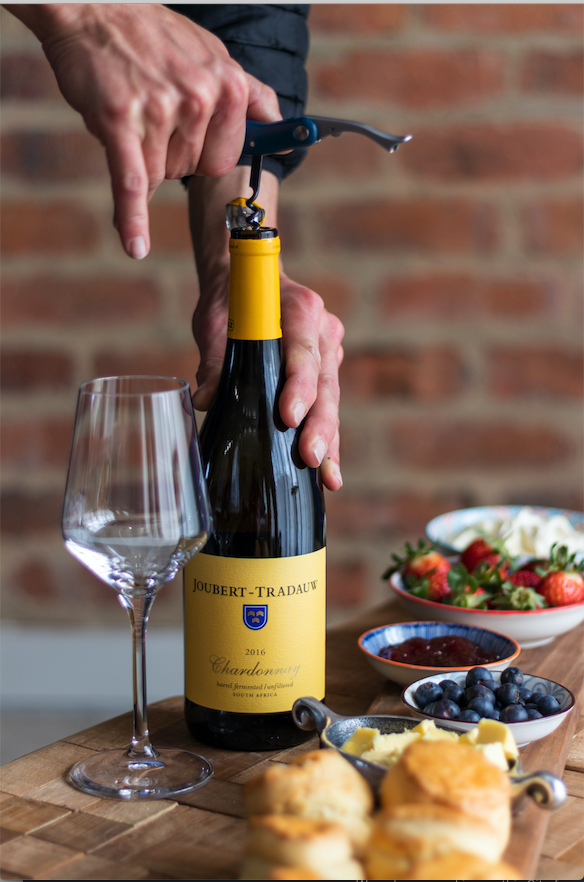 What is your favourite spice and herbs? 
Fresh sage and thyme are my favourites. I love oriental spices like star anise, ginger, cinnamon, turmeric, chili, cardamom, etc.  
What is the 1 ingredient that you must always have in your pantry? 
Fresh ginger
What does food mean to you?
Everything! The spirit of sharing and friendships. Everything revolves around good food. 
What is your cooking philosophy? 
Less is more! It's like painting or creating artwork, you need to know when to stop. We can learn a lot from the French or Italians, the simpler the better. Focus on quality products and let the ingredients come to life and do all the talking. Take wine, for example, its made in the vineyard, just follow the natural path and don't interfere too much. 
Do you have any advice for people who don't feel comfortable cooking or baking but want to get into it and increase their skills in the kitchen? 
Go back to the basics, do not try to be too fancy or apply too many techniques for instance. People are at their happiest when you give them good, simple and wholesome food, full of flavour and love. Skill comes with time and a lot of practice, but do not try too hard. Try to enjoy cooking/baking and it will become enjoyable and your dish will be transformed into a unique creation. Do not follow recipes to the tee, try to improvise and use local or fresh ingredients from your area. Focus on authenticity, people are impressed with simple dishes or food. Try to learn how to bake bread for instance or make a good moussaka or vegetable dish differently. Aspire to make your guests happy by making a few good dishes and chill with them, nobody's impressed with too fancy/complex dishes and the host/chef is out of sight in the kitchen. We always think we need to have many dishes to impress, sometimes a good or well-made dish is enough. Remember that a good and simple salad can be the ultimate dish, as seen in my cookbook.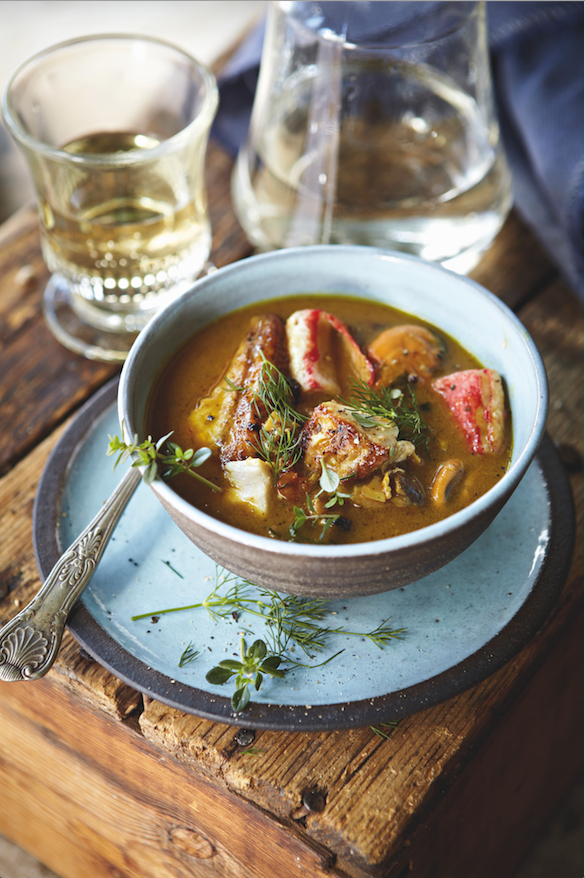 What was the highlight of your career thus far? 
When my book, Taste the Little Karoo, was first printed and I was asked by Random House to come and sign the first copy. It was a joyful and humbling experience. 
What is your go-to meal when you don't know what to cook? 
A good light omelette, souffle or hearty soup with home-baked ciabatta or sourdough. Soul food.
What is your approach to food photography? 
Apply art and simplicity. Natural, think about nature and what you see when you're in nature like colours, textures, etc. Do not interfere with natural beauty and light. Alfresco or outside photography is my favourite canvas. I like classic and almost old-fashioned photographs.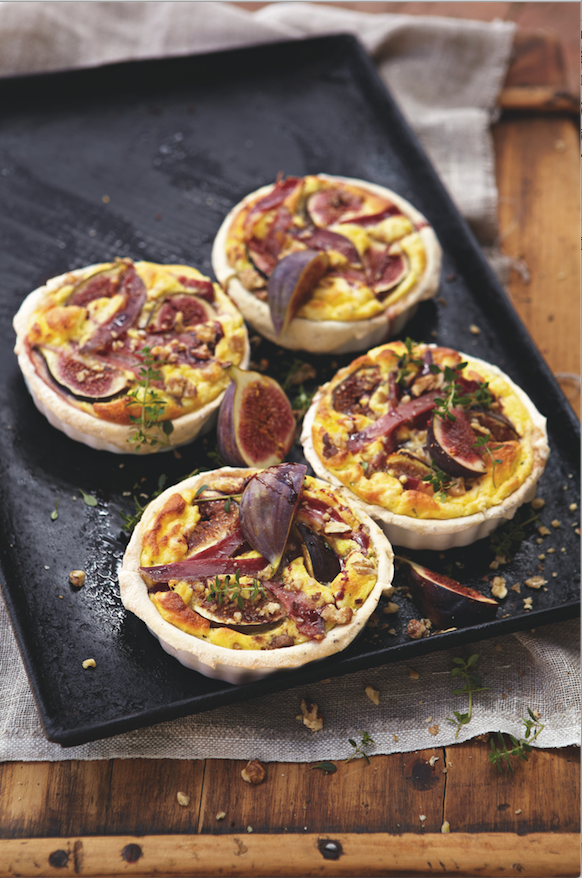 Where can our readers buy your book? 
Unfortunately Taste the Little Karoo is out of circulation, after four re-prints. People often still want to buy it, but they'll have to look forward to the next one. It is also available in Afrikaans.
Please also provide the address of your incredible al fresco restaurant and if it is open to reservations etc. 
Deli Alfresco, at Joubert-Tradauw in the Tradouw Valley, 10km before Barrydale on the original R62 road. Booking is advisable in winter at Beate 0823049000 (www.joubert-tradauw.com). I focus in winter on only a platter and Italian-style pizza; summer brings salads, gourmet sandwiches, fresh pasta, platters with Tradouw tapas and more! We also have our own wine brand Joubert-Tradauw.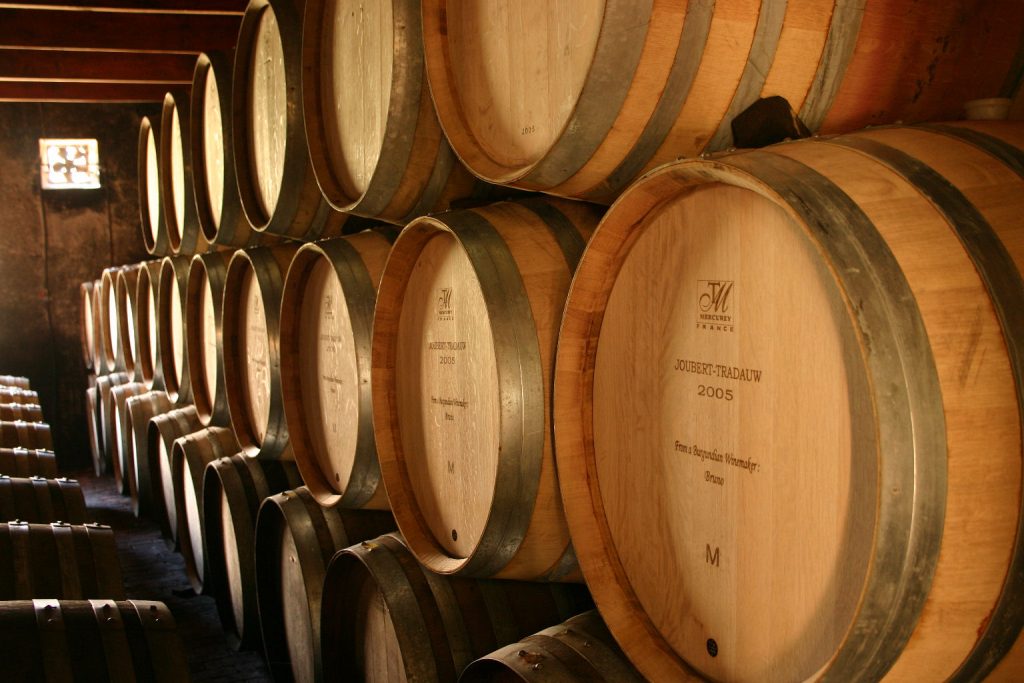 Images courtesy of Random house
STAND A CHANCE TO WIN A COPY OF "TASTE THE LITTLE KAROO"