Eight seasonal ingredients to enjoy this Winter – Salsify's Chef Ryan Cole runs down the proteins, produce and products he's excited about as we head into the colder months.
Inspired by the nature amongst which Salsify restaurant is situated (both of mountain and sea), Chef Ryan Cole and his consummate team are constantly creating intelligent, restrained and utterly compelling dishes. These dishes always draw heavily from the seasonal ingredients and produce available at any given time.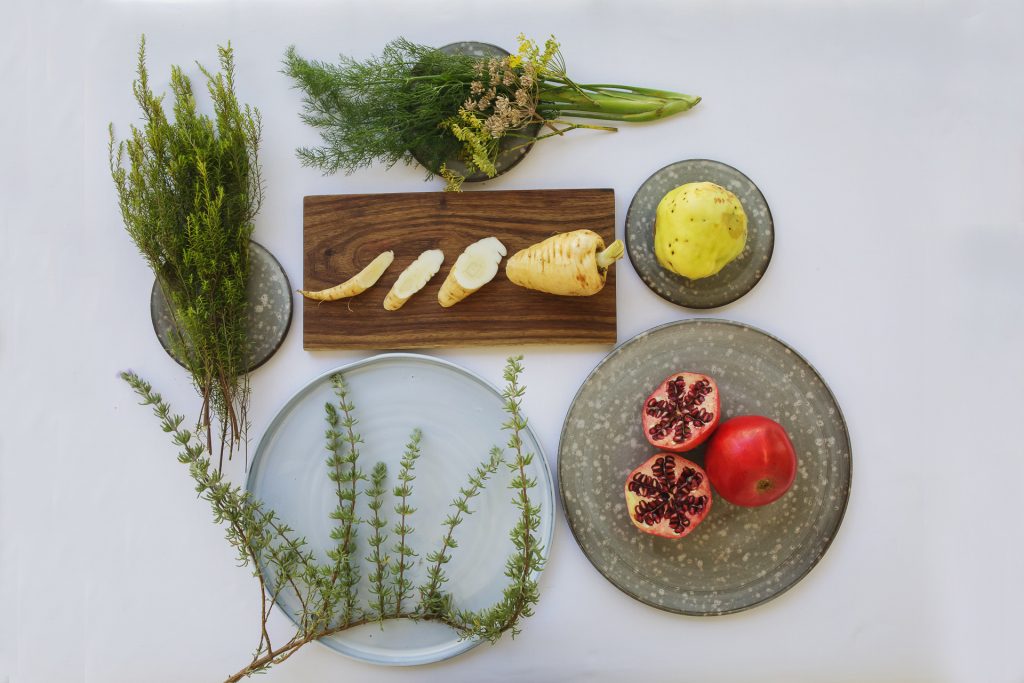 Cole's fervent dedication to seasonality and belief that "what grows together, goes together" means the menu is ever-evolving.
There's always the opportunity to create a new dish based on what he catches, forages for or is offered from his trusted selection of small-scale, local farmers and producers. So, who better to turn to than the chef himself for a run-down of what to cook, eat and drink as we head into the winter months.
Seasonal ingredients to work with this winter
Snoek
The quality of fish in winter tends to generally be better, they're fatter and oilier which naturally adds to flavour.  His go-to for the winter months is wild caught white fish, he particularly favours line-caught snoek – the season starting up the west coast as the weather begins to drop.
While the snoek is presented as a mousse on his current dish, if he's cooking it at home, he'd keep it simple, curing the fish with salt, sugar and curry powder before cooking it whole on the braai. His top-tip here would be to cover the fish with newspaper on the braai – it creates a convection-like effect meaning you don't need to flip the fish.
Fish features prominently on Salsify's menu, appropriate, not only given the restaurant's ocean-facing setting but also the chef's background, together with his brother he line-catches all the fish which ends up on Salsify's menu.
Fennel
Winter's a great time to use fennel, according to Cole, the bulbous vegetable becomes more voluptuous, losing some of its aniseed taste for a meatier flavour. The various iterations of it, from bulb to flower and seed, also mean it's incredibly versatile and can be used in numerous different ways. According to the chef it also goes really well with fish, and it currently features on Salsify's line fish dish. The root cut super thin, sweated down and added to the white fish dish for texture.
When it comes to cooking it at home.  He suggests using it as a vegan/vegetarian option. Its winter 'meatiness' lending itself to be cooked almost like you would a steak. Score it, caramelise it in a medium hot pan, with a touch of butter before sticking it in the oven at 180ºC for around 10 minutes.
Parsnip
This humble root vegetable is another winter favourite.  Everything root comes into season, they're sweeter and meatier than they are during the rest of the year. At home, He suggests pealing them, roasting them off and serving them with lashings of butter, honey and thyme.
In the restaurant, the chefs use it to great effect.  A secondary cut of wagyu, the tri-tip, is accompanied by textures of parsnip including a cream, salsa and crisps. The earthy, savoury root vegetable working dish well with the rich, fat-marbled meat. 
Jerusalem Artichoke
"It's one of my favourite things in the whole world to cook," says the chef of this tuber.  "They come into season right in the depths of winter. It's a long process to clean and prepare but it's so worth it," he adds.
A Jerusalem artichoke soup is a fantastic way to hero the ingredient at home. Combined with veg stock, leeks, celeriac, parsnips – any root vegetable, really – it compliments it so well. "To me it epitomises what winter tastes like," he says.
Quince
When it comes to fruit, Chef Ryan is passionate about using those which grow closest to his kitchen, harvesting from the Roundhouse grounds some of his favourite winter fruit. "The first sign of summer coming to an end is always the ripening of the quince fruit, we have some hedges where we harvest our own." He's currently experimenting with using it in a dessert. The fruit is outstanding as a jelly or pates de fruits and adds an interesting element to a dessert dish. It's also a great fruit to compliment pork. Winter's always been about braised, slow-cooked, long-processes of cooking – stews, ragus and roasts. Quince works well with this style of cooking. Aligned with his sustainable mentality the team then preserve the quince in various forms to use through winter, as the growing season is so short.
Pomegranate
The Roundhouse grounds is also home to one of the oldest pomegranate trees in the Cape. It's a fantastic fruit to use for winter, bright, deep and flavourful, the pearls add both flavour and texture to a dish. "We're using it in a pre-dessert at the moment, it's just such a beautiful winter fruit," says Cole. Vibrant, fresh and bursting with antioxidants, its versatility means it can be used in everything from garnish for a line-fish dish to sorbets for dessert.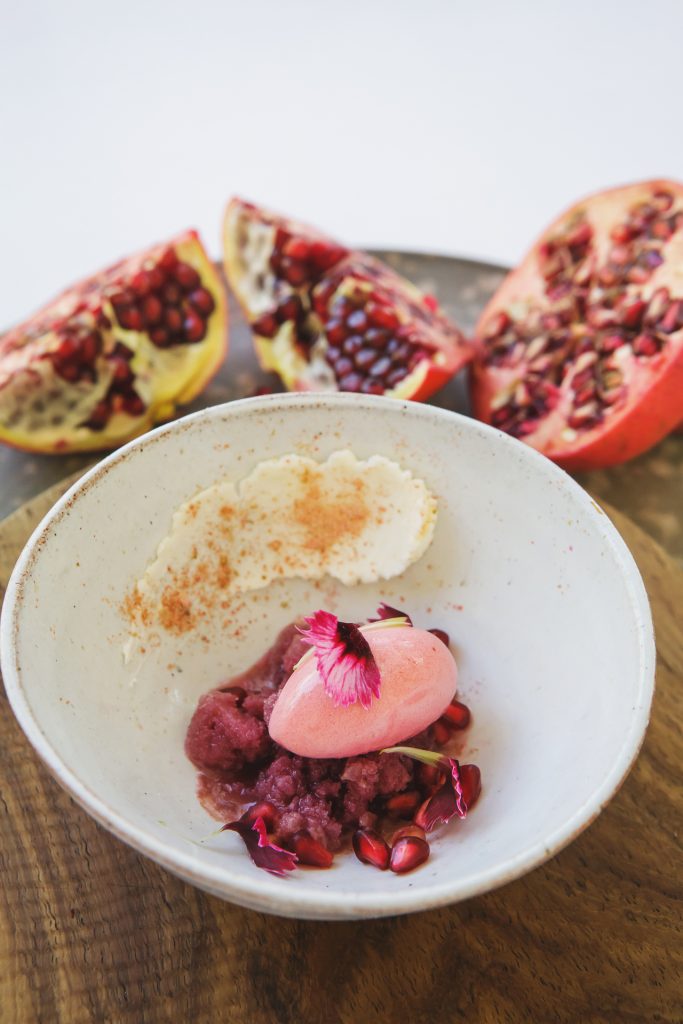 Fynbos: Kapokbos & Confetti Bush
Kapokbos, or wild rosemary as it is known, is another favourite of the chef. After the heat and sun of Summer, it goes through a rejuvenation of sorts, dying down during Autumn but coming around and resurrecting once Winter's here again – the shrubs blossoming with small white flowers during the colder months. It's a beautiful and underutilised part of the fynbos family. The Salsify chefs lucky that they're able to forage their own, right on the mountain side. The taste, similar to the garden variety, is pungent and aromatic, working particularly well with warm, rich lamb dishes.
Another winter flowering shrub is the confetti bush – it starts blossoming in autumn and it's one of the few flowers that blossom late season. The small fronds develop a beautiful lemony, citrus-peel like taste when cooked through which help add layers of flavour to a dish.
Sijn Syrah 2009
If it's wine the chef is reaching for his pick for the colder months is Syrah.Cole loves Syrah for Winter, suggesting the warmth, fruit and pepperiness are just perfect when paired with winter flavours. His current favourite is the Sijn Syrah 2009– it's currently part of the Salsify's Gem wine pairing option, and he's seriously excited about the opportunity to offer it to his guests. It's aged so magnificently, offering layers of complexity while still showing vibrancy and freshness. A truly beautiful wine.
Salsify is open Tuesday to Saturday for lunch and dinner, and Sunday for lunch only.
Booking is essential – [email protected] or +27 21 010 6444 – and a deposit of R500 per person is required.
The wine pairing is subject to change regularly due to the limited nature of those featured.
Salsify is located at The Roundhouse, Roundhouse Road in Camps Bay. Visit www.salsify.co.za for more information.
ALSO SEE: