Today is a good day, not just because it's a beautiful Saturday but because it's International Burger Day! Celebrated every year on 28 May, taking part in this celebratory day is one of the easiest, most delicious, guilt-free things…all you need to do is enjoy a juicy burger.
Yup, it's that easy! Host a braai with family or friends where everyone can build their own signature bun, or go out to one of your favourite burger joints and try something new. Although beef patties are classic, there are so many other options available like chicken, vegan 'meat', chickpea, veggie and portobello mushroom burgers.  We've rounded up seven of our favourite recipes that are fit for any and every kind of burger fan for you to celebrate International Burger Day. Enjoy!

1. The Classic Burger
We're keeping it plain and simple with this Classic Beef burger: homemade patty, caramelised onions, paprika mayo and optional roast peppers. YUM!

2. The Cheeseburger
A cheeseburger with a twist, biting into these homemade cheese-stuffed burger patties will reveal a gooey cheesy centre!

3. The Chicken Burger
These bright & sophisticated chicken burgers use classic flavours in an unconventional way. They're layered with creamy homemade butterbean hummus and a fresh fennel, celery and orange slaw.
Chicken burgers with hummus and a fennel, celery and orange slaw

4. The Vegan Burger
Full of zesty flavours, these veggie-packed burgers will delight even the staunchest of carnivores. These cannellini bean and courgette burgers with roasted cashew mayo, pickled beetroot and shaved carrot are irresistible, regardless of diet.
Cannellini bean and courgette burgers with roasted cashew mayo, pickled beetroot and shaved carrot

5. The Low Carb Burger
We used large brown mushrooms instead of burger rolls to make these burgers low-carb and banting-friendly. Serve with optional sweet potato chips on the side (highly recommended!).

6. The Quick Burger
Don't have time to make patties, sauces and garnishes from scratch? Then these quick veggie burgers with Sriracha mayo are for you. This recipe uses store-bought patties and comes together in only 35 minutes.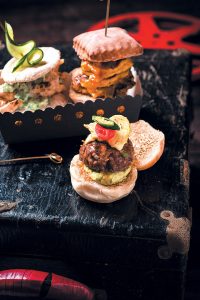 7. The Mini Burger (aka sliders)
These mini burgers done in three delicious ways are perfect when you need to cater for larger crowds! Choose from Mexican beef, Veggie Chakalaka and Greek Chicken Pita burgers, or make all three for a delicious variety.
Made one of these burgers for International Burger Day? Then tag us on Instagram @foodandhomesa
Feature image by Marta Dzedyshko 
ALSO SEE: How to make vegan mayo