4WKS, an innovative, Cape Town-based coffee pod company that grinds, packs and delivers freshly-roasted coffee in 100% compostable, Nespresso®-compatible pods nationwide, has launched yet another innovation in its efforts towards celebrating the best of SA's vibrant coffee scene – a 100% compostable zip lock pouch that has been designed not only as refill packaging but also as a catalyst for change. 
In an effort to have less impact on the planet and greater impact on people, the sustainability-focused company has added this innovative layer to its zero-waste approach to packaging while bringing awareness to the often unseen yet critical issue of waste. I've been using their coffee for the past month or so now and have thoroughly enjoyed tasting different blends every morning.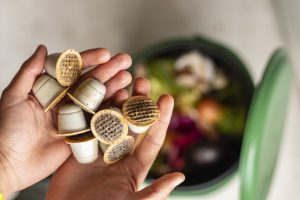 About the brand
4WKS was launched in 2019 by brothers Daniel and Oliver Pretorius and their cousin Lulu Larché as a local start-up with big ambitions: to challenge the wastefulness and unsustainability of single-use plastic/aluminium coffee pods — over 56 billion of which end up in landfill every year, where they'll remain for up to 500 years.[1] The trio set out to use the millions of Nespresso® machines already in use to show that pods can be done in a better way, not only through curating the best local coffees (packed fresh and best enjoyed within four weeks) but also to match convenience with mindfulness, and to challenge society's largely unconscious "grab-go-throw" culture in terms of waste. With its 100% compostable pod, including an innovative paper lid made from vegetable fibres, the company has partnered with local coffee heavyweights — Deluxe Coffeeworks, Father Coffee, Naked Coffee, Rosetta Roastery, Truth Coffee Roasting and Terbodore Coffee Roasters — to make their freshly-roasted coffees available to speciality coffee lovers, in seconds.
View this post on Instagram
When opened and the pods decanted, the innovative new pouch becomes a storage carrier for used coffee pods. Once full, the pouch can then be zipped up and returned to one of the seven compost collection points that 4WKS has set up in the Western Cape; or alternatively, composted — as a complete unit (pouch, pods, coffee) — at home. In partnership with Ywaste, a composting facility in the Western Cape, 4WKS ensures that all pods collected (pouch included) will return to earth in as little as three months. 
Says 4WKS co-founder, Lulu Larché: "Coffee packaging is notoriously wasteful, and we didn't want to launch just any other packaging. We wanted to use packaging as a vehicle for change, to encourage transparency in the system and to encourage people — from roasters to coffee lovers — to come together to do better. We saw it as an opportunity for us to be accountable and responsible for our actions, as well as achieve one of our goals which, along with celebrating the best local coffees, is to draw attention to what we use and where/how we throw it away."
TO ENTER:
Stand a chance to win a beautiful 4WKS Jar along with a pouch filled with coffee pods by simply filling out the form below.
Disclaimer: Ts&Cs apply | The competition ends the 31st of January 2022.