We chatted to South African chef, food stylist, author and photographer Katelyn Allegra, phenomenon behind the business and brand The KateTin, and author of award winning cookbook Chocolate.
Stand a chance to win a KateTin hamper below!
Your life
What were the first  baked goods you made when you were young?
One of my first ever flops was meringue. I had found the most beautiful image in a Women's Weekly cookbook of these light-as-air perfectly swirled meringues and begged my grandmother to make them with me. She was more of a cook than a baker and so we did almost everything wrong – egg yolk in the egg whites, not whipped long enough, sugar added too early… It was a gooey, flat mess when we pulled it out the oven and I was sooooo disappointed. It was this disappointment that started me on my journey to food styling. I wanted to be the one who created those beautiful images that inspired people to make the recipe! Meringue is still one of my favourite things to make because over the years, I've really nailed it.
 Food and Home Entertaining magazine was a massive influence on me becoming a food stylist and photographer. We had every issue of the magazine and I used to spend hours paging through them. The one issue had a dessert with spun sugar on it and at age 8 I was determined to recreate it. I succeeded but my mom ended up chiseling caramel off the floor and ceiling for weeks!
When you cook for family and personal life, what aspects of baking do you find comfort and relaxation in after switching off work mode?
I find the weighing and measuring of the ingredients to be incredibly relaxing. Following a recipe and the repetitive tasks such as kneading, stirring or icing a cake are mindful actions that put me in an almost meditative state. Baking has long been proven to reduce stress and it's my favourite way of escaping.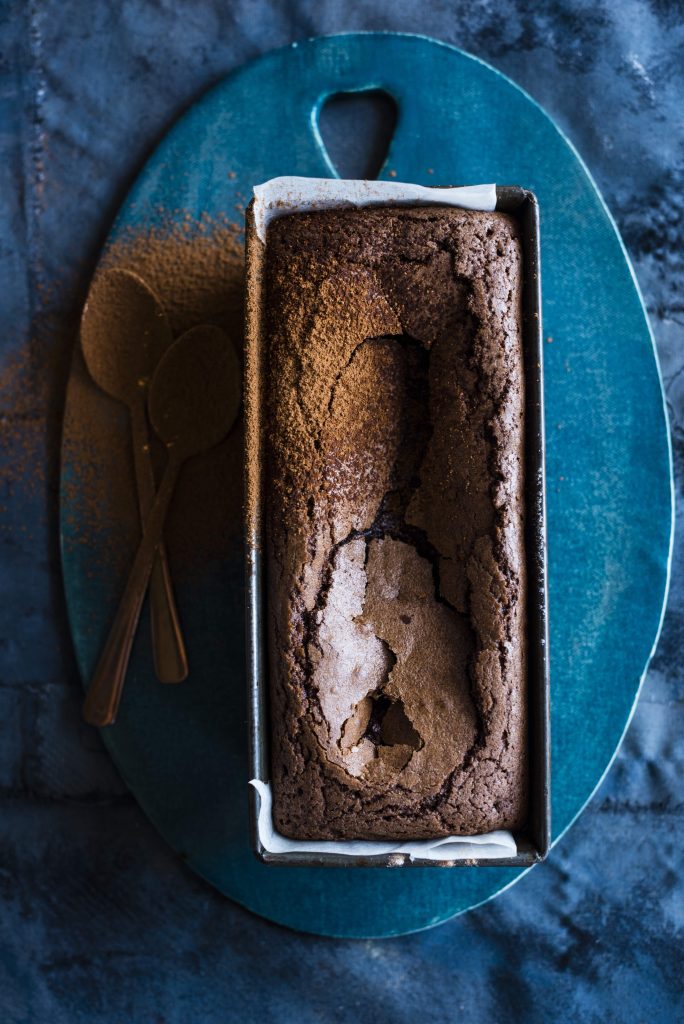 Your career:
Your experience spans over 10 years, your portfolio is massively impressive and includes food styling work for local and international magazines, private clients and brands.
What part of creating content for a client is your favourite?
I love a challenge. Having guidelines to work within is when my best work comes out and helps me create something nobody else has (which is difficult in the world of Pinterest!). I do my best work when clients let me do what I do best!
What narrative do you bring to your work? 
My style is very much 'traditional with a decadent twist' and I try and bring that into any work I do. I always want the food to be achievable to create at home, and delicious to look at. I like the food to speak for itself and avoid too many props. The food is always the hero!
Take a look at Kate's Instagram page here!
Do you have any projects in the pipeline that you can give us a little sneak peak into?
I've been working on a few new products for my range of chocolates. The one is a vegan baking chocolate which currently doesn't exist in the market… And the other is an eat-it-straight-out-the-jar product!
View this post on Instagram
Your business
You launched your own line of Chocolate baking drops, cocoa and chocolate nibs, as well as your own vanilla beans. Where did the idea come from, and what makes your products different from your usual store-bought ingredients?
When I released my cookbook, I realized how little choice there was on supermarket shelves when it came to baking chocolate. There was either very cheap and nasty-tasting baking chocolate or couverture chocolate which needed to be tempered. Tempering is a tricky skill that I still struggle with.
My husband (he's a chocolate maker) made a baking chocolate for me that was made from the best ingredients, tasted amazing and, best of all, didn't need to be tempered. I was obsessed and had to share his creation with everyone! Unlike other baking chocolates, ours is made with sustainably sourced palm oil, local sugar from KwaZulu Natal and sustainably sourced cocoa. AND it's made right here in Cape Town.
Visit The KateTin online shop for the most incredible chocolate chips, cocoa and baking ingredients here!
Vanilla beans have a mysterious and incredible story. In a short summary, explain to us why they are such wonderful ingredients to use, why you have become so passionate about them and why we never actually see vanilla crops here in South Africa? 
Vanilla beans are such a magical ingredient. When they are green, they have absolutely no aroma and are inedible. But with a lot of love and many steps, they turn into this incredibly fragrant spice which can transform any recipe. Vanilla beans are similar to chocolate in that regard. You can't believe that someone looked at that ingredient and thought, I'm going to try and make this delicious. And they succeeded! I started importing my own vanilla beans when I got frustrated with the quality we get here in SA. I could only find dry, brittle, very sad-looking vanilla beans and after a group farmers in Uganda sent me a batch of their vanilla beans to try, I was blown away at how juicy, plump and oily they were. It was a total game-changer!
Read kate's article all about vanilla beans here!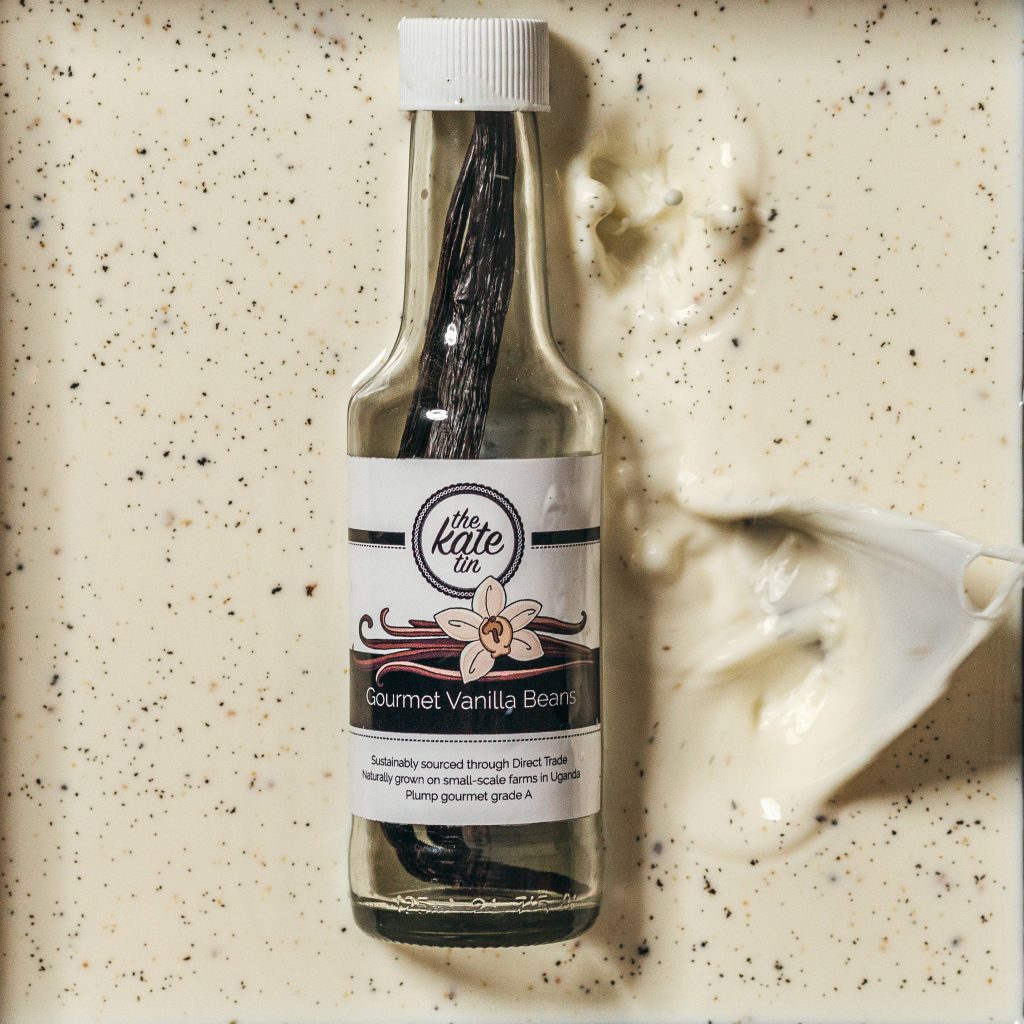 Your cookbook Chocolate:
Chocolate features many mouth-watering recipes with varying levels of difficulty, and includes useful information on how to work with it.
What was your goal for readers with this book?
Pure, delicious joy! I wanted to create a book where every single image is drool worthy and show-stopping. Almost a cross between a coffee table book and recipe book. And I think we achieved that! There is something for everyone in this book – from recipes that can be made in the microwave with a handful of ingredients, to more complex bakes that require a little more effort.
I love recipes that cater towards having minimal ingredients in the house and using what is available. What ingredient do you always have in your baking cupboard?
I always have Natura Sugars unrefined sugars – they are my absolute BEST to bake with. If you think sugar is sugar, you haven't tasted these. They transform any basic bake into something special. A few other ingredients I always have is flour, cocoa powder, long life cream – and I always have a stash of butter in my freezer (when I find it on sale, I bulk-buy).
What is your favourite recipe in Chocolate and why?
It's the White Chocolate and Caramel Tiramisu which almost caused a divorce! My husband is Italian (and we all know how fiercely protective they are over not messing with 'the traditional recipes' ) – he was horrified when he heard what I wanted to do to the traditional tiramisu but in the end even he declared this the best tiramisu he'd ever had! One day we'll enter it into the World Tiramisu Championships…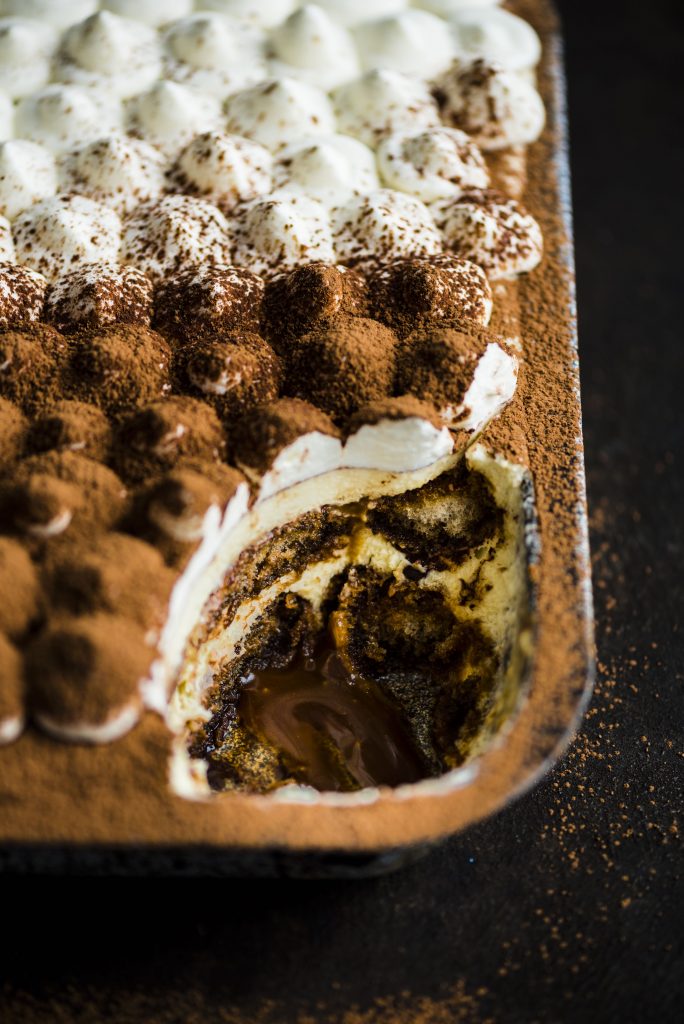 Your approach to baking is one of celebration, relaxation and indulgence as opposed to restriction and shame. You revel in the decadence of sugar, chocolate, caramel and cream. What does having unfiltered love and freedom for the process do when you approach baking and creating?
I'm a firm believer in balance; a dietician once told me that if you're going to cheat once in a while, you should do it properly and I love that sentiment! I'm not saying you should eat the whole cake, but life isn't easy and we all deserve to spoil ourselves every now and then. Hopefully when people do, they come to me to find the perfect recipe to bake to do just that.
For me, the most incredible thing about baking, is that (unlike cooking) you begin with ingredients that don't at all resemble what you end up with. You're always making something entirely new. It's just so magical.
Our final thoughts
Chocolate is certainly a book that celebrates "pure, delicious joy". Along with breathtaking images, Kate's recipes are nostalgic and absolutely decadent. Paging through the book brings a true feeling of warmth and love, as well as sophistication and elegance. A local flair echoes through the book, with recipes centered around soetkoekies, quality street chocolates, lemon creams, malva pudding and peppermint crisp. There is something for everyone, from 'End-of-the-month truffles' to 'Marshmallow log chocolate eclairs', and 'Dom Pedro baked Alaskas', to 'Caramelised white chocolate doughnuts' – the recipes in this book will certainly spark your creativity and curb your cravings!
Enter your details below and stand a chance to win a copy of Chocolate, along with some baking goodies from The KateTin shop!
1st prize win:
1 x copy of Chocolate, 4 x packs chocolate drops (white, dark, milk and caramel) and 1 x vanilla bean pack
2nd prize win:
4 x packs chocolate drops and 1 x vanilla bean pack
3rd prize win:
4 x packs chocolate drops