Time to dig into a tropical delight with our coconut tarts featuring a luscious blend of passionfruit and zesty lemon. This recipe promises a taste of paradise in every bite, a perfect treat for those seeking a refreshing and tangy dessert.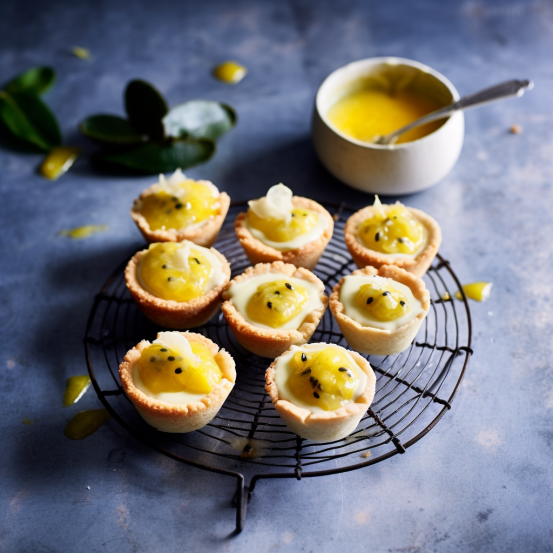 Print Recipe
Coconut tarts with passionfruit and lemon
Ingredients
1 cup desiccated coconut

1 egg white, lightly beaten

2 tbsp caster sugar

2 tbsp heavy cream

1⁄2 cup lemon curd

2 tbsp passionfruit pulp
Instructions
1
Preheat oven to 150°C. Grease a 12-hole mini muffin tin.
2
Combine coconut, egg white and sugar in a bowl. Press mixture firmly and evenly over the bases and sides of pan holes.
3
Bake for 20 minutes or until lightly browned. Cool completely, then remove cases from the pan.
4
Beat cream with an electric whisk until soft peaks form, fold in the lemon curd.
5
Divide lemon mixture in cases, top each with some passionfruit pulp and serve.
Did you make these tartlets? Tag us on Instagram @foodandhomsa!