We visited Kleinsky's Delicatessen, a feel good cafe in Cape Town serving up bagels of flavour
(Stand a chance to win a R2000 Kleinsky's hamper below!)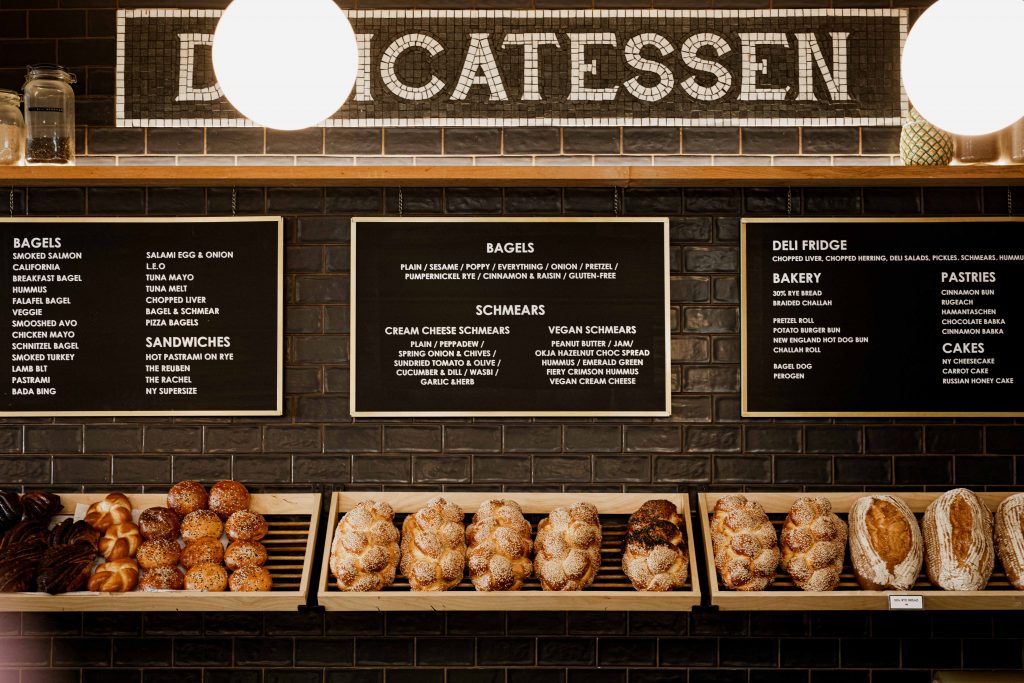 As I step into a crowded Kleinsky's Delicatessen, I see that I have found myself unknowingly in their midweek lunchtime rush. Despite this, I am tended to in no time and led to my table. A steady stream of customers flows in and out of the store, hungry to grab a taste of Cape Town's most delicious bagels and coffee.
Kleinsky's Delicatessen is located on the notoriously busy Regent street, but stands out with its signature yellow markings and giant bagel sign. Looking around I feel an immediate sense of calm, the cafe is buzzing with laptop users, friends catching up and warm conversations accompanied by the low hum of music.
For those who aren't familiar with the Cape Town food scene, Kleinsky's is a trendy Delicatessen situated in Seapoint that specialises in authentic Jewish cuisine, serving up fresh bagels as one of their main attractions. Kleinsky's emanates a classic deli atmosphere with golden lighting, vibrant plant life and a  gallery showcasing local art for sale. I'd say it is the perfect brunch spot, if not for the bagels and coffee, then for their extraordinary service, friendly staff and easy going Cape Town feel.
The winter chill is offset by their very effective heater and a gloriously smooth cappuccino. I'm so excited I forget to take an aesthetic photo before diving in. Ordering is hard, I would suggest bringing at least two friends so that you can all sample at least 3 different bagel options, not to mention the sweet treats. My food comes in the perfect amount of time despite the rush, and let me say I was not disappointed. My Smoked Turkey Bagel had at least four to five layers of delicately smoked turkey nestled in between fresh lettuce, tomato, gherkins and mustard mayo. I was a bit worried about the gherkins and mustard (not a fan) however I ended up happy with my "adventurous" choice and demolished that bagel in record time. All the flavours worked so well together. When analysing their food options  I was also surprised at the incredibly reasonable prices. Between R70-R90 for a bagel or burger, which for today's standard of R150 minimum for a burger I would consider an absolute bargain, also keeping in mind that one scoop of artisanal ice cream is bordering on R50 nowadays.
I asked co-owner Adam Klein a few questions about Kleinsky's
Why are bagels the "face" of your brand, what is special about making bagels and serving them?
It goes back to our childhood and experience growing up. There were always bagels. Our dad even brought a bagel slicer back from a trip to Chicago in the 90s. We never thought then we'd be using it 20 years later in our bagel shop. A bagel is also a great base ingredient for so many creative toppings. From simple to gourmet, there's so many satisfying things to make with them, so we never get tired of coming up with new ideas.
How has food (specifically Jewish food) influenced your life, and what is the reason behind it encompassing your brand today?
We've always loved food and, as our family heritage is Jewish, we grew up eating a lot of the food we make in our restaurant. When my brother and I started talking about opening a restaurant, we knew we wanted to do something personal to our own experience and we didn't have to look much further than home.
Over the course of my lunch I felt an overwhelming sense of warmth and community shared between the staff and customers at Kleinsky's.
Patrons were often greeted by name, conversations, fist bumps and smiles were shared.  Kleinsky's seems to offer customers a sense of home away from home, where people can come for great food, but also to unwind and enjoy the vibrant surroundings, interact with friends and staff, and foster important connections.
What were you hoping to achieve with the interior design and aesthetic of the cafe?
We wanted a warm and inviting space that felt relaxed and comfortable, and reflected our personal taste for simplicity. We hope we've achieved that.
How do you feel about the customers that Kleinsky's serves everyday? 
We've created close bonds with so many people that we've met through Kleinsky's. I think for lots of people, getting your daily coffee or grabbing a bagel becomes part of a routine and part of that is connecting with the people who make or serve you in a space. It wouldn't be the same without the people.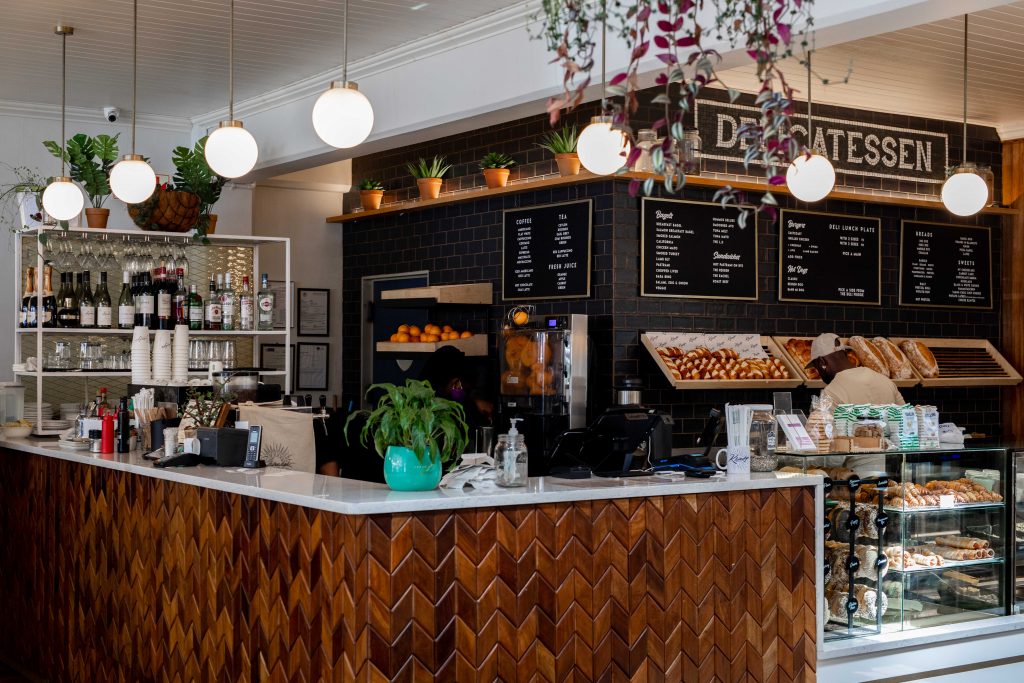 Flavour combinations come and go, but the quality constantly exceeds expectations
Kleinsky's is active on most social media platforms, and every month they update their Deli menu with a new Bagel of the Month. Their eye-catching food is a work of art. Bagels, burgers, babka. Cinnamon rolls, challah, cheesecake, all of these items  perfectly crafted and served fresh at their store in Seapoint. Kleinsky's Delicatessen can also be found as a pop-up store in Joburg.
What is your goal for the products you sell at Kleinsky's? 
We try and make as much as we can in house. We bake all our own breads, cakes & pastries. We use free range eggs & chickens & only purchase sustainably farmed salmon. We couldn't imagine doing it any other way and hope all the extra effort is part of what keeps people coming back.
What are some items on the menu new customers definitely must try?
The Reuben sandwich is a winner. It's a New York staple and we go all out to make it as authentic as you can find outside of NYC. We use our house Pastrami, which is brisket pickled & smoked with a Coriander & Black Pepper rub & then slow cooked until it's fork tender. We bake the Rye bread in house, make our own Russian dressing (Another New York classic) and add swiss cheese & sauerkraut. Our chicken & matzo ball soup is another must try. We make our chicken broth with whole free range chickens cooked for at least four hours to extract all the goodness. A matzo ball is a type of soup dumpling that is traditionally served over Passover and being able to have it everyday of the year is a novelty that hasn't worn off on us yet.
What vision do you have for Kleinsky's down the line?
We launched a pop up in Joburg last year that is still open and has become such a part of the neighborhood there that it's become a permanent store. We're looking to launch more stores in the future and have also been supplying retailers with our packs of frozen sliced bagels which we're also planning to grow.
What is the reason behind creating an art gallery inside your cafe? How would one go about displaying their art on your walls?
Part of the concept of our Sea point deli is to be a community space that adds value to the suburb. Displaying art from local artists fits in with that ethos. The gallery wall is an evolving collage, where pieces are added as others are sold. The exhibition is curated by SJ Artists.
Overall, Kleinsky's Delicatessen is a local gem serving authentic food that tells a story and brings people together. We suggest running, not walking to Seapoint to get your hands on the best bagels and Jewish cuisine in town!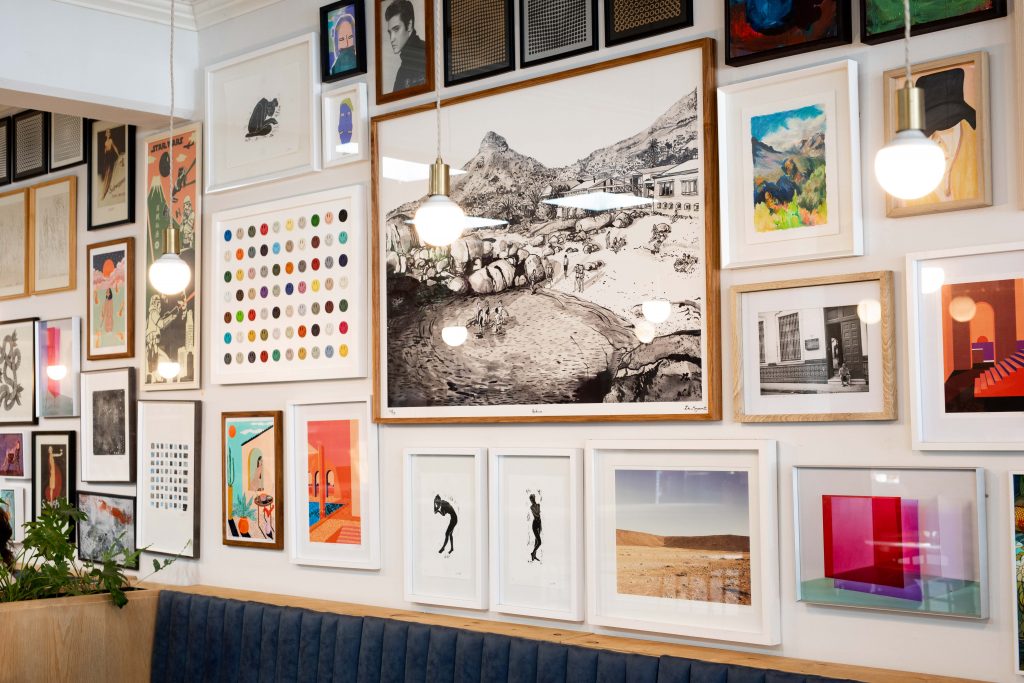 ALSO SEE:
YOUNG CHEFS AND BAKERS – DO YOU HAVE WHAT IT TAKES TO WIN YOUR SHARE OF R110 000?
ALSO SEE: