We visited the new I Love the Dough on Kloof street, famous for their neon lighting, catchy tunes and the freshest pizza parties in town!
View this post on Instagram
Beams of Cape Town summer sun stream in through the windows, adding a warm glow to the bright neon pink hue of the restaurant. As I sit down for dinner with my sister, a classic golden oldie booms from the DJ booth, I do a little wiggle in my seat. The longer I sit, the more I feel like I have stumbled down a tunnel into a retro futuristic world, and although I wouldn't initially associate a pleasurable dining experience with this kind of colour scheme, I actually really love it.
I Love the Dough boasts confidence and an air of superiority, but in a good way. They take you by the sanitized acceptable following distance and say "come on in, we'll make you feel nostalgic while simultaneously propelling you into the future with our pizza, naughty slushies and funky tunes, and here's a delightfully tangy Lemon drop (or specially curated rock shandy – hello 2009 – ) to start you off."
Pizza is no joke, everyone has their preference. Thick base, thin base, some people love the taste of a 'fast food'-type pizza, one that flaunts stringy cheese and promises oily fingers, and others prefer a seasonal pizza, one that is fresh and light, and tests your taste buds for new flavours. What if I told you that I love the dough uses the best qualities of both to create a new kind of sensory experience?
Perfectly cheesy
Thin and light, with a slightly oily glimmer (AKA not dry!)
produce as fresh as when they were plucked from your garden
First off, you can't name your restaurant after an element of pizza and not come through with the quality. I really appreciated the incredibly fresh dough (I did, in fact, love the dough). Neapolitan style, thin with a puffed up crust. To be totally honest, I ate the entire  #11 pizza in one sitting (I'm not a 'save half for the next day' kinda gal), and that's what's super special, because I wasn't feeling disgustingly full, like Violet Beauregarde from Charlie and the Chocolate Factory after eating that magical chewing gum. Instead I was able to enjoy the pizza without actively stressing about having to loosen my belt to allow for food baby expansion (note to self: wear a dress when pizza tasting).
I'm a stickler for the classic Feta, Bacon & avo combo, (you can't go wrong honestly), but I adventured out of my safe zone this time. The #11 pizza echoes pineapple (trust me), pancetta, crispy sage and sesame seeds. Say what you like about pineapple, but paired with the other flavours, I was happily surprised. The sesame seeds really rounded the pizza off with a deliciously nutty warmth, and the pancetta was lovingly salty. I also truly appreciate the amount of cheese they add to their pizza, this combined with the thin dough created a perfect balance.
View this post on Instagram
There is a lot of mystery that comes with the branding and look of ILTD, it seems untouchable but enticing. After my meal I chatted to the owners of I love the dough, Niki & Marco, to dive a bit deeper into this incredible world they have created. I encourage you to read on to get a glimpse into their life, their restaurant origin story and their plans for retro futuristic pizza world domination.
From the start, what has your vision for 'I love the dough' been?
We set out to be a hybridized hangout place. One where you can kick back with a couple of friends, snack on a pizza, and sip on a cocktail in a relaxed manner, or have a full-on DJ-fuelled boogie if you need to. Picture pizza in one hand, a cocktail in the other, while you belt your heart out to a well-rounded array of beats. The goal is for people to feel about the restaurant as we do about ourselves. And we don't take ourselves all that seriously.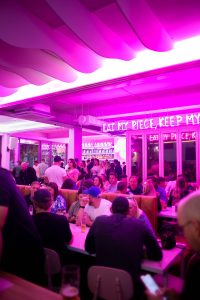 You combine restaurant dining with a bar-style feel, is your aim to get people to stay as late as possible by creating a fun club-atmosphere?
Yes! The business was birthed just before Covid, but the idea was to always be accessible to people during the day, with cool, vibey dinners at night which spill over into a restaurant-come-dance bar. We want people to enjoy themselves effortlessly. Be a vibe where you are, throw a DOUGH stick in the air, and dance on your seat. We're definitely never going to stop you.
The colour and aesthetic of the brand is super recognizable, your tone of voice echoes through the text decorating your restaurants,  "this pizza changed my f*#king life", these vibrant colours and words create a certain atmosphere.
We implemented certain branding decisions, from bright colours and neon signage to words that created shock value, all with the intention of creating a brand that people couldn't help noticing first, and then buying into later. It was our own form of guerrilla marketing, with a natural flow and coherency across all touchpoints. The process of finding the brand's tone of voice hinges off two factors: staying relevant to society and consumers while being different and intriguing, and importantly- being true to who we are. Without that authenticity of who you are, you're marketing someone else's dream.
View this post on Instagram
Your company name focuses specifically on 'the dough', what made you want to have this as a focal point for your restaurant as opposed to using a general pizza theme?
Biggie Smalls and Jay-Z, baby. This line is a play on words from a prominent song with the same title, pertaining to 'dough' being slang for money. Our focal product being the dough made it a no-brainer for us to have it so vehemently in our name.
What goes into making your dough so special? What sets it apart from your competitors?
If we told you, we'd have to kill you. But what we can say is that it's all-natural and all good, all the time.
Your menu includes an array of authentic Italian ingredients. What importance does Italian cuisine and produce have to you and the pizza you create at ILTD?
Both Niki and I are Italian, growing up as the child of immigrants and living locally but very much with the traditional Italian family flair. Which, of course, revolves around the food you eat and the people you spend time with while preparing and eating it. The authenticity of Italian produce is what we grew up with, something you can taste the difference in, and we get to bring our version of it to the market.
As a restaurant battling through many restrictions, lockdowns and alcohol bans, you have still managed to open a second branch and maintain a loyal following. How did you navigate the uncertainty of Covid-19? 
We kept things light and communication through our social media channels constant, and no matter the level we were in, we encouraged people to book their seats and come Love The DOUGH. We're not saying it was easy, as a business and its staff we all had to learn to pivot, improvise, make dough while we could, and rely on ourselves and our staff to embrace the hustle.
Your social media pages show off your delicious looking pizza, salads and drinks as well as a number of different people enjoying their experience at ILTD. Why do you feel it's important to post people on your platform?
Local love is everything, and we love to showcase the real vibe and the real people in our four walls. At the end of the day, it's the surrounding community who are buying in, so putting them on a pedestal, especially on social media, grows a sense of 'brand community' and mutual loyalty.
Social media is to the 21st century what word-of-mouth was to the 20th. We drop a myriad of food and bev shots in between so followers are reminded of their favs and what they come for in store or order on Uber Eats, Mr Delivery or Bolt Food. As for the content generated by our customers, the Instagram-worthy backdrop within an I Love The DOUGH restaurant was never a cute little coincidence. We walked the thin line between working smart and hard in gaining traction on social media.
What is special about the employees at ILTD?
We find it important we hire staff who don't just house the necessary skills required for their roles, but are true individuals. The staff unit is a team of people who have the gumption to get ahead in life and aren't scared to speak their piece, which really adds that bit of character and panache that forms the team, and is only a continuation of the spunk of the brand really. We foster a family relationship, some having been staff together for years prior, as well as a young team who nobly and happily sacrifice their weekends of partying to facilitate weekends of partying for patrons.
What goals do you have (short or long term) for ILTD? What do you hope to achieve?
Our main goal in '22 is expansion. We're looking at new national key sites so we can bring good times and great pizza to the people. We're looking at incorporating the I Love The Dough at Home ready-made pizza concept. And of course, fostering our new relationship with Real Foods. So for us, it's to the moon.
What can we look forward to seeing from the company in 2022?
New store opening.. Joburg, Blouberg, Shmoburg. Pofadder. Paris, or Parys. Who knows? No need to keep your eyes peeled, you'll spot us. As BIG said, "And we won't stop".
View this post on Instagram
YOU COULD WIN!
Food&Home has partnered with I Love the Dough to give away 2 vouchers valued at R1500 each. Enjoy a pizza (or 3),  a refreshing cocktail and a groovy boogie with some friends (or eat your bodyweight in pizza, we aren't judging) – all you need to do to win is enter by filling in the form below:
Disclaimer: Ts&Cs apply | Competition exclusive to Cape Town residents only | Competition closes on the 31st of January 2022.
ALSO SEE: Take a peek inside Buns Bakery's new coffee shop at the Old Biscuit Mill
Take a peek inside Buns Bakery's new coffee shop at the Old Biscuit Mill