Enjoy the warmth and flavour of our Chicken and Shiitake Mushroom Soup Recipe. This comforting blend of tender chicken, earthy shiitake mushrooms, and aromatic herbs will satisfy your soul on any chilly day – because we all know Spring is a late-bloomer.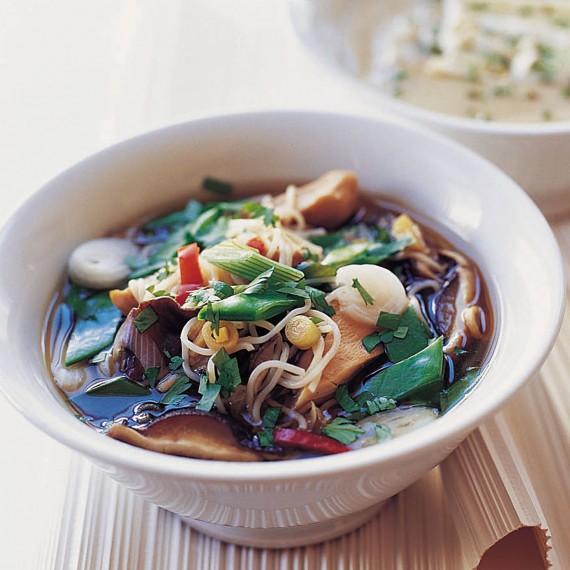 Print Recipe
Chicken And Shiitake Mushroom Noodle Soup Recipe
Ingredients
1 skinless, boneless chicken breast, sliced

900ml vegetable or chicken stock

1 thumb-sized piece of ginger, peeled and finely chopped

2tbsp tamari

5 spring onions, sliced

1 large red chilli, chopped

1 stick lemongrass, finely sliced

75g shiitake mushrooms, sliced

75g mangetout

100g rice noodles, cooked

3tbsp chopped fresh coriander
Instructions
1
Place the chicken and stock in a saucepan.
2
Add the ginger, tamari, spring onions, red chilli and lemongrass, cover with a lid and bring to the boil.
3
Add the mushrooms, simmer gently for 5 minutes, then add the mangetout and rice noodles to the soup.
4
Cook for a couple of minutes, then add the coriander, stir well and serve.
Notes
If you're looking for a vegetarian option, this soup is delicious with chunks of tofu (added at the end of cooking the broth). For seafood variations, try prawns or chunks of white fish.
Did you make this recipe? Tag us on Instagram @foodandhomesa!
ALSO SEE: Where to find soul-warming bowls of ramen in Cape Town
Recipe and feature image: Woman&Home