Looking for a hassle-free seafood dish for dinner? We have this sweet and tangy Honey and lemon prawn stir-fry ready for you to try, and what's even better is that you'll have a delicious and hearty dinner ready in 30 minutes to allow you to kick back and relax after a long day of work!
Make this honey & lemon prawn stir-fry with rice recipe: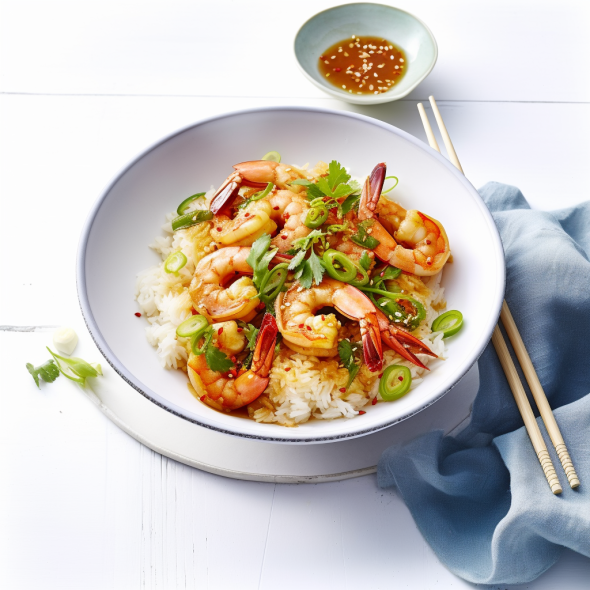 Print Recipe
Honey and lemon Prawn Stir-Fry 
Ingredients
1 tsp sesame seeds

2 tbsp vegetable oil

1 kilogram medium uncooked king prawns, shelled, deveined, tail left intact

1 large onion, cut into thin wedges

½ Chinese cabbage

1 large carrot, cut into matchsticks

⅓ cup lemon juice

2 tbsp. honey

20 gram piece fresh ginger, cut into matchsticks

450 grams packaged microwave jasmine rice

4 spring onions, thinly sliced

Handful coriander, leaves picked
Instructions
1
TOAST the sesame seeds in a heated wok until lightly browned. Remove from wok. Be careful as they can burn easily.
2
HEAT half the oil in the wok over high heat; stir-fry prawns for 2 minutes or until they change colour. Remove from wok.
3
HEAT the remaining oil in wok over medium-high heat; stir-fry the onion for 3 minutes or until tender and golden. Return the prawns to wok with cabbage, carrot, lemon juice, honey and ginger; stir-fry until hot. Season to taste.
4
MEANWHILE, heat rice according to packet directions. Or cook 2 cups of jasmine rice in a pot of boiling water until fluffy.
5
SERVE honey and lemon prawn stir-fry with rice and sprinkle with the toasted sesame seeds, spring onions and coriander.
Notes
Tip from the team: To ensure that you save as much time as possible, purchase deveined and de-shelled prawns that are ready to cook!
Did you make this recipe? Tag us on Instagram @foodandhomesa!
ALSO SEE: Coconut prawns with mint and lemongrass