Dig into the irresistible comfort of Sticky Toffee Date Pudding. This delectable dessert combines soft, date-infused sponge with a luscious toffee sauce, creating a warm, sweet embrace perfect for any occasion.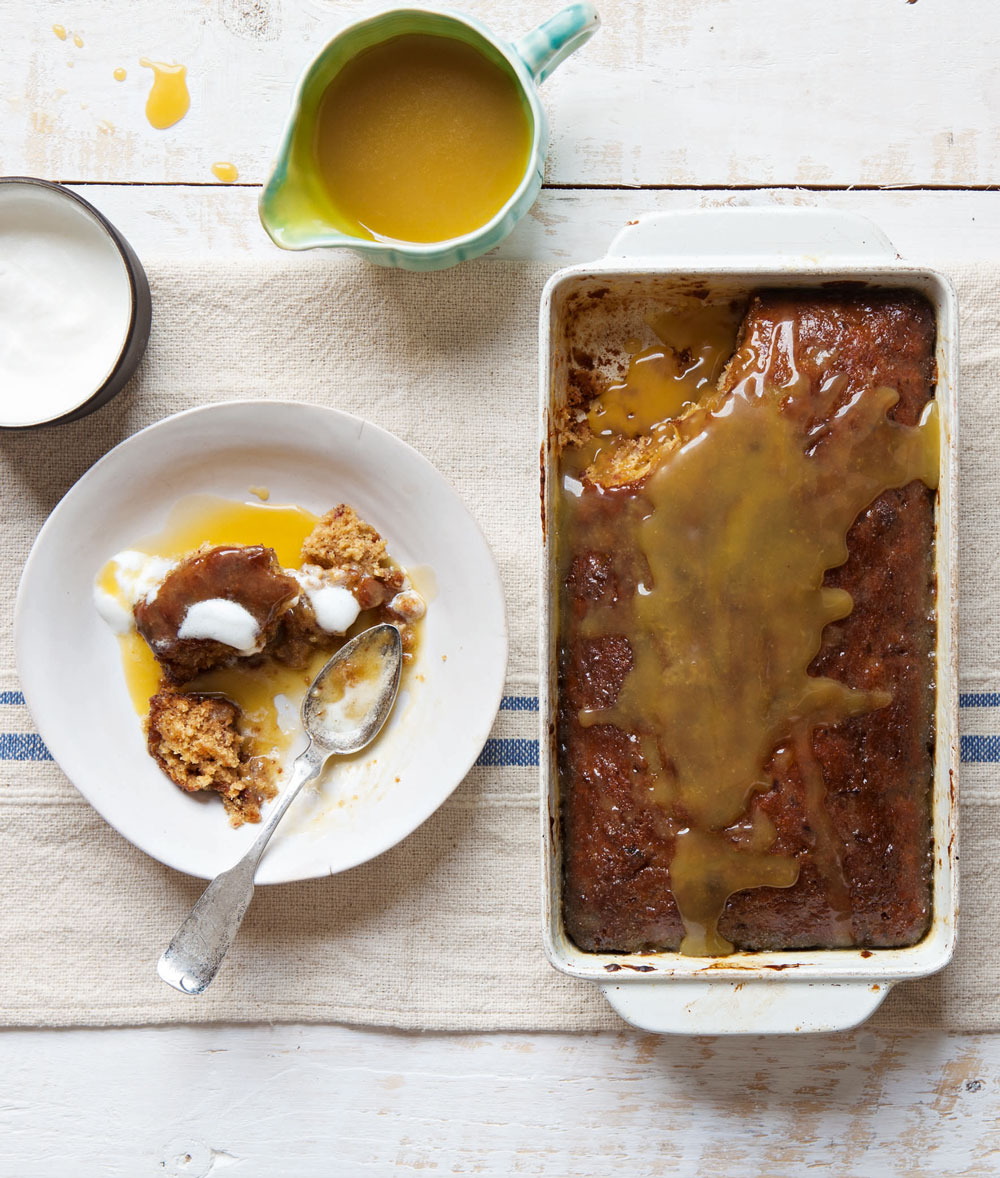 Print Recipe
Sticky Toffee Date Pudding
Ingredients
Pudding

170 g dates, quite finely chopped

125 ml water

110 g butter

100 g muscovado sugar

100 g light brown sugar

2 free-range eggs

3 ml vanilla extract

30 ml molasses

5 ml ground cinnamon

190 g cake flour

8 ml baking powder

Butterscotch sauce

200 ml cream

150 g butter

150 g muscovado sugar

5 ml vanilla extract

Fresh cream, for serving
Instructions
1
Preheat the oven to 180°C. Grease an ovenproof dish about 24x13cm for a thicker dessert or 24x24cm for a thinner dessert.
2
Put the dates and water in a small saucepan and bring to the boil. Simmer for about a minute, then remove from the heat and leave to cool.
3
Using an electric mixer, cream together the butter and both sugars until light and fluffy. Add the eggs, one at a time, making sure to mix well before each addition. Add the vanilla extract, molasses and cinnamon, and mix.
4
Sift the flour and baking powder together, then add this, along with the cooled date and water mixture, to the egg and sugar mixture. Mix briefly until well combined. Scraping down the sides of the bowl with a spatula, pour the mixture into the prepared dish and bake for 20-30 minutes, depending on the size of the dish. About halfway through baking, loosely cover the dish with aluminium foil to prevent over-browning. The sponge is ready when it's springy to the touch and a skewer comes out clean after being inserted into the thickest section.
5
While the pudding is in the oven, make the sauce. Put all the ingredients in a small saucepan and bring to a simmer for 10-15 minutes until the sauce thickens and starts turning a light golden colour. When the pudding comes out the oven, use a sharp skewer to prick a few holes in the surface and pour three-quarters of the sauce over; it will be absorbed.
6
Serve warm with the rest of the warm sauce, and fresh cream on the side.
Made this recipe? Tag us @foodandhomesa #CookingWithFH on Instagram!
ALSO SEE: Classic Chocolate Brownies Recipe
Recipe and feature image: Woman&Home