Lets get to know a little bit more about cheese and how to store it. Read through this quick write up about labneh and how to make it!
HOW TO MAKE LABNEH
Labneh is a soft Lebanese cheese and is one of the easiest cheeses to make. To prepare it, put 500ml full-cream Greek style yoghurt in a bowl and season well. Stir to combine. Pour the yoghurt mixture into a square muslin cloth, bring all 4 corners together and tie them with string. Tie the string to the centre of a wooden spoon and suspend it over a glass jar or bowl. Leave in the fridge for about 5 days to drain the whey. Remove the yoghurt from the muslin and roll into small balls. Place the labneh into a sterilised glass jar and cover with olive oil, 10 peppercorns, 1 seeded and finely sliced red chilli (optional) and a few fresh herbs such as thyme and oreganum. Leave to marinate for about a week. Labneh is delicious spread on bread or as part of a meze platter. Eat it with toasted pita bread slices or use it like a slightly tart cream cheese.
MAKING THE MOST OF YOUR CHEESE GRATERS AND SLICERS
There are several cheese graters on the market, which deal with everything from thin slices to large chunks. A grater for hard cheeses like Parmesan; a girolle for slicing horizontally; slicers to create ruffles and rosettes, used for Tête de Moine cheese; slicers for thin slicing and for cutting chunks off hard cheeses.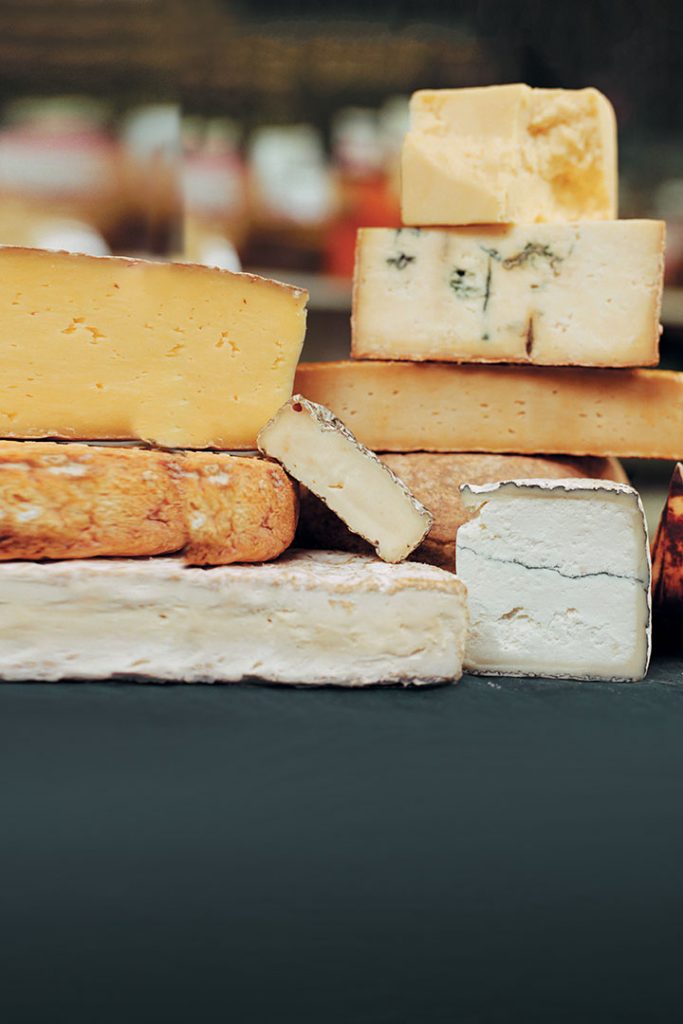 HOW TO STORE AND FREEZE CHEESE
STORE
Store cheese in your fridge. To avoid cheeses drying out or absorbing other flavours in your fridge, make sure they are wrapped tightly in plastic, foil, or even a kitchen towel for cheeses like Parmesan. Air aids in moulds growing on your cheese. If mould has grown on the outside of the cheese simply slice it off.
FREEZE
Most ripened or aged cheese is low in moisture content and can be frozen without altering flavour and texture. Thaw cheese slowly in the fridge for a day or even overnight. If the cheese has been frozen for several months, it may dry out somewhat and become crumbly when thawed.
HOW TO CLEAN A CHEESE GRATER
• Use lots of soapy water to clean the grater, but make sure that it is thoroughly dried as leaving it wet may result in rust.
• After grating cheese, grate a potato – it cleans out any cheese that might be sticking around the holes.
• Before you begin to grate, spray your grater with a non-stick cooking spray to prevent sticking.
• For easy cleaning when grating hard cheeses, wrap your grater with plastic wrap.
 Enjoyed reading "Let's get to know a little bit more about cheese" Tag us @foodandhomesa #cookingwithFH on Instagram
ALSO SEE: Quick caramel sauce