On the 29th of March 2022, South African culinary greats were honoured at the 4th annual Luxe Restaurant Awards.
The prestigious Luxe Restaurant Awards, which honor the finest contributions to the South African restaurant industry, were announced to an intimate audience of 100 leading industry figures at the trendy Ethos Restaurant in Rosebank, Johannesburg, among the renowned Rosebank restaurants.
Well renowned SA celebrity, Shashi Naidoo MC'ed the event in style. While those in attendance included celebrated chefs; James Gaag, The Lazy Makoti, Siba Mtongana and Wandile Mabaso. As well as entrepreneur Nicky Van Der Walt and his wife and model, Lee-Ann Liebenberg.
The winners were chosen by a team of anonymous food critics as well as by a popular public digital vote. The panel of judges was convened by Chad Fourie, Chief Judge of the Luxe Restaurant Awards and Managing Director of The Hospitality Counsel.
"Over the past nine months, the Luxe Restaurant Awards judges have been seeking out exemplary dining experiences in South Africa. Tonight, we have given these leading restaurants and chefs a platform to shine and celebrate their culinary genius. With all the unexpected changes we have endured over the past two years, people are now seeking out unique lifestyle experiences to build memories with their loved ones. And there is no greater experience than an award-winning restaurant" Chad Fourie.
Overall, twenty-five winners were announced from a wide and inclusive set of categories that ranged from the Culinary Icon of the Year to the Street Food Experience of the Year, with the winner of the prestigious Chef of the Year being awarded with an exclusive BMW experience.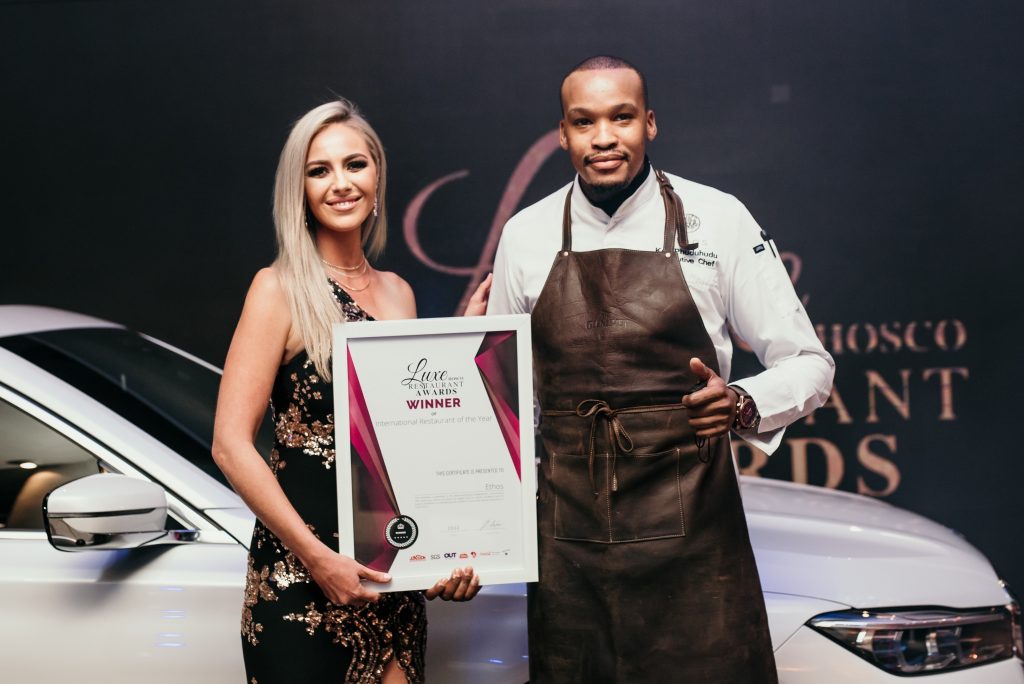 The 2022 Luxe Restaurant Awards category winners are as follows:
Restaurant of the Year: La Colombe

Chef of the Year: Wandile Mabaso

New Restaurant of the Year: Pier

Style Award: Zioux

Culinary Icon Award: Siba Mtongana

Culinary Media Personality of the Year: Cooking with Zanele

Culinary Innovation Award: Candice Philip

Culinary Rising Star Award: Besele Moloi

Sustainability Award: The Test Kitchen Fledgelings

Service Excellence Award: Basalt

Pioneer Award: Luke Dale Roberts

Cookbook of the Year: Hosting with The Lazy Makoti

African Restaurant of the Year: Emazulwini

Bistro of the Year: Embarc

Burger Joint of the Year: BGR

Café of the Year: Le Parc by Tashas

Coffee Shop of the Year: Truth Café

Fine Dining Restaurant of the Year: La Petite Colombe

Hotel Restaurant of the Year: Aurum

International Restaurant of the Year: Ethos

Lifestyle Restaurant of the Year: Tang

Pop Up Experience of the Year: Katlego Mlambo at The Marabi Club

Steakhouse of the Year: The Blockman

Street Food Experience of the Year: How Bao Now

Wine Service Award: Michelle Moller – La Colombe
The Luxe Restaurant Awards is created by The Hospitality Counsel (HOSCO) in partnership with industry leading food critics and sponsored by OUTsurance.
ALSO SEE: