Onion tart
Looking for ways to create healthy meals on a budget has become a way of life for most of us, considering the ever-rising food costs and not to mention all the other day to day expenses!
So how do South Africans find that one food item that offers numerous nutritional benefits, is versatile and delicious too? Well, it has to be the egg of course.
Eggs can be enjoyed with any mealtime: as a main dish, an accompaniment to other meals or as a part of a recipe. The versatility of the egg places it amongst the top items required in basic culinary preparation, after all what other ingredient forms the base of so many recipes – from sauces to sweet treats, fish cakes to frittatas and not forgetting eggs as the perfect topping to a juicy steak or sandwich filler extraordinaire.
So, the deliciousness of eggs is confirmed, but how do they rate on the nutritional scale? Eggs contain protein and just the right mix of essential amino acids needed by humans to build tissues. This high-quality protein found in eggs make them one of the most affordable substitutes to more expensive proteins in these tough financial times.
Next to affordability, another scarce luxury must be time. Rushing to work, fetching kids, helping with homework, how is one expected to produce a nutritious and delicious meals for the family at any time of the day – not just breakfast? Including eggs is a good way to start, when all else fails who doesn't enjoy a hearty frittata loaded with all those leftover veggies and rotisserie chicken sitting in the fridge. Or how about an onion tart – you have no idea how truly delicious it is!
Still on the topic of eggs, did you know that the South African Department of Health's dietary guidelines state that it's perfectly fine to eat eggs every day in moderation, for breakfast, lunch or dinner.
So, there you go, an egg a day it is!
Like EGGcellentFood on Facebook and follow us on Instagram eggcellentfoodsa , for further information and recipes visit www.sapoultry.co.za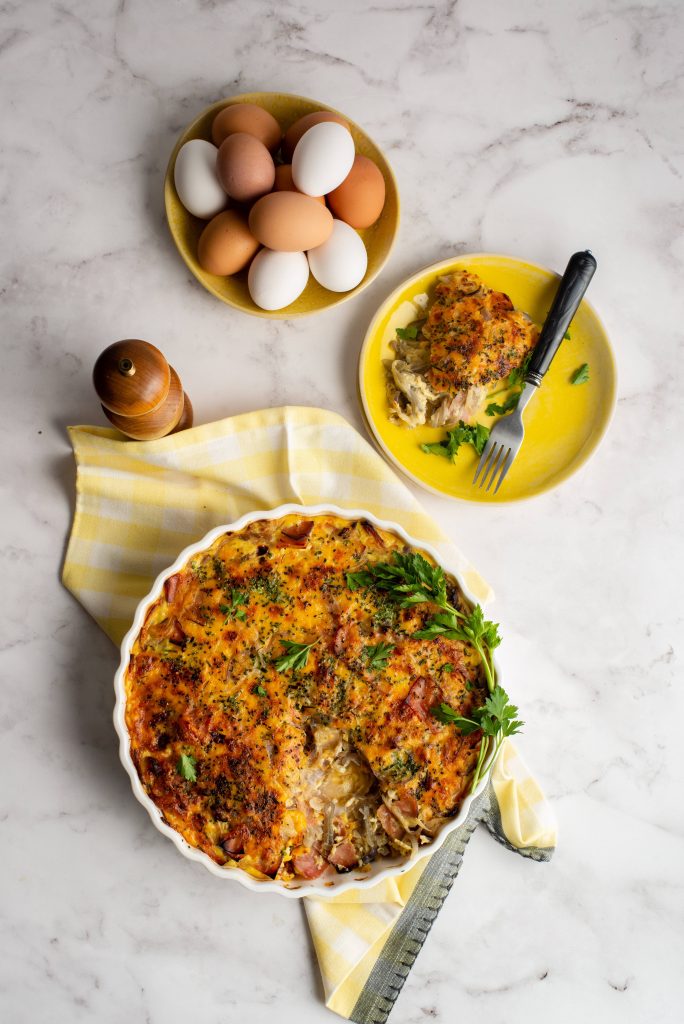 Onion tart
SERVES 6-8  |PREP TIME 20 min| COOKING TIME 35 min
Ingredients:
125 g butter
250 g bacon, cubed
4 onions, peeled and sliced
60 ml (4 tbsp.) flour
500 ml (2 cups) milk, lukewarm
4 large eggs
Salt and freshly ground pepper
150 g (about 1 ½ cups) grated cheddar cheese
Green salad and crusty bread to serve
Method:
MELT the butter, in large pan. Add the bacon and onions and fry until soft, about 6 minutes.
STIR in the flour to make a paste, and slowly pour in the milk stirring continuously.
WHISK the eggs and add to the milk mixture, stir well. Add the cheese and seasoning.
POUR the mixture into a pie dish and allow to stand until settled and at room temperature, about 20 minutes.
PREHEAT  the oven to 200°C and bake until set, about 30 – 35 minutes.
SERVE sliced with a green salad and crusty bread for lunch or a light meal.
FOOD TEAM TIP:  Ham, bacon or viennas can be used, or for a vegetarian option add sliced, roasted peppers.
Images curtsey of SOUTH AFRICAN POULTRY ASSOCIATION
Made this recipe? Tag us @foodandhomesa #cookingwithFH on Instagram
ALSO SEE: 8 ways with store-bought puff pastry
ALSO SEE: How to handle puff pastry