This quintessentially French classic peach and toffee croquembouche has been given a delightful twist with a tipsy peach crème patissière.
INGREDIENTS
Crème patissière
4½

cups milk

300

ml pouring cream

5

strips lemon rind, white pith removed 

15

egg yolks

¾

cup cornflour 

¾

cup flour

1½

cups caster sugar

900

grams peaches, halved, pitted and chopped

⅓

cup peach schnapps or peach liqueur
Choux puffs
2

cups water

150

grams butter, chopped

2

cups flour

8

eggs
Toffee
8

cups caster sugar

4

cups water
Crème pâtissière: 
COMBINE milk, cream and lemon rind in a large pot and bring to a simmer. Remove from the heat and allow to stand for 5 minutes, then remove the rind. 
BEAT egg yolks in a large bowl using an electric mixer. Add the flours and sugar and beat for 2 minutes or until thick and creamy. Place the mixer on low speed and gradually beat in the hot milk mixture. Return mixture to a large clean pot and stir constantly over medium-high heat until the mixture bubbles and thickens. 
STRAIN through a fine mesh sieve into a heatproof bowl, cover the surface with cling film and refrigerate for 20 minutes. 
BLEND or process peaches and liqueur until smooth and strain into a bowl. Add peach puree to crème pâtissière and whisk to combine. Cover the surface with cling film and refrigerate for 3 hours or until cold.
Choux puffs:
PREHEAT oven to 200°C. Lightly grease two large oven trays. 
1. PLACE water and butter in a large pot and bring to the boil. Remove from the heat, add flour all at once and beat with a wooden spoon until the mixture comes away from the base of the pot and forms a dough. Transfer to the large bowl of an electric mixer and spread the pastry thinly up the side of the bowl. Cool for 5 minutes. With the mixer on medium speed, add the eggs, one at a time, beating after each addition until the mixture is glossy and smooth.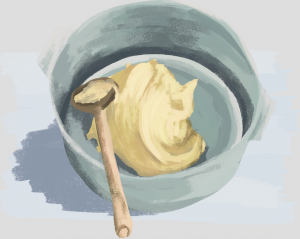 2. SPOON choux pastry into a piping bag fitted with a 1.5 cm round nozzle. Twist the bag at the top to create a seal and then pipe 2.5 cm rounds, about 4 cm apart on the prepared trays. Use a damp finger to flatten the peaks, then sprinkle puffs lightly with a little water.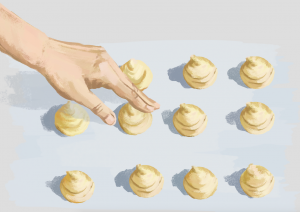 3. BAKE puffs for 10 minutes. Reduce oven to 180°C and bake for a further 10 minutes or until golden. Cut a small opening in the base of each puff, then place them cut-side up back onto the trays. Bake for a further 15 minutes or until puffs are dry. Set aside to cool.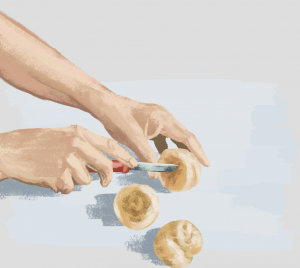 4. SPOON crème pâtissière into a large piping bag fitted with a ½ cm round nozzle. Fill each puff by piping the crème pâtissière through the cuts. Place on a baking paper-lined oven tray.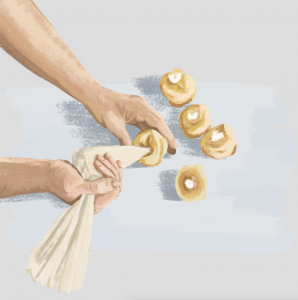 Toffee:
STIR half the sugar and half the water in a medium pot over low heat, without boiling, until sugar dissolves. Bring to the boil and cook, without stirring, for 12 minutes or until golden around the side of the pan. Remove from the heat and swirl the pan until toffee is evenly coloured.
DIP puffs, carefully, one at a time, into the toffee and place on a baking paper-lined oven tray. 
REPEAT cooking process in a clean pot with remaining sugar and remaining water but do not dip the puffs.
Assembly: 
GREASE the outside of a 20 cm wide, 25 cm high croquembouche mould with butter. Dip base of toffee-covered puffs into the second batch of toffee and, starting at the base, stick them to the mould, and each other. Continue dipping and stacking puffs to make a cone shape. 
WORKING quickly, dip a metal fork into the remaining toffee and lightly drizzle thin strands of toffee over the croquembouche.
 TIPS: 
If you can't find a croquembouche mould, a quick google will give you in depth instructions on how to stack the cone by hand or create your own using sturdy cardboard wrapped in baking paper.

The toffee will continue to darken in colour once taken off the heat. To prevent it from burning, quickly place the base of the pot in a sink of cold water. The toffee may harden whilst you are working with it but you can always melt it again over a low heat. 
 You can store any leftover crème pâtissière covered with cling film in the fridge for up to 3 days. Use it to fill a pastry case and top with fruit for an instant tart.
Unfilled choux puffs can be made a day ahead and stored in an airtight container. The unfilled puffs can also be frozen for up to 2 months. To refresh the puffs, warm them gently in the oven, then cool before filling. 

The croquembouche can be assembled up to 6 hours ahead of time provided that the weather is cool. In hot or humid conditions, assemble as close to serving as possible.
HANDS-ON TIME: 2 hours 10 minutes | TOTAL TIME: 6 hours | SERVES: 12
ALSO SEE 3-INGREDIENT CREME BRULEE