Indulge in a flavour-packed delight with this Grilled Mortadella Sandwich to elevate your lunch! Savoury mortadella meets the smoky embrace of the grill, heightened by the tangy crunch of quickled red onions. As you take a bite, you'll discover the aromatic dance of pesto, perfectly complemented by the zing of mustard mayo.
This isn't just a sandwich; it's a culinary adventure that brings together the richness of mortadella and the vibrant condiments, delivering a gratifying symphony for your taste buds. Prepare to savour every moment of this grilled masterpiece.
Ingredients
Quickled onion

¾ cup vinegar

¼ cup water

1 tsp salt

2 tbsp sugar

Peppercorns

1 medium sized red onion, thinly sliced

Grilled mortadella sandwich

X2 packs Mortadella ham

1 tbsp olive oil

White cheddar cheese slices

4 ciabatta buns, sliced open and toasted

½ cup mayonnaise

1 tbsp dijon mustard

Rocket pesto
Instructions
1
COMBINE all the ingredients, except the onion, together in a pot and bring to a boil over high heat. Once the mixture is boiling, remove from the heat.
2
POUR the pickling liquid into the sliced onions and allow to pickle for 20-30 minutes.
Grilled mortadella sandwich
3
HEAT a pan on a medium high heat
4
DIVIDE the mortadella into 4 piles, taking 4 slices and folding each piece on top of the other - making sure that there are air pockets between the slices.
5
Add oil to the pan. Add mortadella slices and allow to brown and caramelize for 1-2 minutes. Flip over and add cheese slices. Cover with a lid and cook for 1-2 minutes until the cheese is melted.
6
COMBINE mayo and mustard together in a bowl and mix to combine.
7
ADD a smear of the mayo to the bottom bun and top with a spoonful of pesto then place the meat and cheese stack on top.
8
SLICE it down the middle and serve immediately.
Notes
TIP: If you can't find mortadella ham, you can use any ham of your choice.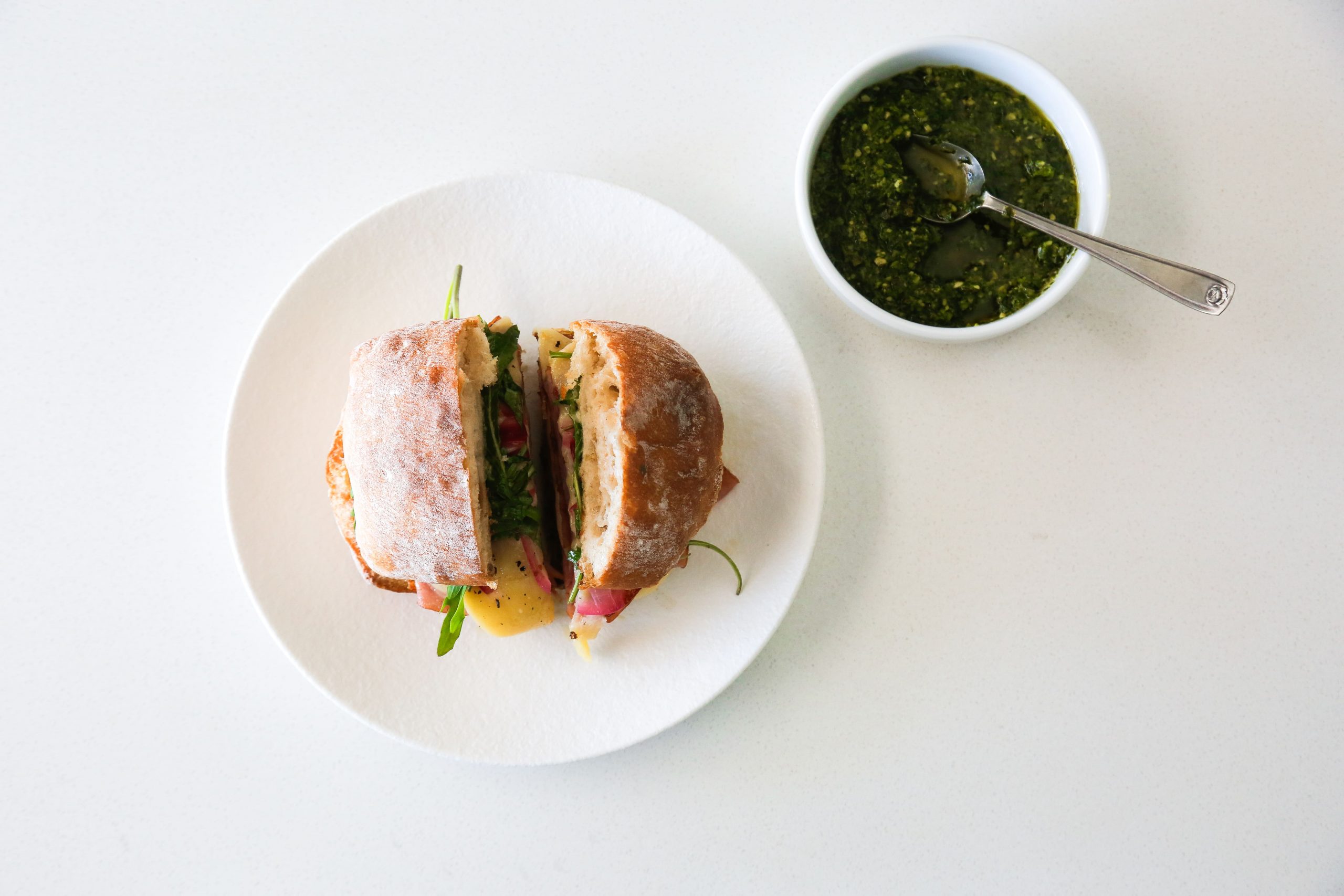 Made this Grilled mortadella sandwich with quickled red onions, pesto, and mustard mayo recipe? Tag us @foodandhomesa #cookingwithFH on Instagram
ALSO SEE: Grilled sandwich of BBQ Beef brisket with mayo, gherkins and wild rocket
Grilled sandwich of BBQ beef brisket with mayo, gherkins and wild rocket