Pork and peach kebabs with peach and cucumber couscous salad
Try this refreshing twist to the braai kebab next time you are inviting your favourite folks over for a fun time.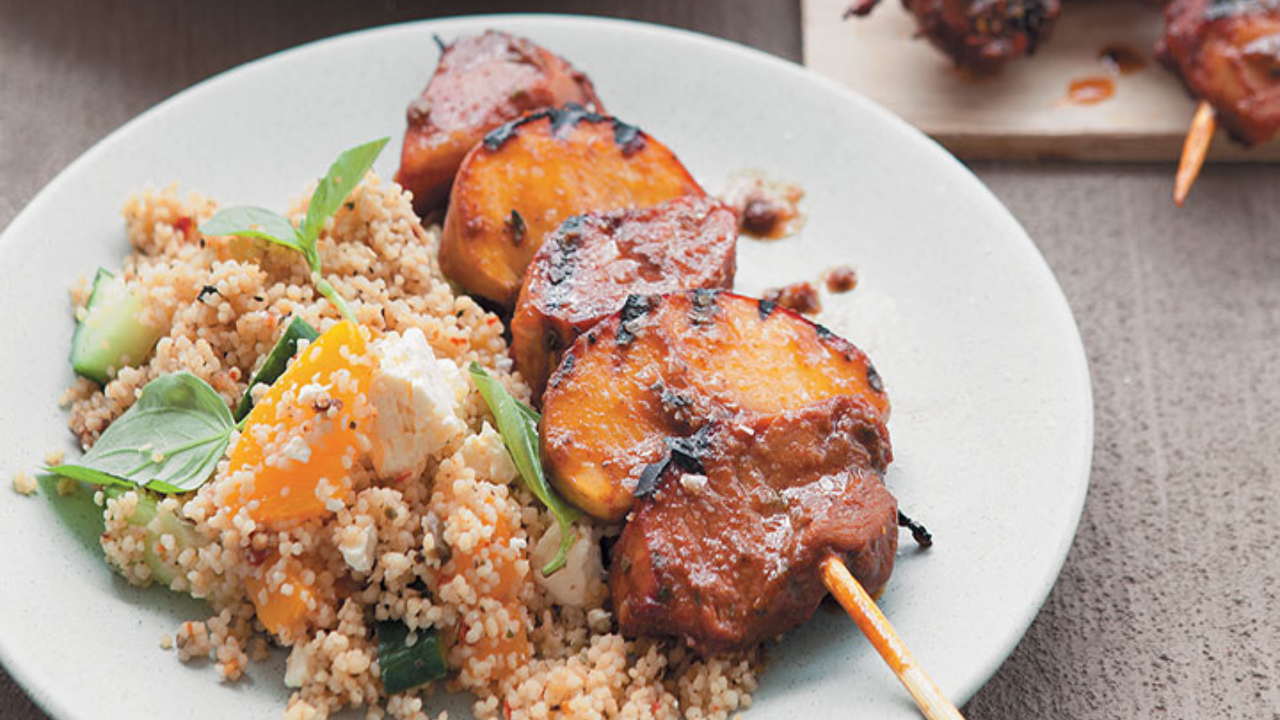 Print Recipe
Pork and peach kebabs with peach and cucumber couscous salad
Ingredients
Kebabs (makes 8)

30 ml (2 tbsp) ground cumin

10 ml (2 tsp) dried sage

20 ml (4 tsp) smoked paprika

2,5 ml (½ tsp) cayenne pepper

10 ml (2 tsp) turmeric powder

juice of 2 lemons

10 ml (2 tsp) crushed garlic

125 ml (½ cup) good quality tomato sauce

60 ml (¼ cup) balsamic vinegar

6 sprigs of thyme, leaves only

30 ml (2 tbsp) olive oil

800 g – 1 kg smoked pork fillet

2 – 3 peaches, cut into 16 wedges

8 kebab sticks

Couscous salad

250 ml (1 cup) flavoured or unflavoured couscous

125 ml (½ cup) vegetable stock, warm

250 ml (1 cup) cucumber, diced

1½ rounds feta, crumbled

1 peach, skinned and diced

½ red onion, finely chopped

a handful of fresh basil leaves
Instructions
1
For the kebabs, make the marinade by mixing all of the ingredients together, except the pork and peaches. Soak 8 kebab sticks in hot water for 20 minutes (this will prevent the sticks from burning while cooking).
2
Cut the pork fillet into bite-size pieces. You need 3 pieces per skewer – 24 pieces in total. Place the meat in the marinade and use your hands to rub it all over the meat. Allow to marinate in the fridge for at least 30 minutes.
3
Preheat a griddle pan until hot and turn the grill of the oven to 200°C.
4
Thread the pork and peaches alternatively onto the skewers. Fry in the griddle pan for 3 – 4 minutes perside, keeping an eye on them to make sure they don't burn. Place the griddled kebabs on a baking tray and brush with remaining marinade. Place under the grill until cooked through and tender,about 10 – 12 minutes.
5
For the salad, place the couscous in a mixing bowl and pour the warm stock on top. Cover with plastic wrap andset aside until all the liquid has been absorbed, about 10 minutes. Allow to cool completely before stirring in the rest of the salad ingredients.
6
Serve the kebabs with couscous on the side.
Notes
Depending on the size of the bowl you use to make the couscous, you might need a little more or a little less stock. The main thing is to add just enough stock to cover the couscous.
Made this recipe? Tag us @foodandhomesa #CookingWithFH on Instagram!