Nestled into the heart of Blaauwberg road, All in the Kitchen is the utopia of all things home cooking. What started out as humble home cooking, only catapulted this deli into the kitchen success story it is today. Dreams finally turned into reality and All in the Kitchen opened up their first deli in March of 2016.
We met with Chelsy from All in the Kitchen to learn more about their success story.
What was the inspiration for the name All in the Kitchen?
"All in the Kitchen started the way it sounds, with everyone in the kitchen. Ally (Mom & Founder of AITK ) roped all of her kids into cooking with her at some point in their lives. We have shared so many beautiful (and hilarious) memories together in and out of the kitchen. Gary (Papa G) – Our amazing Dad came up with the name many many years before our Blouberg store opened, and we couldn't think of a more fitting name for what would be our biggest family collaboration yet."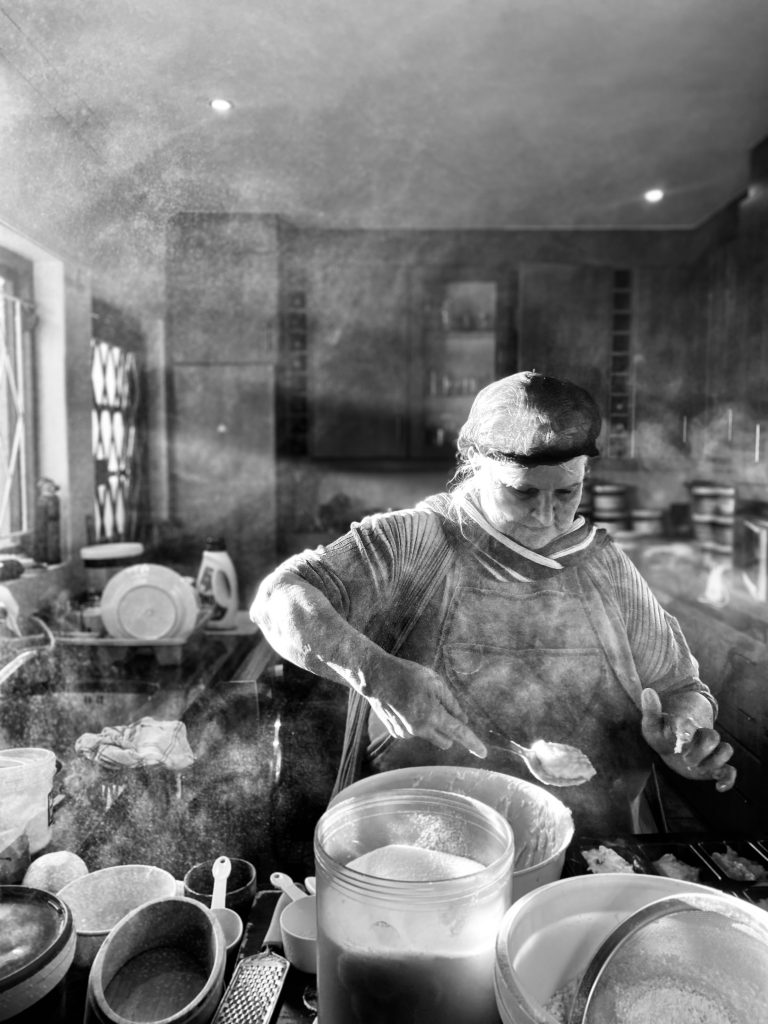 ( Ally , the co-founder and home cooking genius behind All in the kitchen ) 
What has your vision & experience  for All in the Kitchen been as a deli?
"The vision for All in the Kitchen was to create a family business, specializing in home-cooked food. We knew Ally's cooking, our family and the support of a 20+ year local customer base would be the key to success of opening a fully fledged Deli & Take- Away. Our experience has been nothing less than incredible. Anybody working in a family business knows how nuanced the experience is and also how truly rewarding it can be. "
If you could describe your Deli in 3-5 words, what would it be?
"There are so many words we could use to describe AITK , but the business is undoubtably unique, dynamic & resilient."
What do you wish for the deli to accomplish this 2022?
"Our delivery service has been a great addition to the business and adding new delivery routes is something we are working on. Creating new products and menu items is also something we are always working on and is just as fun for us as it is for our customers. "
Are there any new & exciting changes going to take place?
"Many businesses have had to change and adapt over the past two years, ours included. For now, the only thing ever-changing is our weekly menu. You can find it posted on our Instagram (@allinthekitchen)  Sunday evening around 6pm."
How would you describe your overall cooking philosophy ?
"Using quality products from reliable suppliers has undoubtably attributed to AITK's success. There are no shortcuts! Organised environment, quality products, family recipes & cook with love, always."

( Roasts , Beef wellington, Chicken meatballs ) 
What is your favourite  spice/ ingredient?
"We can't pick a favourite spice, but we have a favourite spice shop, does that count ? 😊  Datar spices has been our go – to for as long as we can remember. They are located 64 Johnston Rd, Belgravia. "
What is the best selling item and your personal favourite on your menu / your favourite dish to make and why should we give them a try the next time we pop around?
"Tough one! We have such a big range of fabulous products. I would say choosing a "Meal Of The Day" would be a great introduction to our brand. Fresh baked cheesecake, our carrot cake, quiches the list could go on and on."
(Lotus cheesecake ,Vegan falafel grain bowl  ) 
What kind of planning and time goes into finding your own special look and voice ?
"Finding our look and feel has been a completely organic process at All in the Kitchen. Our focus has always been on the food and how we make you feel at All In The Kitchen. You should leave feeling like you've just been at home."
What do you love most about the area you do business in?
"Our local community has been one of the biggest contributors to our success. From our crazy birthday parties/ renovations / theme days / competitions and more , the people walking through our front door over the last 6 years have been such a large part of our journey and ultimately a part of the All In The Kitchen family."
What do you think the overall inspiration for All in the kitchen and its weekly menu options- the ideas are incredible!
"Thank you! It has taken time, consideration and a formula that can only really be attributed to years of experience making meals and menus. The menu can be replicated, but the magic behind All In The Kitchen can never be recreated as it was born out of true passion and purpose."
Take a look at last weeks menu!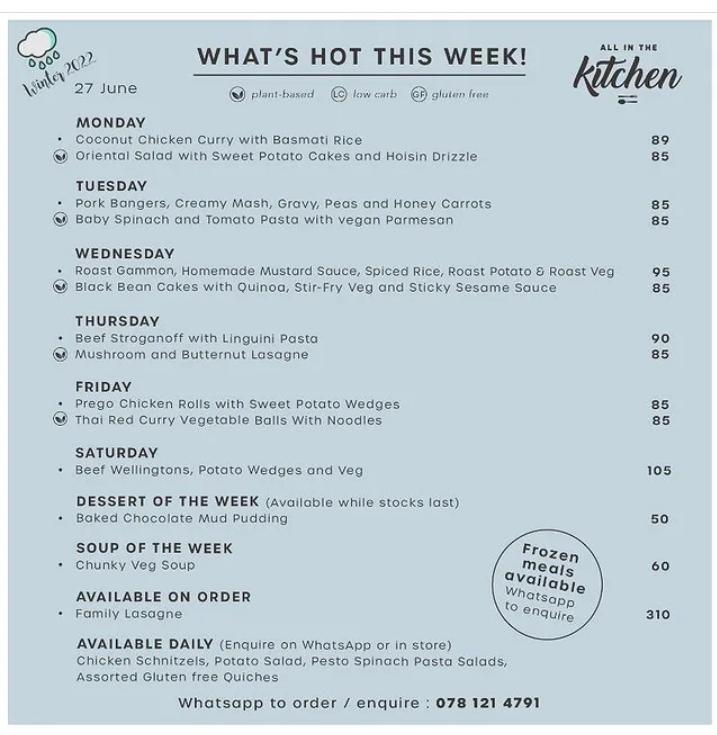 What is special about the employees  (servers, chefs, people behind the scenes) at All in the kitchen.
"Everything is special about the employees of AITK. We have been fortunate enough to work with truly incredible people. "
What types of artisan foods can one buy at All in the kitchen and do recommend any?
"Walking into All In The Kitchen you can expect a deli fridge full off ready-to-go meals, filled croissants, quiches, pies, assorted salads and desserts. On our shelves you will find lots of unique local products, sauces, pantry items. Free Range Eggs, Fresh Sourdough loaves, you name it "
(Pretzel roll & salmon bagel )
With an abundance of mouthwatering home cooked meals and an array of artisan treats and products, AITK cater to everyone, so if you are exploring the West coast area, too tired to cook, or the classic " what are we eating tonight?", All in the Kitchen have got you covered! To check out whats cooking at AITK, have a a look at their instagram @allinthekitchen and their facebook page AllInTheKitchen. I can guarantee you that a meal from All in the kitchen will make you feel as if you never left home.