With Spring just around the corner, we're getting ready to spend more time in the blossoming outdoors. Whether you prefer to enjoy your time with tea in the garden, lazy picnics in the park or by soaking up the afternoon sun on the beach, use this definitive guide to host the perfect picnic.
COMFORT IS KEY
Up the ante and make your picnic a five-star affair…
Roll out the red carpets: If your picnic is at home, move a Persian or heavy rug outside and scatter with cushions so people can sit comfortably. A couch is even more of a spoil!
Low-level dining is made easy when you use wood palettes: Buy them new at a lumber yard or secondhand online – they're cheap as chips and provide a stable surface for alfresco dining.
Pop a note to BYOC: Add BYOC (bring your own cushion or chair) to your invite to ensure everyone is comfy.
Make yours a luxe 'blanquette' to remember: Set up a long blanket or tablecloth as a tabletop and 'set' your table with paper plate place settings.
TOP TIPS:
Pack a citronella candle to keep pesky bugs at bay
Take along empty plastic containers for leftovers
A paper bag or two for food waste
Pack extra wipes and waterless cleanser
Add edible flowers to take it to a new aesthetic level
And lastly, don't forget to snap an Instagram shot for your feed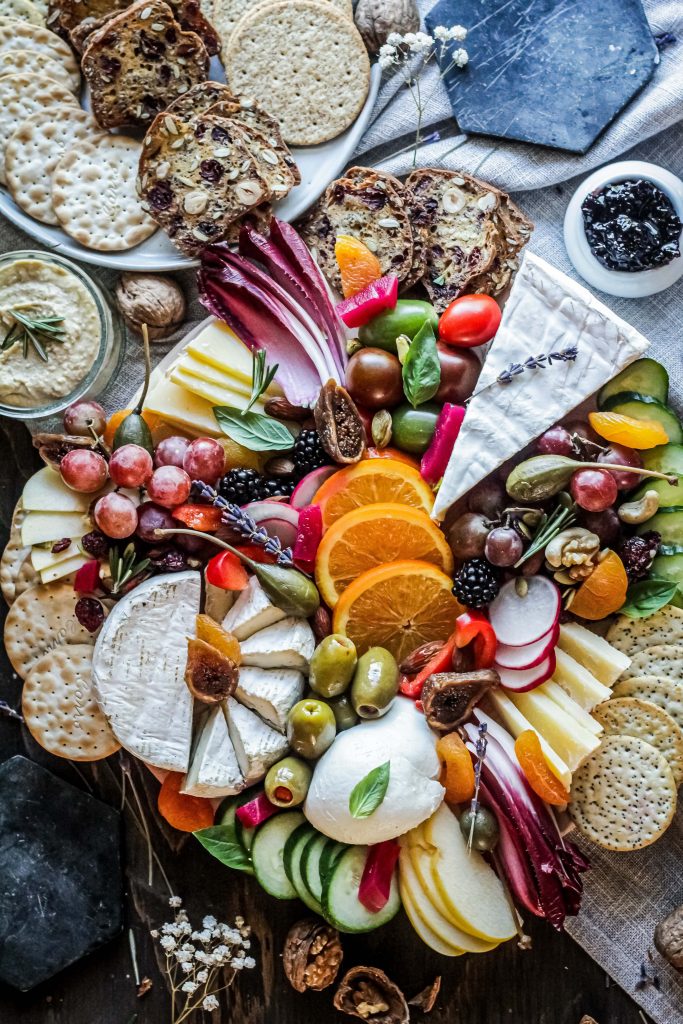 BUILD THE PERFECT PICNIC PLATTER
A grazing table is a great way to entertain – and it's totally doable (in fact it can be a showstopper) at a picnic. If you're hosting, wow your guests by prepping it all just before they arrive and if it's a potluck-style picnic, just ask everyone to each bring something to add to the spread. The trick to making it extra impressive?Fill
every inch of space you can.
1. BOARD GAME
Start building your portable picnic table with a generously sized platter or board – we love the latter, they're easy to transport and carry and create a perfect blank canvas to create your edible work of art. A wooden chopping board will do the trick or pop into your nearest hardware store and ask them to cut a
piece or two of a plank for you.
2. CHEESE PLEASE
Choose a selection of rind cheeses (think camembert or brie), a harder, food-friendly cheese (cheddar, Lancashire or gouda) and a talking point cheese (a Boursin, Cremenzola or blue). Now choose an accompaniment for each category – think pickled onions, fruit preserves and chutney.
3. MEATY EATS
Cured meats are a grazing platter must – balance your choices with a selection of smaller meat rounds (spiced salami), more neutral flavoured meats like roast chicken or hickory ham and speciality offerings like mortadella or Parma ham. Change up your sliced meat choices by adding mini chicken kebabs, chicken wings, cocktail sausages and biltong sticks to the mix.
4. SAUCY STUFF
Sticky sauces can be tricky at a picnic. Decant these at home into small jars and containers and nestle them in amongst your meats and cheeses. And don't forget a selection of patés and dips too.
5. BREAD & CRACKERS
What's a grazing board without a pile of sliced baguettes and a tower of crackers? Play with shapes (round and square crackers), flavours (olive ciabatta or classic baguette) and don't forget a box of extra crackers for those last nibblers.
6. NIBBLY BITS
Making your very own perfect morsel is what's so fun about a grazing table and for that you need a mix of salty, sweet, crunchy and soft bites to marry with the meat and cheese selection. Think baby gherkins, sliced fresh fruit (dried fruit is good too), nuts, crudites, cured olives, peppadews, artichokes and caperberries.
PICNIC FOOD TRENDS TO TRY
Rice paper rolls showed their faces in the 1990's – and they're back with a bang! Pre-make pretty Asian veggie wraps at home, stock up on some storebought
dipping sauces and you'll be good to go – mix things up by adding chargrilled beef or chicken to your veggie roll mix and don't forget the edible flowers.
Ready-to-drink beverages make picnic drinks so much easier – from chilled wine in cans to pre-mixed tinned mojitos, fruity ginger beers and lemonades and flasks of ice cold pre-made G&T's, leave the two-step drinks and cocktails for when you're on home ground. Just be sure to have everything in ice.
South African S'mores (toasted marshmallows plus a piece of chocolate sandwiched between two Marie Biscuits) are the perfect finale to an outdoor celebration – and the perfect excuse to get a fire going when the sun has set.
Words: Vicki Sleet; Feature image: Svetlana Kuznetsova on Unsplash 
ALSO SEE: Perfect picnic loaf
ALSO SEE: Picnic pesto penne