With the ever-increasing price of groceries and the growing concern about the state of the environment, there are more reasons than ever to consider cutting down on the amount of meat in your diet.
Eating more vegetarian can do wonders for your health as well. A plant-based diet is shown to lower dietary cholesterol, lower blood pressure and reduce the risk of type-2 diabetes. Vegetarians on average also have lower overall risk of chronic disease and rates of obesity.
All of this doesn't mean that you have to swear off meat entirely. Read on for some tips on easy ways to make going plant-based less daunting.
Focus on What's Already on Your Plate
You most likely enjoy a number of vegetarian dishes without realising, like avocado toast or tomato pasta. There are also loads of recipes out there for meat-free versions of your favourite meal. Try making a delicious vegetarian lasagne or some black bean burritos and we promise you won't even miss the meat.
Rethink Your Meal Structure
For those of us who eat meat at almost every dinner, figuring out how to replace the protein on our plates can be challenging. It's important not to get too caught up with substituting the meat that's usually on your plate when transitioning to more plant-based meals. Many vegetarian dishes focus on the flavour and texture of the dish as a whole rather than on an individual ingredient and its sides. Shifting your mindset away from the typical plate structure could help provide more freedom and inspire creativity when thinking of meal ideas.
Try a New Recipe Each Week
By committing to just one new recipe every week, you'll quickly figure out some of your favourite vegetarian go-to's. Slowly building up your repertoire of plant-based meals is the key to making meat-free cooking easier and more accessible.
For a new recipe, give this vegetable tagine a try:
Focus on Seasoning
A plant-based diet doesn't have to be bland and boring. In fact, all of your favourite herbs and spices that you use in your meat dishes have a place in your meat-free one's too.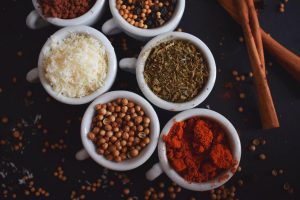 Andra Ion on Unsplash
Easy Plant-Based Swaps
Whilst processed foods should largely be avoided, they do have their place in making the transition between a meat-heavy and plant-based diet easier. A meat substitute might be just the trick if you find yourself missing the taste or texture of meat but are still committed to a meat-free meal.
Enjoyed this article ? Tag us @foodandhomesa #cookingwithFH on Instagram!
READ MORE: Quick and easy vegan substitutes chart
Featured image: Markus Spiske on Unsplash