Bright citrus provides a fresh flavour and zesty kick to these tasty sweet treats. These mini lemon and lime syrup cakes are perfect little pops of flavour for someone wanting a treat without the richness. The tangy citrus punch is perfect with the light and spongy cake.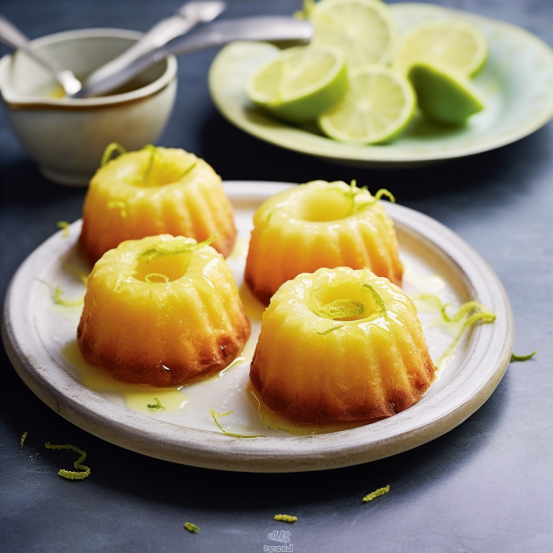 Print Recipe
Zesty lemon and lime syrup cakes
Ingredients
Cakes

125 grams butter, chopped

½ cup caster sugar

2 tsp. lemon zest

2 eggs

1 cup self-raising flour

½ cup buttermilk

 ***Lemon & lime syrup

⅓ cup lemon juice

½ cup caster sugar

2 tbsp. water

2 tsp lemon zest 

2 tsp lime zest 

1 tbsp lime juice 
Instructions
1
Preheat the oven to 180°C. Grease a 6-hole mini bundt pan or silicone mold.
2
Cream butter, sugar and lemon zest together in a bowl until light and fluffy. Add eggs, one at a time, beating well after each addition. Sift in flour, then fold through the buttermilk. Divide mixture into molds, smoothing over the tops.
3
Bake for 25 minutes until a skewer inserted comes out clean.
4
Stir lemon juice, sugar and water in a pot over low heat until the sugar dissolves. Bring to the boil and cook for 1 minute until thickened slightly. Remove from the heat and strain into a jug.
5
Stand cakes in their moulds for 5 minutes before turning out onto a wire rack placed over a baking tray. Pour the syrup evenly over cakes, allowing it to soak through. Serve immediately.
Did you make this recipe? Tag us on Instagram @foodandhomesa
ALSO SEE Recipes for when life gives you too many lemons
10 Recipes for when life gives you too many lemons