Need some inspiration for your Eid menu? From delectable curry and rice dishes to sweet treats and elegant showstoppers, here are our top recipes for you to make this Eid.
Savoury recipes for Eid

Cooked over the braai until perfectly succulent and lightly charred, this tandoori chicken will have your guests grinning from ear to ear.

Roti canai are soft pan-fried flatbreads made by layering thinly-stretched dough. Add it to a dinner spread with lentil dhal and mutton curry for a delicious feast!

A familiar favourite that we all know and love, this butter chicken recipe is easy to make for a crowd and doesn't require much effort.

This balanced, fragrant curry sets the stage for the sweetness of prawns to shine. We recommend serving this delicious dish with cucumber raita on the side.

These soft naan breads stuffed with a cumin-spiced potato filling are perfect served alongside mains to mop up sauces and curries.

Joojeh kabab are fragrant chicken kebabs of Persian origin that are flavoured with saffron and lemon, and usually cooked over a charcoal grill. Serve with saffron rice, or sumac-swirled yoghurt as a topping.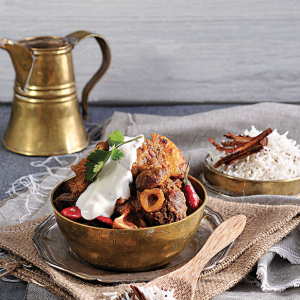 Served with a mound of cumin rice, this rich mutton curry is a soul-warming meal, perfect for bringing people together.

Deliciously fragrant and easy to make, nothing screams feel-good food more than a good chicken biryani.

Studded with fresh pomegranate, crunchy pistachio and orange, this rainbow Persian pilaf is a beautiful side for meaty mains.
Sweet recipes for Eid

Why have one treat, when you can have layers of them? This pistachio & apricot baklava cake is guaranteed to be a showstopper for your Eid feast!

These little sweet biscuit-like morsels are soaked in a floral syrup infused with flavours of rose and green cardamom. You'll only need a few of these to satisfy your sweet tooth!

These gorgeous apple pastries taste just as good as they look. The addition of sumac adds a hint of lemon, while the date caramel gives them a luxurious finish. A delightful recipe for Eid!

When baklava meets cheesecake, this elegant dessert is born! A rich vanilla cheesecake filling encased in a golden nest of phyllo, your guests will be swooning over this beauty.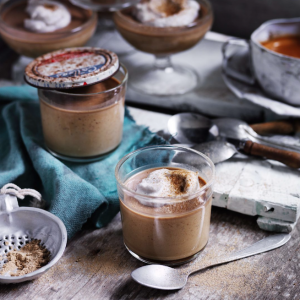 Naturally sweetened with dates,  we've switched up the traditional profile of panna cotta with the delicious flavours of cardamom and coffee. Serve with a dollop of fluffy whipped cream and a dusting of cardamom to finish.

This dessert is stunning in it's simplicity! With a delightful texture from the semolina, a zesty kick from lemon syrup and a crown of pistachio gems, this cake is perfect to enjoy with family & friends.
Made any of these recipes for Eid? Tag us on Instagram @foodandhomesa #cookingwithFH
Feature image by RODNAE Productions 
ALSO SEE: 8 puddings for coffee lovers