When it comes to chocolate, enough is never enough! Whether you enjoy your chocolate by the block or slab, our collection of chocolate recipes will be sure to satisfy your craving. Ranging from rich ganache tarts and cakes, to bubbly mousse and molten lava puddings, there's a recipe here for everyone!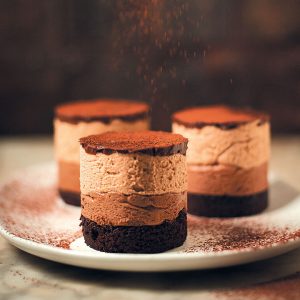 With four different layers of chocolate, these rich double chocolate mousse cakes are the ultimate treat for chocolate-fanatics.

Studded with sumac, orange and salted almonds, these white chocolate shards are the ideal sweet-and-savoury treat to pop in the centre of the dinner table after a big meal.

The addition of Guinness in this chocolate cake recipe makes it deliciously moist and adds a malty flavour that boosts the chocolatey-ness! If you prefer, a non-alcoholic beer can be used in this recipe for the same result.
Espresso and dark chocolate vacherin might sound a little intimidating, but this dessert is basically just a combination of coffee, cream, chocolate, and meringue. The beautiful outcome definitely makes the effort worthwhile. Who can resist decadence like this?

This caramel, hazelnut and chocolate terrine oozes sophistication and will be sure to wow your guests. Make sure to prepare this chocolate recipe in advance as it needs time to freeze.
What's better than chocolate chip cookies? Giant ones, of course! Speckled with liquorice chunks, almonds and chocolate chips, these cookies will take you on a nostalgic journey to your childhood.

The base for this cake is a whole boiled and pureed orange mixed into a batter with almond flour and creamy white chocolate. This cake is beautifully moist with a delicate crumb and bags of flavour.

We bring together fruity, fiery and rich flavours together in this tart for a glorious grown-up dessert!

Light and bubbly chocolate mousse is a firm favourite for a reason! This mousse can be made with whichever chocolate you prefer – either way, a topping of torched meringue, whipped cream or fresh fruit would be most welcome.

This delicious and oh-so-gooey chocolate brownie pudding recipe only takes 40 minutes to prepare from start to finish, and will leave all your guests coming back for more!

When a sweet craving hits, these chocolate bliss balls are heavenly – and with antioxidant-rich cocoa, dark chocolate and açaí powder, they're loaded with the good stuff!

A South African favourite with a chocolatey twist, this granadilla fridge tart with white chocolate ganache is a winner!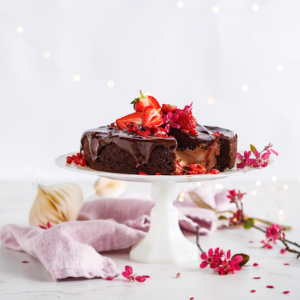 Decadent, delicious and guaranteed to be finished, this chocolate cavity cake contains a hidden mousse-filled center that will delight your guests.

Indulge with these melt-in-your-mouth s'mores made with freshly baked ginger biscuits. Enjoy with a mug of rich hot chocolate for the ultimate winter treat!

Move over jelly – peanut butter just got a new best friend! If you were ever intimidated by making fondant, you no longer need to be. These decadent delights are both easy and tasty!

This effortless chocolate tart delivers on decadence! A crumbly tart shell filled with a creamy baked filling, this chocolate recipe is one of the best ways to celebrate chocolate!
Made any of these chocolate recipes? Tag us @foodandhomesa #cookingwithFH on Instagram
ALSO SEE: 8 puddings for coffee-lovers